Congress Tells Pentagon and Intelligence Community: UFOs Are Serious Business!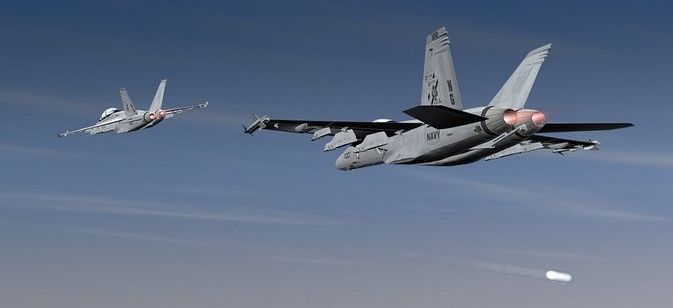 Congress directs the military and intelligence agencies to get a grip on "unidentified aerial phenomena," and authorizes the resources required.
By Douglas Dean Johnson
@ddeanjohnson on Twitter
WASHINGTON– (December 7, 2021, 1:45 PM EST) –  With the unveiling today of legislative language already agreed on in negotiations between key lawmakers meeting privately, it is likely that Congress will soon send the Department of Defense and the Intelligence Community a set of emphatic statutory commands regarding Unidentified Aerial Phenomena (or UFOs, in common parlance). The UAP-related provisions are included in the National Defense Authorization Act (NDAA), now being advanced under the bill designated S. 1605.  
[UPDATE:  On December 27, 2021, President Biden signed into law the National Defense Authorization Act (NDAA) (S. 1605), including the far-reaching UFO-related provisions analyzed in this article. The bill and the UFO language discussed here were unveiled by congressional negotiators on December 7, 2021, and I posted this analysis later the same day.  Both the House of Representatives and the Senate subsequently passed the legislation with no substantive changes (only very minor technical corrections).  The House passed the bill on December 7, 2021, on a roll call vote of 363-70.  The Senate passed it on December 21, 2021, on a roll call vote of 88-11. The bill became law with President Biden's signature on December 27, 2021. It is now designated as Public Law 117-81. To access a PDF file containing the title page plus the six pages that contain Section 1683 (the UAP provisions), as they appear in the final version of the bill (known as the "enrolled bill"), click here.]
The content of the UAP language agreed on by negotiators from the U.S. Senate and U.S. House of Representatives Armed Services committees is reported and analyzed in detail here for the first time anywhere.  I read the unwritten message underlying the bill language as something like this: We, the Congress, have concluded that Unidentified Aerial Phenomena are serious business. We want you to start treating it as serious business: Get your act together and get a grip on this problem! Expect to be held accountable.
The measure incorporates a robust array of statutory provisions, in essence commanding the Department of Defense and the Intelligence Community (IC) to substantially elevate the priority, coordination, and resources that they devote to investigations of Unidentified Aerial Phenomena (UAP).  The legislation describes the overarching mission in unmistakable terms, but also provides detailed mandates and funding authorities to advance UAP investigations, and provisions to require a measure of periodic partial public disclosure of future findings.
This negotiated NDAA proposal has been packed into the shell of a numbered bill that has already passed the Senate (S. 1605, a measure dealing with a memorial, no longer needed after a duplicate bill was enacted), which may simplify the procedural steps in the Senate. Even so, a round or two of legislative "ping-pong" might occur, as the Senate and House work out a few remaining issues unrelated to UAP.  It is not likely that the UAP language would be altered during such any such ping pong. Congress has enacted an NDAA for the past 60 consecutive years.
The new negotiated NDAA text contains most, but not all, of the major components of the Gillibrand-Rubio Amendment.  Senator Kirsten Gillibrand (D-NY), who sits on both the Armed Services and Intelligence committees, introduced her amendment on November 4, 2021.  [I was the first person anywhere to publicly report on the Gillibrand proposal, in a lengthy analytical post on this blog at noon on November 5, 2021.  Since then, I have frequently reported on legislative developments pertaining to the proposal via my Twitter account, @ddeanjohnson.] Gillibrand's amendment was quickly co-sponsored by Senator Marco Rubio (R-FL), well known in ufological circles for a number of past actions and strongly worded public statements about UAP, beginning in 2020.  Senators Martin Heinrich (D-NM), Roy Blunt (R-MO), and Lindsey Graham (R-SC) also soon joined as co-sponsors. In this article, I will sometimes refer to the new UAP text as the "Gillibrand-Rubio-Gallego" language, or "GRG."  The UAP-related language is contained in Section 1683.  
Gillibrand's proposal built on and greatly upgraded a set of UAP-related mandates that had earlier been incorporated into the House version of the NDAA (H.R. 4350) by Congressman Ruben Gallego (D-AZ).  Gallego is chairman of the House Armed Services Committee's Intelligence and Special Operations Subcommittee-- a panel that had received a classified briefing from the UAP Task Force on June 17, 2021. (My September 11, 2021 report on the groundbreaking Gallego initiative is here.) That bill sailed through the House of Representatives, without any challenge to Gallego's UAP language, on September 23, 2021.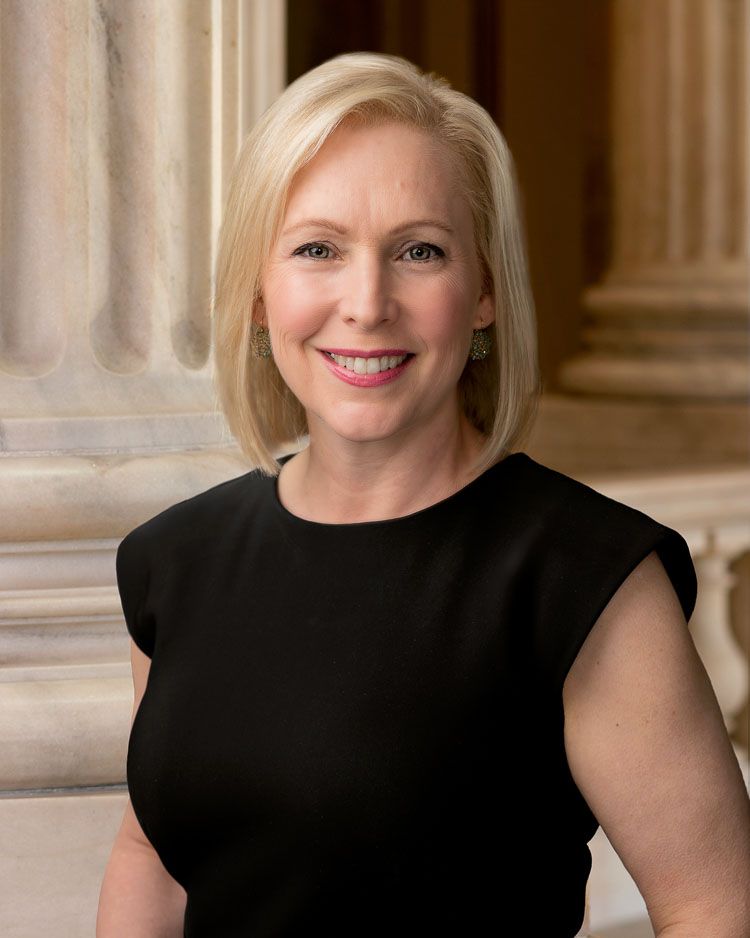 The strongest elements of the Gillibrand-Rubio Amendment survived the closed-door House-Senate negotiation sessions, despite attempts by some elements of the Pentagon bureaucracy to derail them.  However, a provision that would have created an UAP advisory committee made up mostly of civilians was dropped during the negotiations-- to my eye, the victim of Pentagon bureaucrats who privately but emphatically branded such an entity as a security risk.  In addition, Gillibrand's effort to determine what the Pentagon's UAP office will be called – the most recent version of the amendment (SA 4810) had proposed Anomaly Surveillance, Tracking and Resolution Office (ASTRO) – was not adopted-- leaving nomenclature in the hands of the Secretary of Defense and his subordinates.  
While unfortunate, the rejection of the advisory committee and nomenclature provisions is greatly overshadowed by the sweeping substantive provisions that the bill would enact into statutory law– binding on this and every future administration, unless modified by Congress.

ENACTMENT OF THIS LANGUAGE WOULD BE UNPRECEDENTED
Congress has never before enacted any statutes that deal explicitly with UFOs or Unidentified Aerial Phenomena.  To the extent that various government agencies have dealt with UAP incidents, or sought to manage public concerns about UAP, they have done so under their general operating authorities as they interpret them.  In recent years, the Senate Select Committee on Intelligence has prodded the Pentagon and Intelligence Community with language in committee reports, but enactment of sweeping statutory mandates will elevate the subject matter of UAP into an entirely new realm.
[It is true that Senator Harry Reid (D-NV), in concert with a few other senators, quietly secured $22 million to fund a program that dealt in part with UAP, contracted through the Defense Warning Office of the Defense Intelligence Agency in 2008-2010, referred to as the Advanced Aerospace Weapon System Applications Program (AAWSAP). But no public legislative text revealed the true character of that program; only a handful of members of Congress even knew of its existence during that period. According to account written by some of those involved, it was originally conceived by Reid as a a five-year program, but after two years, word of its existence reached a broader circle within the Executive Branch, and the ensuing resistance somehow resulted in curtailment of any further funding stream. Some UAP-related investigations were continued under the rubric of the Advanced Aerospace Threat Identification Program (AATIP), but this seems to have been a modest initiative pursued by a small group under the general authorities of the Under Secretary of Defense for Intelligence, not dependent on any references in legislation.]
WHY THE UAP LANGUAGE WAS WRITTEN, AND WHAT IT WOULD DO
It appears that many members of Congress who sit on the committees that have had access to classified briefings on UAP since 2017 have concluded that the Department of Defense and the Intelligence Community have dealt with the issue in a haphazard fashion, without institutional continuity or the marshalling of substantial resources.  They are determined to change that.
In a September 25, 2021 interview with Bryan Bender of POLITICO, Congressman Gallego said, "There's been a total lack of focus across the national security apparatus to actually get at what's happening here [regarding UAP]. I think there has been kind of a partial pastime of curiosity seekers that are within the Department of Defense but there has not been any professional initiative across the defense enterprise... so that we can actually make some deliberate and knowledgeable decisions."
Gallego expanded on those themes in a video interview on Hill TV, posted November 14, 2021. Speaking of what he sees as the failure of the military and intelligence communities to bring coordinated and sustained scrutiny to bear on the UFO problem, Gallego said:  "I think actually more than anything else it's cultural. Because we've never treated UAPs as a serious issue, no person wants to be known as 'the UFO general,' right?  Or be the person who is the director of UFO information. Because that basically sets your career path in the military....And so everyone just avoids it. Everyone just avoids the issue. Politicians avoid the issue. So everyone just kind of walks around in circles and saying, 'Man, there's something there,' but nobody wants to do anything about it."
In a November 17 interview with POLITICO's Bryan Bender, Senator Gillibrand said, "You're talking about drone technology, you're talking about balloon technology, you're talking about other aerial phenomena, and then you're talking about the unknown. Regardless of where you fall on the question of the unknown, you have to answer the rest of the questions. That's why this is urgent. That's why having no oversight or accountability up until now to me is unacceptable."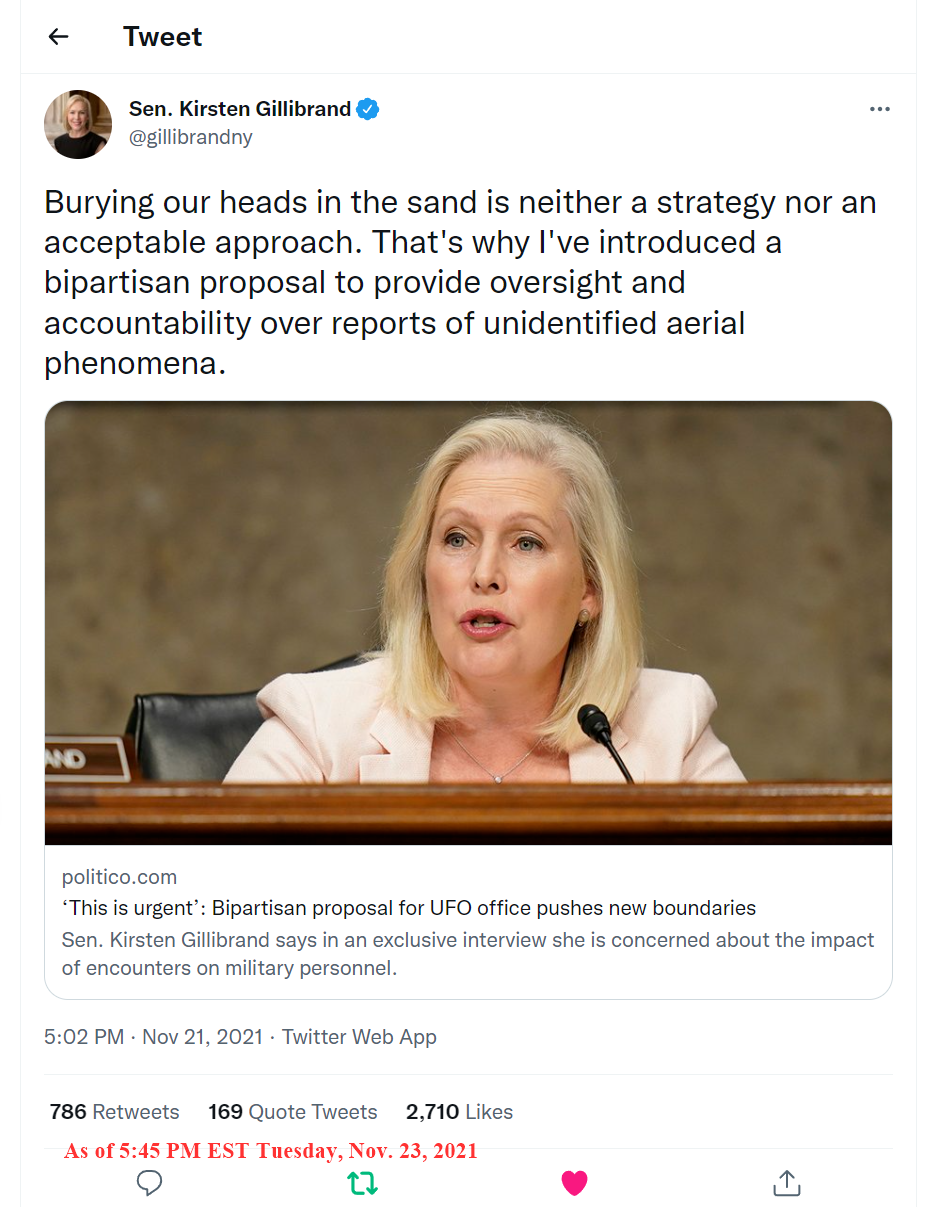 The proposed new law would radically change the statutory terrain on which the Department of Defense and intelligence agencies (collectively the "Intelligence Community," or IC) operate with respect to UAP.  By enactment, Congress would clearly set forth explicit statutory mandates, and place accountability for carrying them out squarely on the shoulders of the Secretary of Defense ("Secretary"), shared in some measure with another cabinet-level officer, the Director of National Intelligence (DNI).
The "Gillibrand-Rubio-Gallego" (GRG) text tells the Secretary, "in coordination with" the DNI, to establish an entity devoted to coordinating Department and IC efforts to gather data on, and study the mysteries of, unidentified aerial phenomena.  The bill does not dictate exactly where this coordinating office must be located, but specifies that it must be "within a component of the Office of the Secretary of Defense, or within a joint organization of the Department of Defense and the Office of the Director of National Intelligence."  We now know that for the present, at least, the UAP headquarters will be the unfortunately named Airborne Object Identification and Management Synchronization Group (AOIMSG), within the Office of the Under Secretary of Defense for Intelligence and Security, because Deputy Secretary of Defense Kathleen Hicks announced creation of that entity in a memorandum released on November 23, 2021 ("Hicks memo"), discussed in more detail below.
The proposed new law would not directly govern the UAP-related activity of agencies outside the defense/Intelligence Community realm, such as the Department of Homeland Security, NASA, or the Federal Aviation Administration, but it would require active efforts by the DoD/IC to collaborate with and seek UAP-related data from such agencies.
Among the functions of the central UAP office would be the following: "Developing procedures to synchronize and standardize the collection, reporting, and analysis of incidents, including adverse physiological effects, regarding unidentified aerial phenomena across the Department of Defense and intelligence community.... Evaluating links between unidentified aerial phenomena and adversarial foreign governments, other foreign governments, or nonstate actors....Evaluating the threat that such incidents present to the United States.... Coordinating with other departments and agencies of the Federal Government, as appropriate, including the Federal Aviation Administration, the National Aeronautics and Space Administration, the Department of Homeland Security, the National Oceanic and Atmospheric Administration, and the Department of Energy....Coordinating with allies and partners of the United States, as appropriate, to better assess the  nature and extent of unidentified aerial phenomena."
While the central office would exercise oversight authority and play a coordinating function, key provisions require that the Secretary of Defense and DNI designate "line organizations" – major military and/or IC components – to conduct the operational aspects of UAP investigations. It requires that these organizations have the capacity "to rapidly respond to, and conduct field investigations of" UAP incidents.  The bill requires that these line organizations have access to "adequate personnel with requisite expertise, equipment, transportation, and other resources necessary to respond rapidly to incidents or patterns of observations" of UAP.
The GRG text also requires the director of the Pentagon UAP office to supervise development of a "science plan to develop and test, as practicable, scientific theories to account for characteristics and performance of unidentified aerial phenomena that exceed the known state of the art in science or technology, including in the areas of propulsion, aerodynamic control, signatures, structures, materials, sensors, countermeasures, weapons, electronics, and power generation," and to try "to replicate any such advanced characteristics and performance; and provide the foundation for potential future investments to replicate any such advanced characteristics and technology."
The language mandates that the Secretary and the DNI "shall ensure that each element of the intelligence community with data related to unidentified aerial phenomena makes such data available immediately" to the UAP office.  To help enforce that decree, the bill requires that at least twice a year, "the Chairman and Vice Chairman or Ranking Member of the Committee on Armed Services and the Select Committee on Intelligence of the Senate and the Committee on Armed Services and the Permanent Select Committee on Intelligence of the House of Representatives shall receive an enumeration of any instances in which data related to unidentified aerial phenomena was denied to the Office because of classification restrictions on that data or for any other reason."
Importantly, the GRG text contains what I call a "Right to Report" provision, which says that mechanisms must be provided by which military and civilian personnel associated with the military or the Intelligence Community, including contractor personnel, can report UAP-related events, "including adverse physiological effects," directly to the UAP office. This provision is clearly intended to curb the stigma and fear of ridicule or disapproval that have for so long inhibited pilots and other military personnel from reporting UAP encounters, and that in some cases may have prevented even extraordinary encounters from being passed up the chain of command.
"Because we haven't really made a formal process to this, a lot of military men and women just don't want to say anything, because they're afraid that it will affect their career," Congressman Gallego observed in the November 14 Hill TV interview. "So we have information bias happening right now...The people that probably have more information are afraid to talk. And then even if they do talk, the information goes nowhere."
Another important provision:  The bill removes any ambiguity about whether expending substantial funds for UAP investigations is authorized by Congress.  The bill explicitly authorizes "to be appropriated such sums as may be necessary to carry out the work of the [UAP office]... including with respect to (1) general intelligence gathering and intelligence analysis; and (2) strategic defense, space defense, defense of controlled air space, defense of ground, air, or naval assets, and related purposes."
DISCLOSURE REQUIREMENTS
Senator Martin Henrich (D-NM), a co-sponsor of the Gillibrand-Rubio Amendment, told the Albuquerque Journal (November 26., 2021), "The American people deserve transparency when it comes to UAPs– especially given the national security implications...we need to elevate this issue within our defense and intelligence agencies so they have the mandate to focus not only on what is happening in our skies, but also on relaying these findings to the American people...ending the previous cycle of sweeping these sightings under the rug." (On May 19, 2021, Heinrich, a member of the SSCI, memorably told a correspondent for TMZ, "I can't imagine that what has been described, or shown in some of the videos, belongs to any government that I'm aware of... I have no idea what it is, but I think we should figure it out.")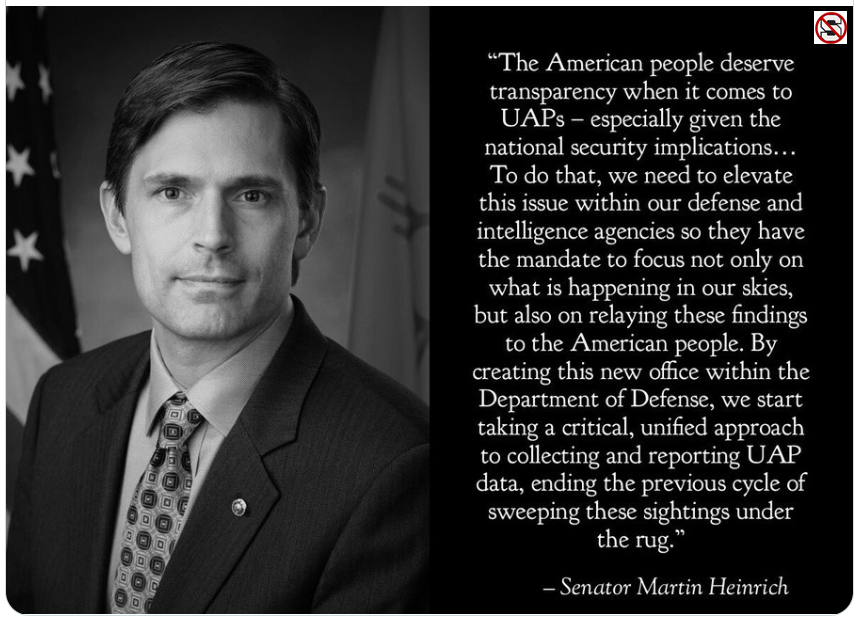 The Gallego language passed by the House in September would have required the Pentagon's UAP office to provide quarterly reports to designated congressional committees, but it contained no provision to require unclassified, public reports. Likewise, modest UAP-related provisions contained in the Intelligence Authorization Act (IAA) bills approved by the Senate and House intelligence committees earlier this year provided only for future classified UAP reports to the Senate and House committees on Armed Services, Intelligence, Appropriations, and Foreign Affairs (Foreign Relations).
In contrast, the GRG text requires the UAP office to issue annual unclassified reports on UAP, which will be made public.  Eight designated congressional committees will receive longer, classified versions of these reports, and six of those panels will also receive classified briefings at least twice a year.
Congressman Gallego's House-passed provision required the UAP reports to cover at least seven designated topics.  The GRG text contains all seven – and also three additional topical categories drawn from the Gillibrand-Rubio Amendment.  The mandatory categories include "any efforts underway on the ability to capture or exploit discovered unidentified aerial phenomena," "an assessment of any health-related effects for individuals that have encountered unidentified aerial phenomena," and descriptions of UAP incidents associated with nuclear weapons and nuclear-powered craft, or domestic nuclear power facilities.
The final complete list of topical categories that must be covered in the annual reports are shown in the page images below.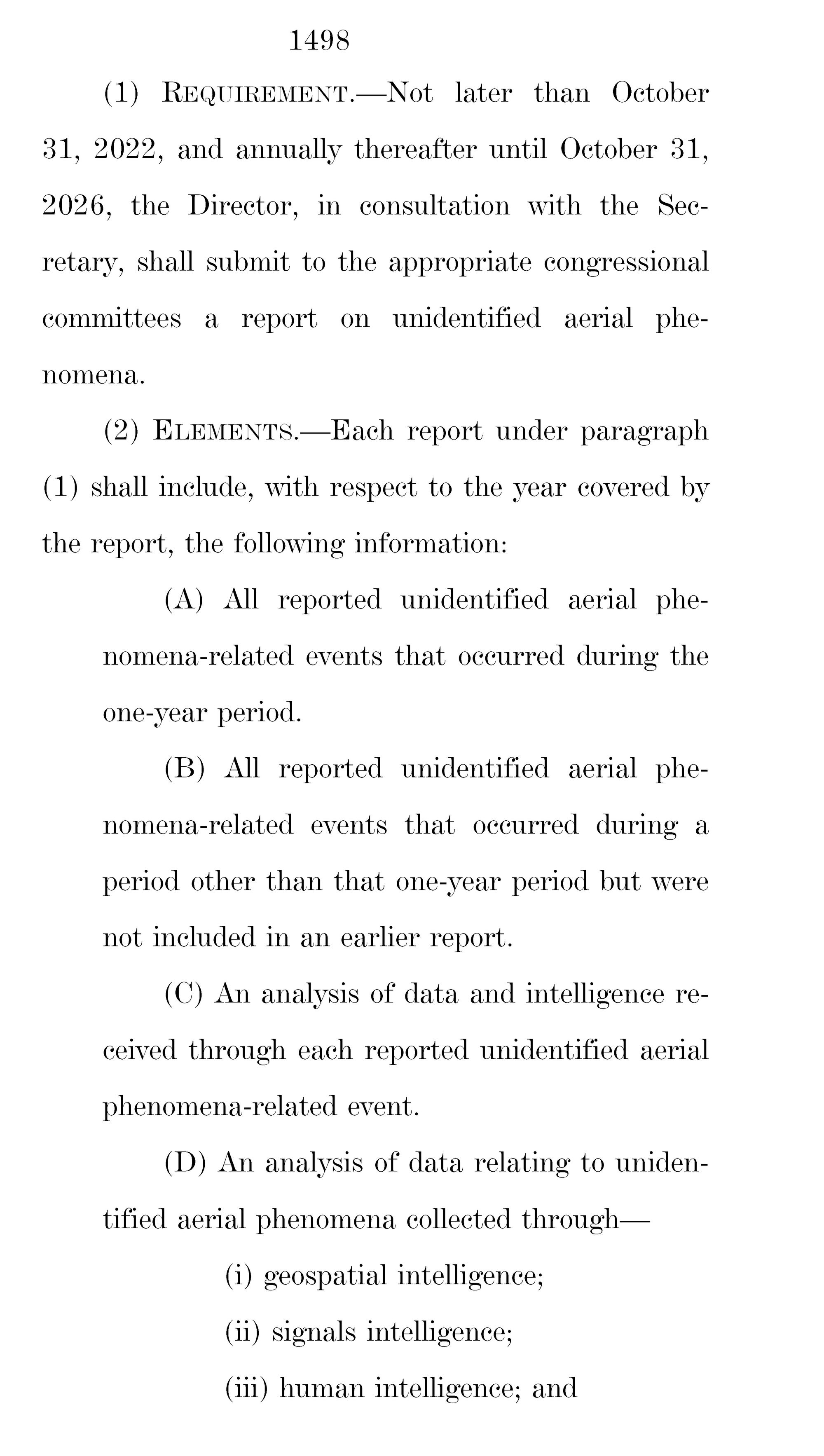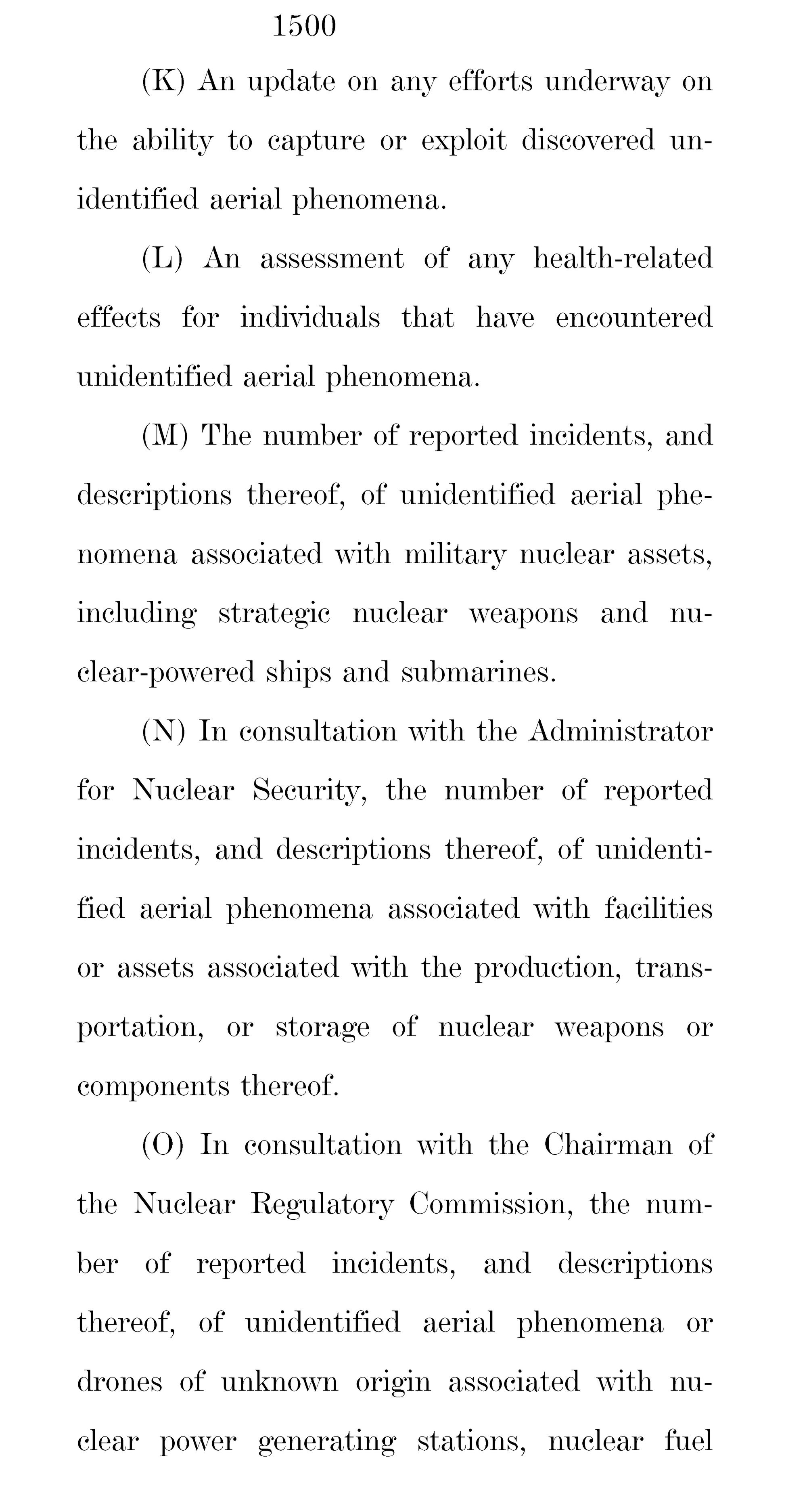 WHO WILL BE IN CHARGE OF THE NEW UAP-INVESTIGATION ENTERPRISE?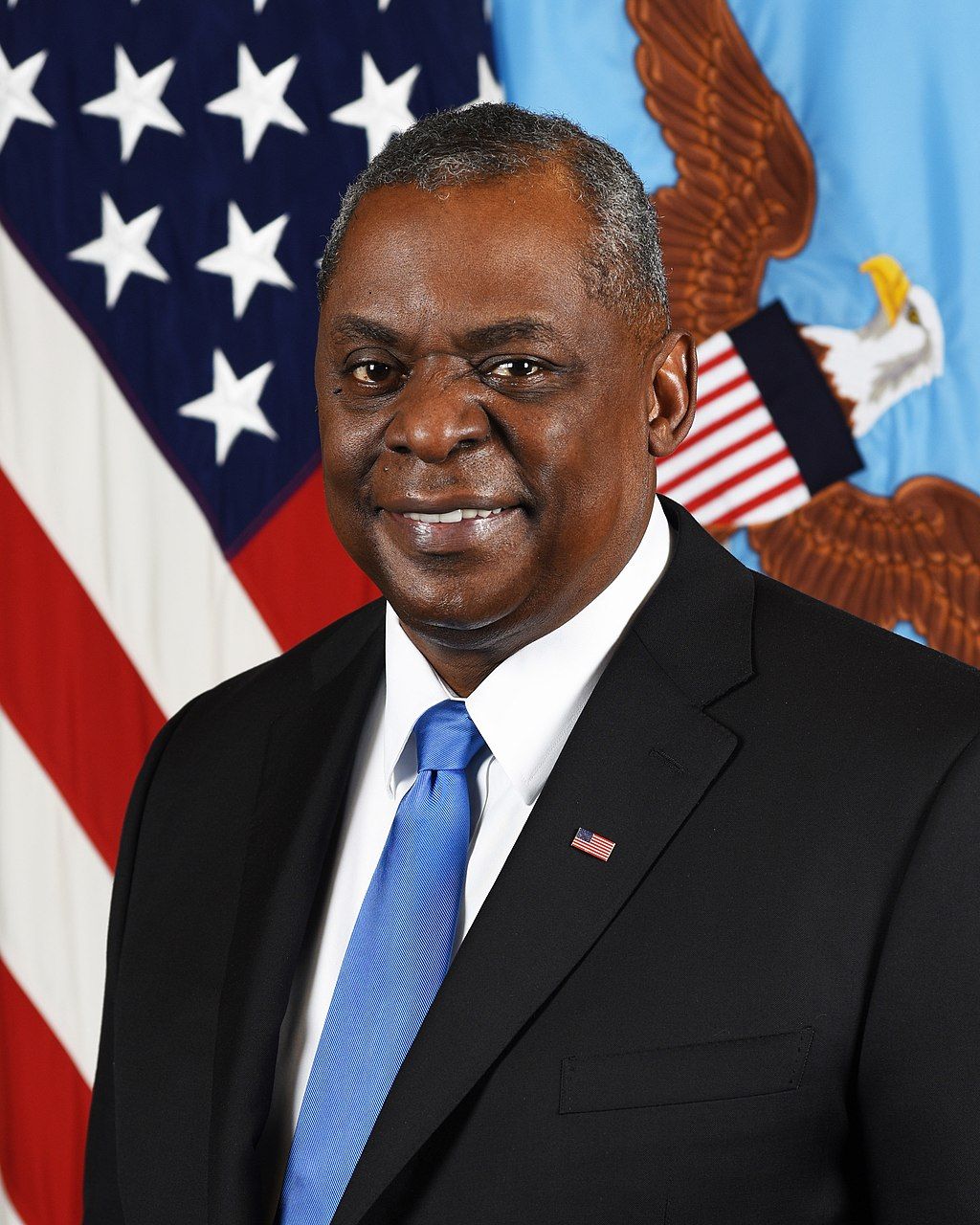 The GRG text places authority and accountability for the entire UAP enterprise squarely on the Secretary of Defense, shared to a degree with the Director National Intelligence.  The bill's mandates will require substantial involvement by multiple military and IC components, and substantial resources.  
However, as already noted, the language does not dictate where the Secretary of Defense must place the entity that will exercise an administrative oversight function over the entire enterprise.  For the immediate future, at least, we now know that this central entity will reside within the Office of the Under Secretary of Defense for Intelligence & Security (OUSD(I&S)).  We know this because on November 23, 2021, the second-ranking DoD official, Deputy Secretary Kathleen Hicks, issued a memorandum directing the Under Secretary of Defense for Intelligence and Security to create an Airborne Object Identification and Management Synchronization Group (AOIMSG), charged "to detect, identify and attribute objects of interests in Special Use Airspace (SUA) and to assess and mitigate any associated threats to safety of flight and national security."
There is nothing in the bill that would force the Secretary of Defense to change that placement– although there is also nothing to prevent any Secretary from moving the UAP nexus somewhere else, if he (in consultation with the DNI) decides that is warranted.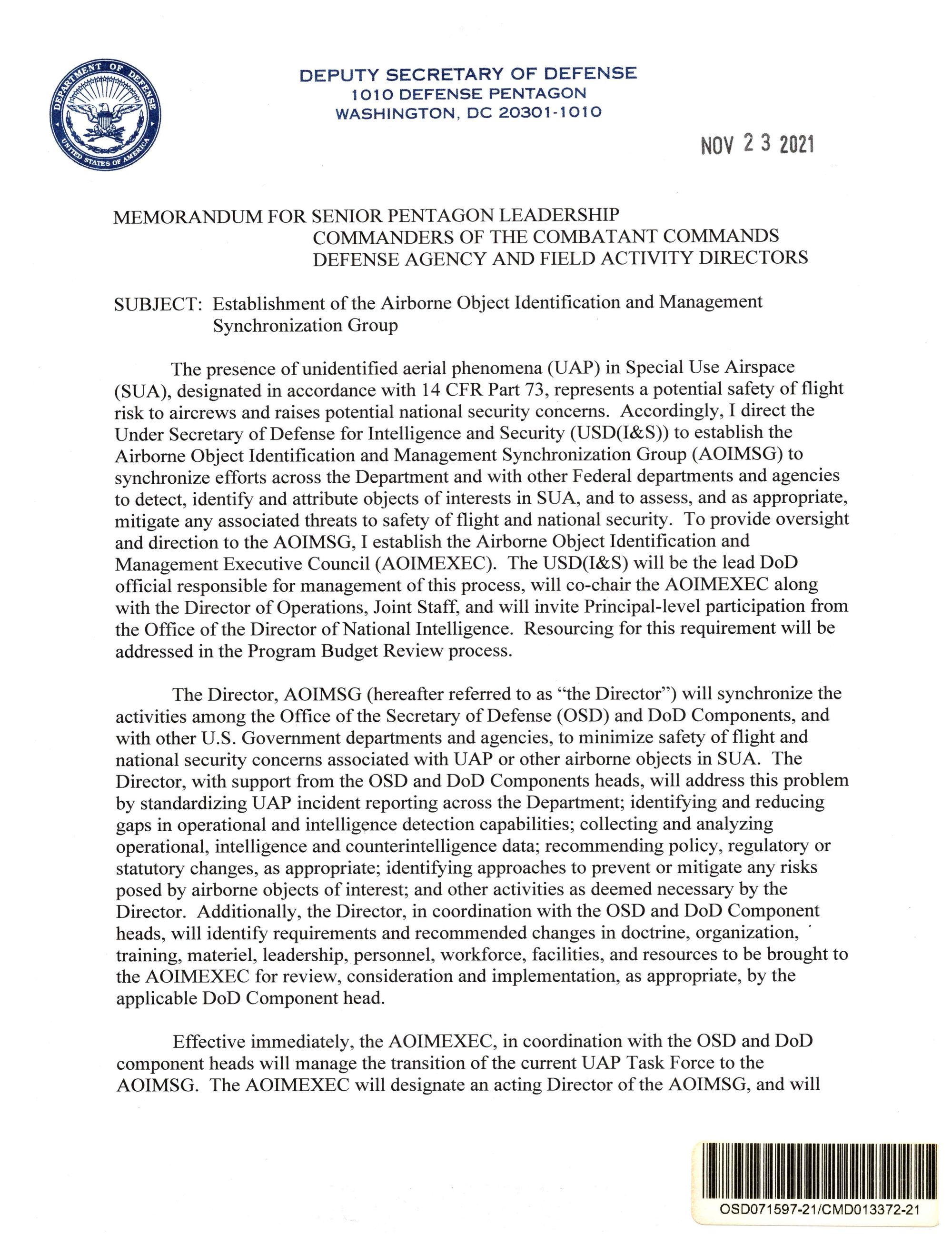 The Hicks memo was released to the news media just as congressional negotiators, behind closed doors, were beginning to negotiate final UAP language in earnest. This timing appeared to be one component of a campaign by some Pentagon bureaucrats to undercut momentum for inclusion of strong UAP mandates in the final bill.  Those efforts failed.  The next day, Congressman Gallego told POLITICO reporter Bender that legislation was still needed, and that he and Sen. Gillibrand had agreed to work in concert to achieve that goal.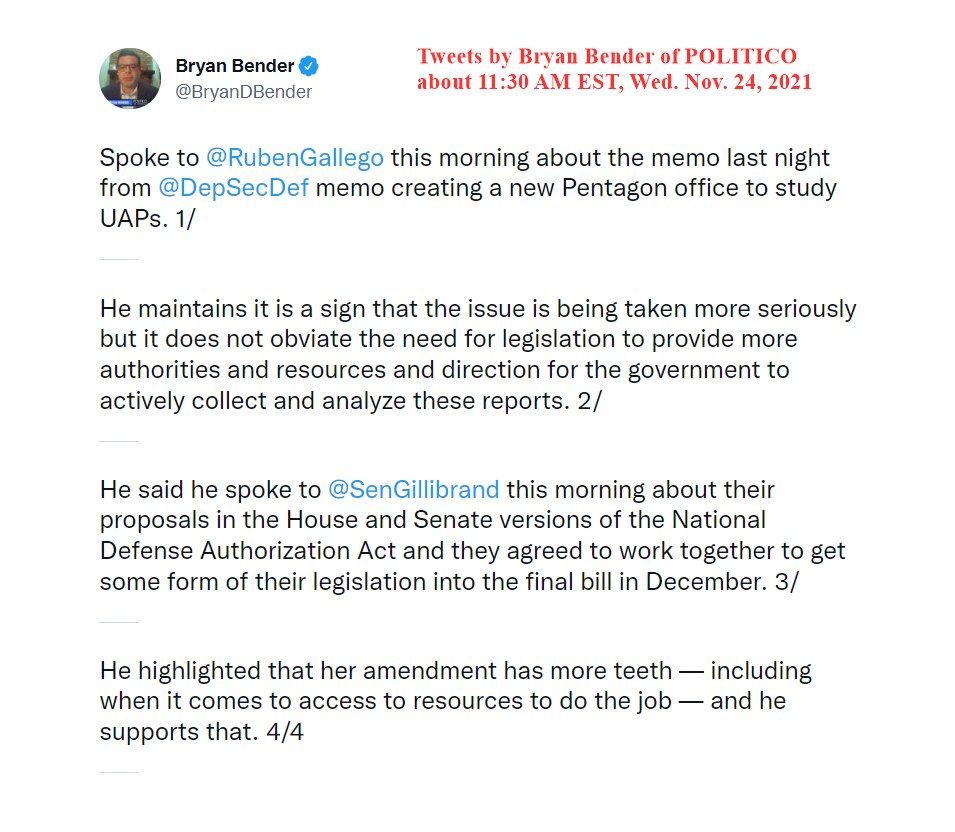 An under secretary of defense (of which there are six) reports directly to the Secretary and the Deputy Secretary of Defense.  The Under Secretary of Defense for Intelligence & Security exercises administrative oversight authority over many substantial defense components, including the National Security Agency (NSA), the Defense Intelligence Agency (DIA), the National Geospatial-Intelligence Agency (NGA), the National Reconnaissance Office (NRO), and the Defense Counterintelligence & Security Agency (DCSA). In addition, the Under Secretary for Intelligence and Security is "dual-hatted," serving simultaneously as the top defense intelligence deputy to the cabinet-level Director of National Intelligence.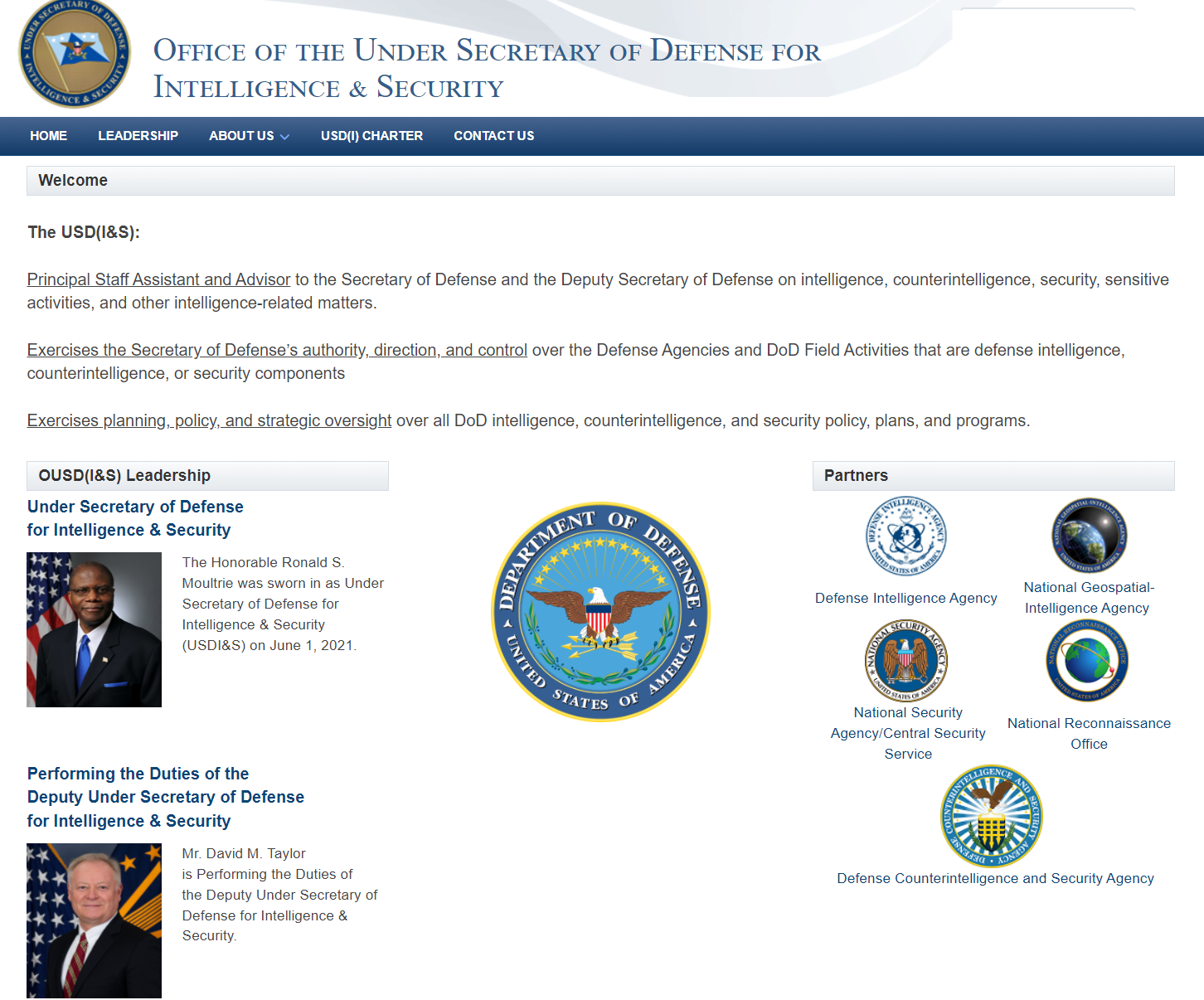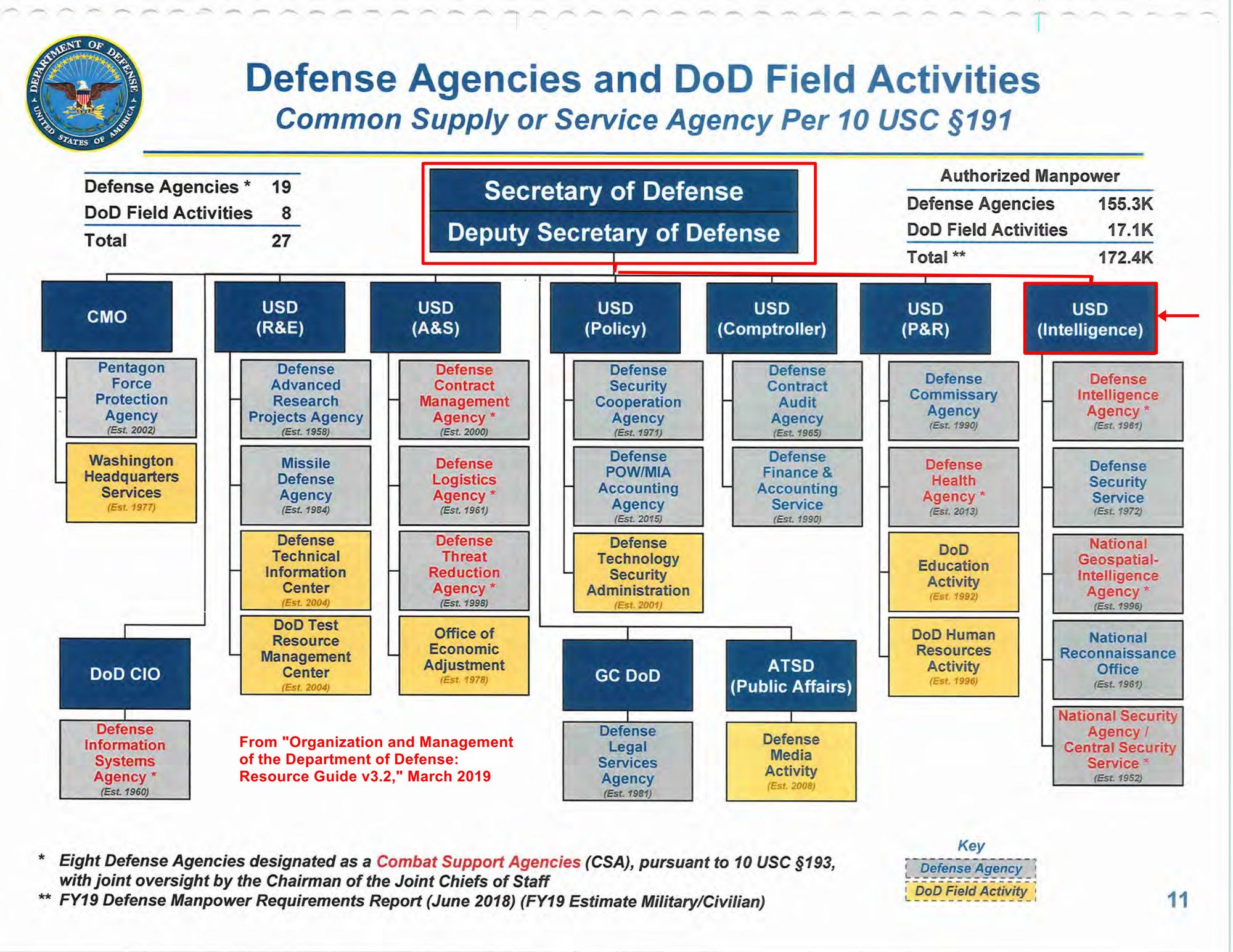 The current Under Secretary of Defense (Intelligence & Security) is Ronald Moultrie, a long time public servant who was confirmed by the U.S. Senate to his position on May 29, 2021, on a voice vote (meaning that his nomination was not at all controversial).  Moultrie has not, so far as I've been able to determine, publicly voiced views on any aspect of UAP.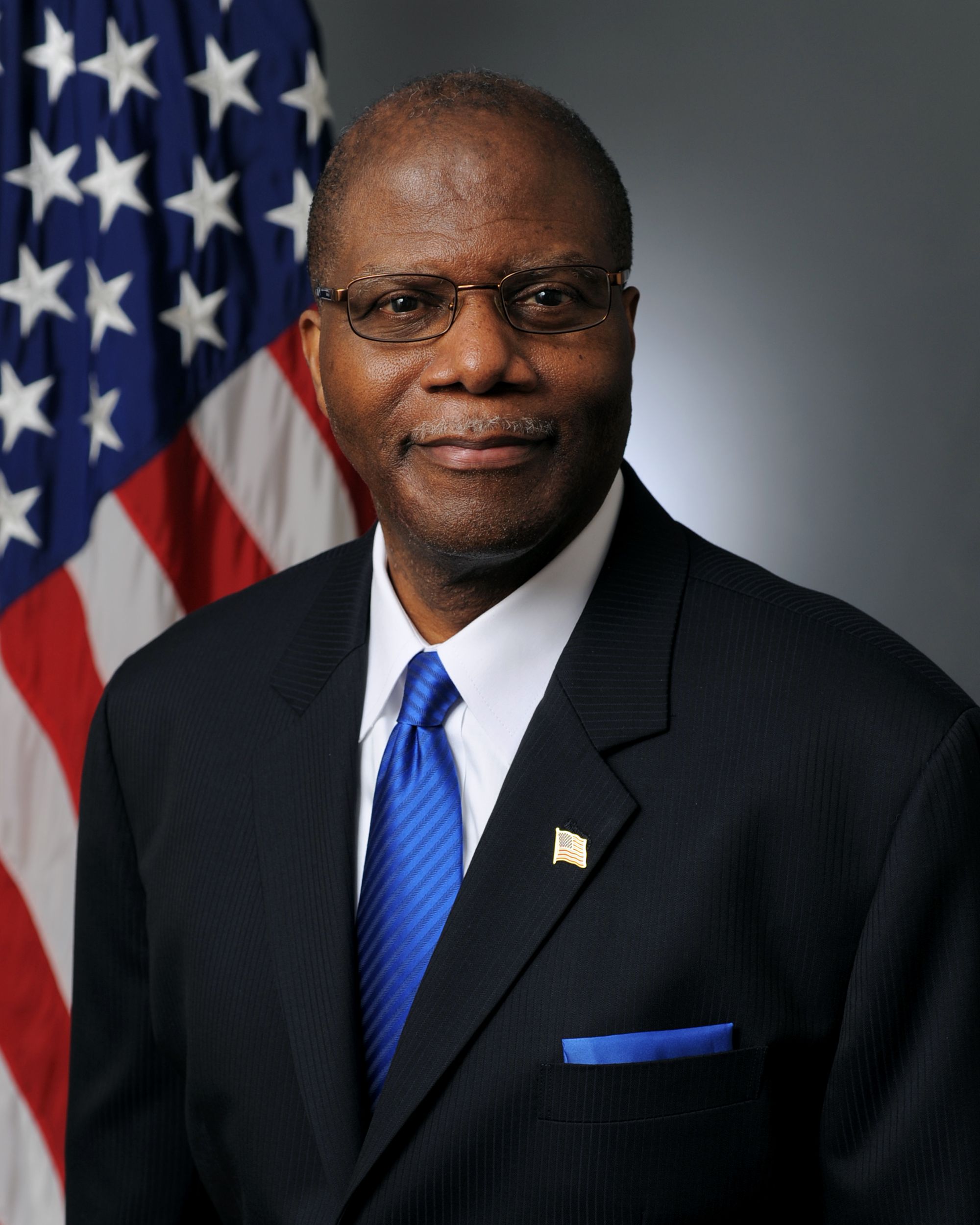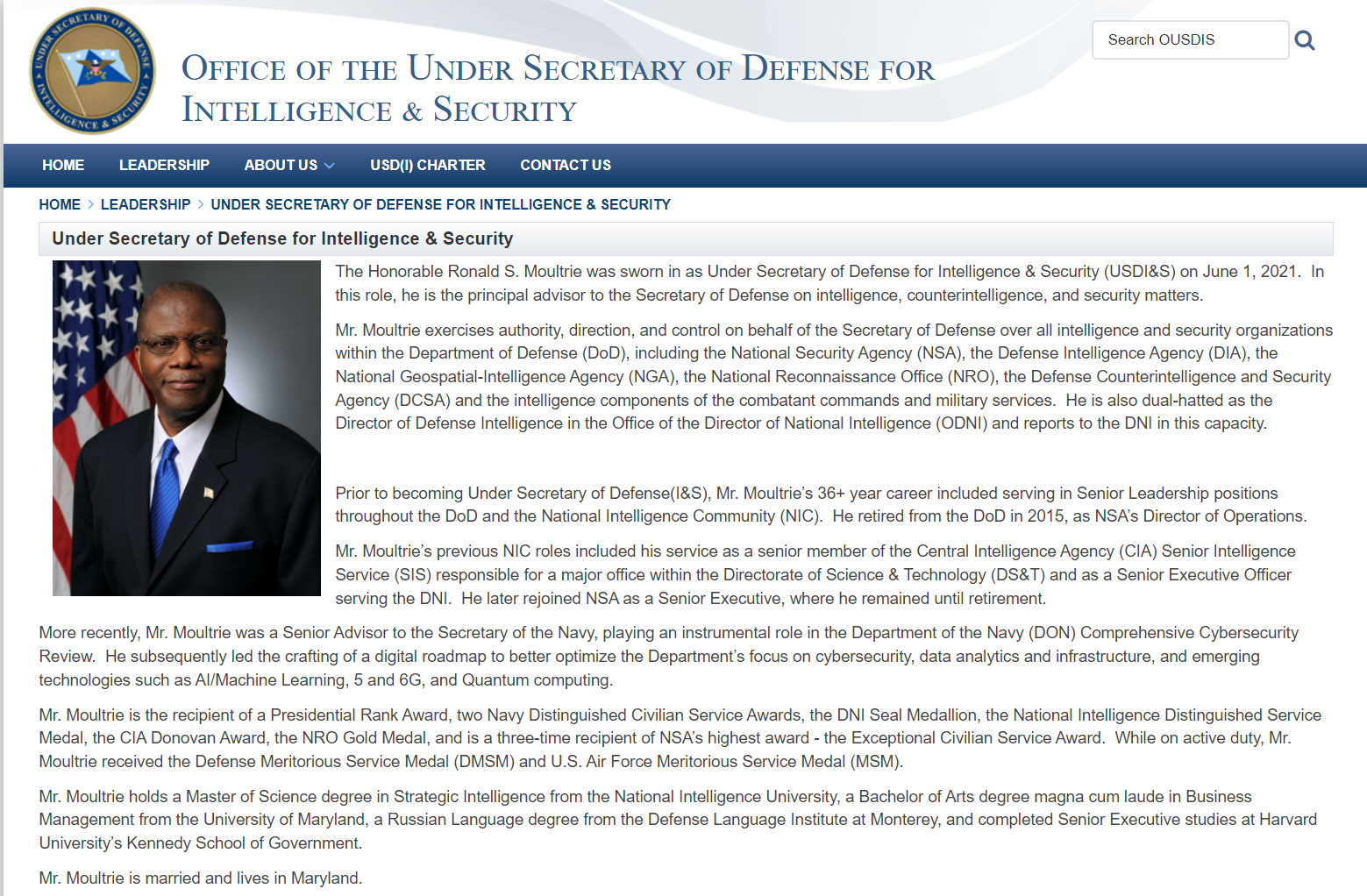 Given that Under Secretary Moultrie is the senior intelligence advisor to Secretary of Defense Lloyd Austin, and given the number of ongoing crises in the world and the number of intelligence components that are under his oversight, it is logical to expect that Moultrie's deputy, David M. Taylor, may play a more direct role in supervising the AOIMSG.
Taylor is a member of the Senior Executive Service (SES), with a civilian rank equivalent to a two-star general. (The SES is a corps of "flag-rank" government officials, at least 90 percent of whom are career civil servants rather than political appointees, and who continue from administration to administration.)   He has been at OUSD(I&S) since 2010; he actually ran OUSD(I&S) for the first four months of the Biden administration, until Moultrie was confirmed.
Prior to joining OUSD(I&S), Taylor served in the Navy for over 30 years as a flight officer.  His final Navy assignment was as chief of staff for Carrier Strike Group Eleven aboard the aircraft carrier USS Nimitz, an assignment that he received in early 2008.  It appears that Taylor left the Navy with the rank of captain (the Navy grade equivalent to an Army colonel), then worked briefly on maritime drone technology for Northrop Grumman Aerospace Company before joining OUSD(I&S).  I have not found any public statements by Taylor pertaining to any aspect of UAP.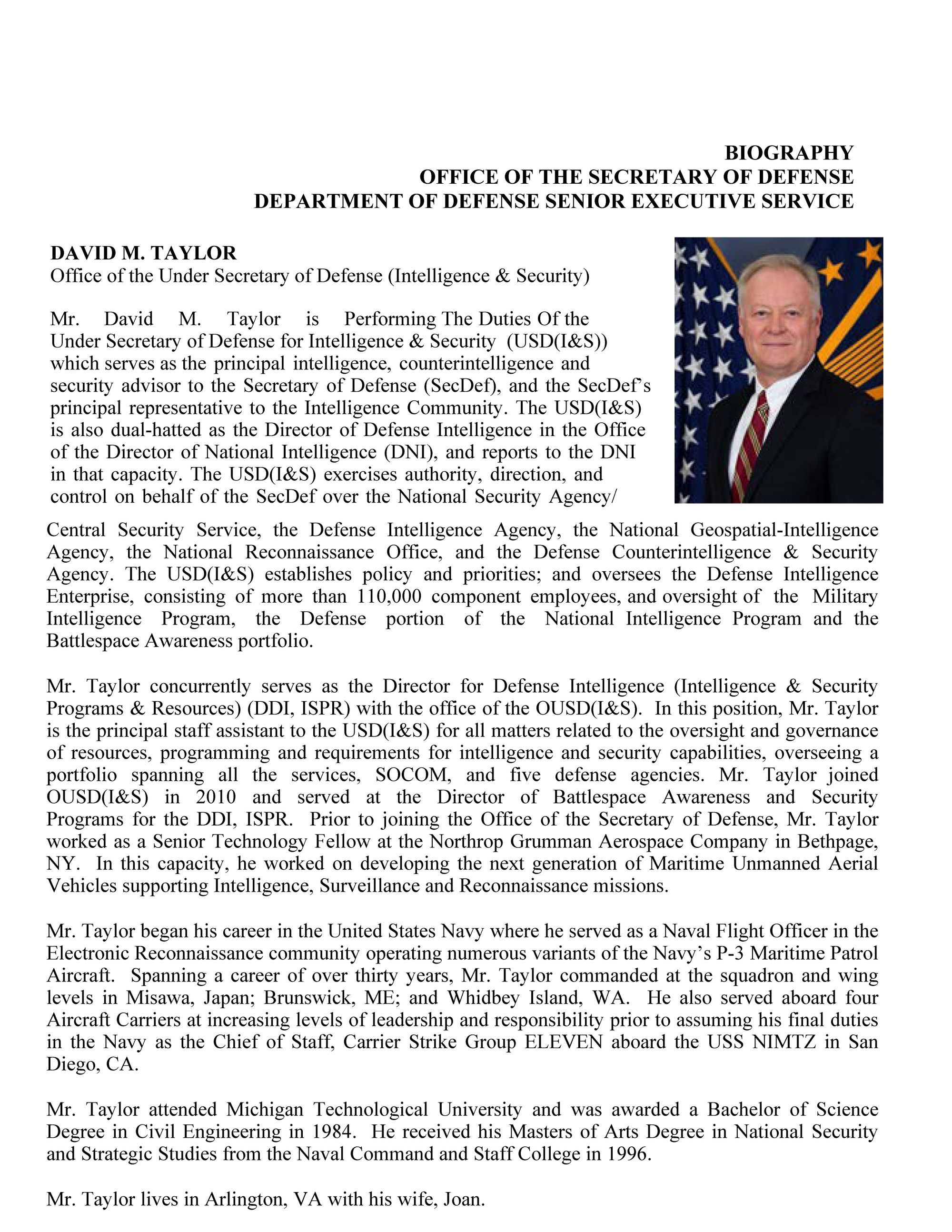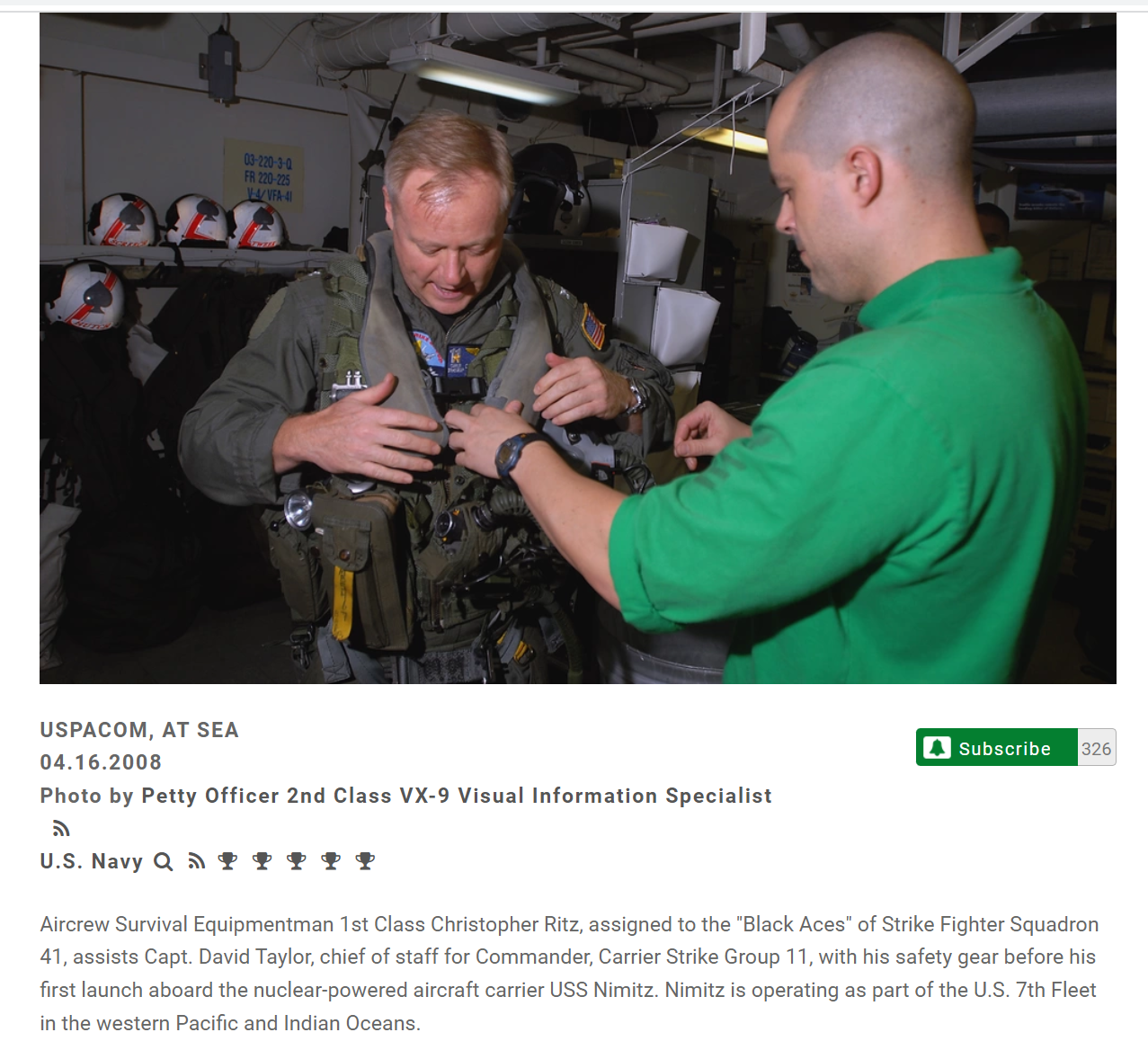 ADVISORY COMMITTEE ON UAP SHOT DOWN-- AT LEAST FOR NOW
Not every provision of the Gillibrand-Rubio Amendment survived. A section that would have created a 25-member advisory committee, including 20 members appointed from lists submitted by the National Academies, science-oriented private groups (such as the Galileo Project, and the Scientific Coalition for UAP Studies) and non-defense government agencies (including NASA), was dropped by House-Senate negotiators.  
My perception is that the advisory committee section fell victim to opposition from elements of the Pentagon-IC bureaucracy, which spread the claim that such an entity would be a security risk-- even though the Gillibrand-Rubio Amendment specified that every member of the proposed committee must qualify for a Secret clearance, meaning that all committee members would have been bound by classification laws that include stringent criminal penalties for violations.  Can I produce a smoking gun? No, but the smell of the gunpowder is strong, and I'm betting that there is one laying around somewhere.  
Also, even among some of those in government and the media who are sympathetic to forward-leaning UAP investigations, I perceive a wariness towards much of the civilian ufological world. This should not be surprising.  Persons in control of prominent platforms, billing themselves as researchers or journalists or documentary makers, continue to promote highly dubious evidence claims, and the tall tales of characters such as Bob Lazar (a scientist-impersonator and felon with a hole-riddled story that he worked in a government project in possession of nine intact alien craft, and obtained a sample of a super-powered alien isotope), and Ray Stanford (an ex-ET-trance-channeler who keeps getting play from some, even though he has been making wild, morphing, and discredited UFO-alien claims for over 60 years).
WHAT IS THE SCOPE OF THE TERM "UNIDENTIFIED AERIAL PHENOMENA"?
One odd defect in the House-passed Gallego language – corrected in the final compromise language – was an absurdly constricted definition of "unidentified aerial phenomena."  Under the House-passed bill, "UAP" was defined to mean only "airborne objects witnessed by a pilot or aircrew member that are not immediately identifiable." Under that definition, a giant glowing disc entering the sea next to a surfaced submarine, or hovering over a Minuteman III silo, would not have constituted "UAP."  

The scope of the mission assigned to the AOIMSG in the November 23 Hicks memorandum was also sharply limited, covering only "airborne" objects and only if encountered "in Special Use Airspace (SUA)," which refers to airspace that is restricted for military or other official security reasons, either permanently or temporarily.
In contrast, the GRG text contains no such geographical limitation, and it would define "unidentified aerial phenomena" broadly, as encompassing unidentified airborne objects, unidentified transmedium objects ("observed to transition between space and the atmosphere, or between the atmosphere and bodies of water"), and  "submerged objects or devices that are not immediately identifiable and that display behavior or performance characteristics suggesting that they may be related" to unidentified aerial or transmedium objects.
THE CONVOLUTED PATH OF THE LEGISLATION
Gillibrand filed her amendment on November 4, when leaders of the Senate Armed Services Committee – Chairman Senator Jack Reed (D-RI) and ranking Republican Senator Jim Inhofe (R-OK) – were hopeful of moving the NDAA through the Senate quickly.  However, Reed and Inhofe were subsequently stymied in their attempts to pass an NDAA on the Senate floor, due to disputes over issues unrelated to UAP.  As the mainstream news media remained focused on that stalemate, it is obvious that staffs and members of the Senate and House committees, behind closed doors, crafted the massive compromise bill, drawing on three main sources for text: The House-passed NDAA (H.R. 4350); a NDAA version (S. 2792) approved by the Senate Armed Service Committee on July 21 ; and specific proposed amendments that had been filed by individual senators or groups of senators, including the Gillibrand-Rubio Amendment.  

The fact that most of the strongest UAP-related components emerged from these negotiations, even in the face of hostility from some enclaves within the Department of Defense, is a testament not only to the prime sponsors (Senator Gillibrand and Congressman Gallego), but also to the quiet but essential support of the Democratic chairmen of the  Senate and House committees on Armed Services (Sen. Jack Reed, D-RI, and Congressman Adam Smith, D-WA), and the Republican ranking members of those committees (Senator Jim Inhofe, R-OK, and Congressman Mike Rogers, R-AL),  as well as the bipartisan leadership of the Senate and House Intelligence committees.  
Following the release of a congressionally requested unclassified report on UAP from the DNI on June 25, 2021, Chairman Reed issued a statement that "...we simply lack the information necessary to determine what these objects are and what they are doing. So, we need to get that information. Let's keep watching the skies, studying, and learning. If the government acquires evidence of things it can't explain, let's examine it from every angle and be forthright with the American people."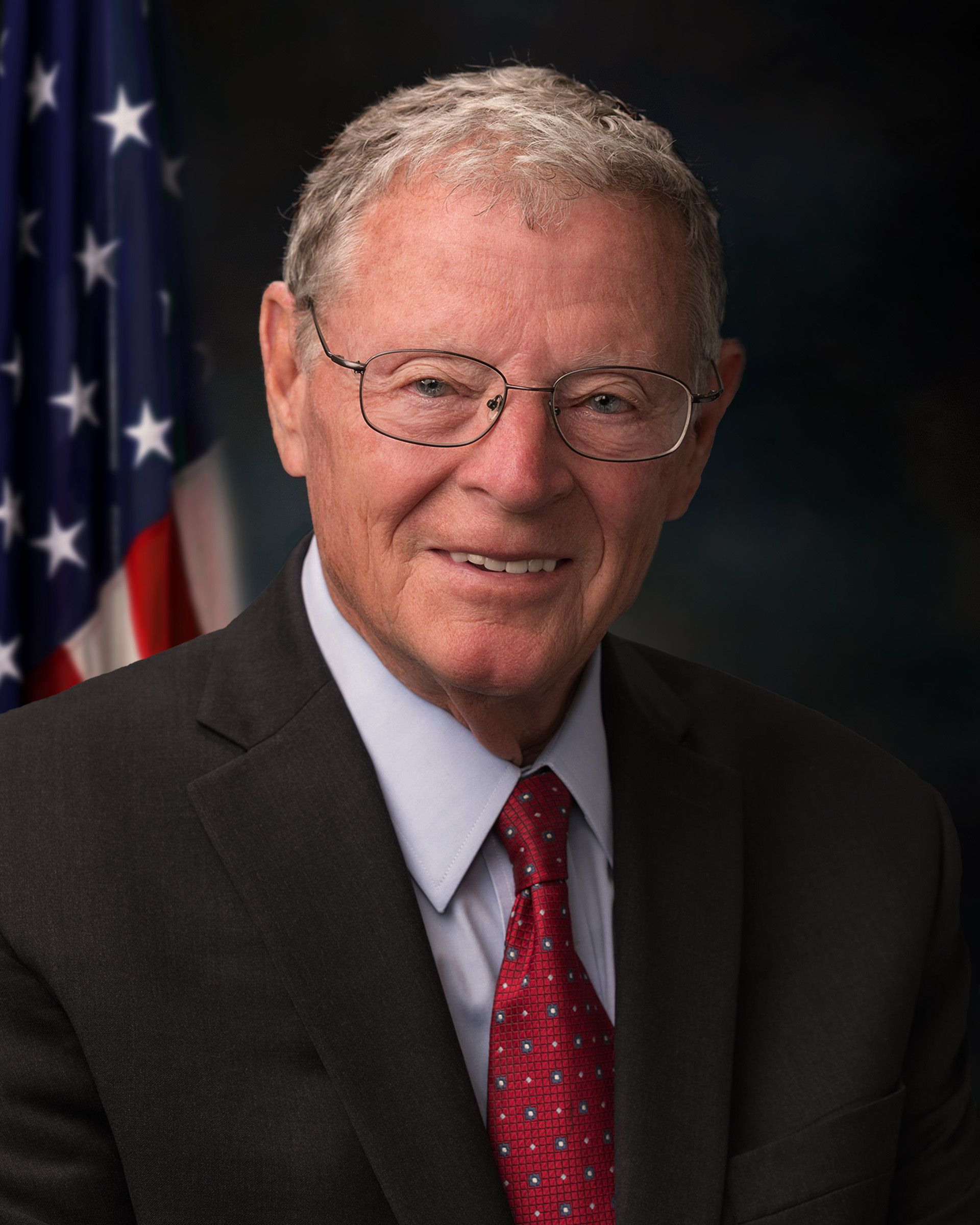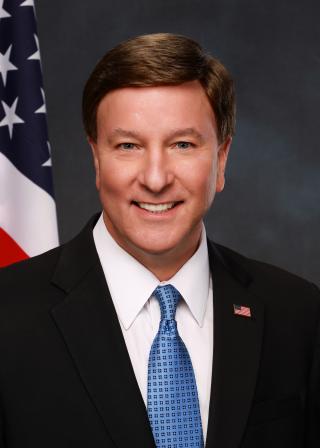 The co-sponsorship of the Gillibrand Amendment by Senator Rubio was a particularly important signal to his Republican colleagues; in the last Congress, Rubio chaired the Senate Select Committee on Intelligence, and was publicly vocal on the UAP issue; he remains the vice chairman (ranking Republican) on that committee.  
A striking degree of quiet consensus that has developed on the UAP issue, particularly among members of the congressional committees that have the greatest access to pertinent classified information.  When lawmakers who do not sit on national security committees see such bipartisan consensus on a matter involving classified information, most usually will defer to it, and that dynamic appears to be at work here.  For example, after the House Armed Services Committee incorporated Congressman Gallego's language into its version of the NDAA, every one of the House's 435 members had the opportunity to ask permission to offer specific NDAA amendments on the floor.  The House Rules Committee received 860 such amendment requests– but not one touched the UAP section.
Likewise, on the Senate, the matter advanced quietly, although Senator Gillibrand tweeted and gave several interviews on the subject.  There was no visible opposition from any senator, nor any discussion of UAP on the Senate floor.
ONGOING EVALUATION OF DEFENSE DEPARTMENT UAP INVOLVEMENT BY OFFICE OF THE INSPECTOR GENERAL
There are many controversies and conflicting stories regarding the nature and degree of past involvement by U.S. military, intelligence, and other government organizations with various aspects of the UFO phenomena and with the UFO research community.  Perhaps some of these matters will be clarified to some degree during the next few years.  In May, 2021, the Office of the Inspector General of the Department of Defense announced that it was launching an "evaluation" intended "to determine the extent to which the DoD has taken actions regarding Unidentified Aerial Phenomena (UAP)."  The OIG has very broad statutory powers to probe as it will, and to make recommendations for reform.
Little has been publicly revealed about the scope of this evaluation, but judging from briefing materials obtained by John Greenewald Jr. of TheBlackVault.com, it appears to involve a substantial team of OIG personnel.  The timetable for completion of the evaluation has not been made public.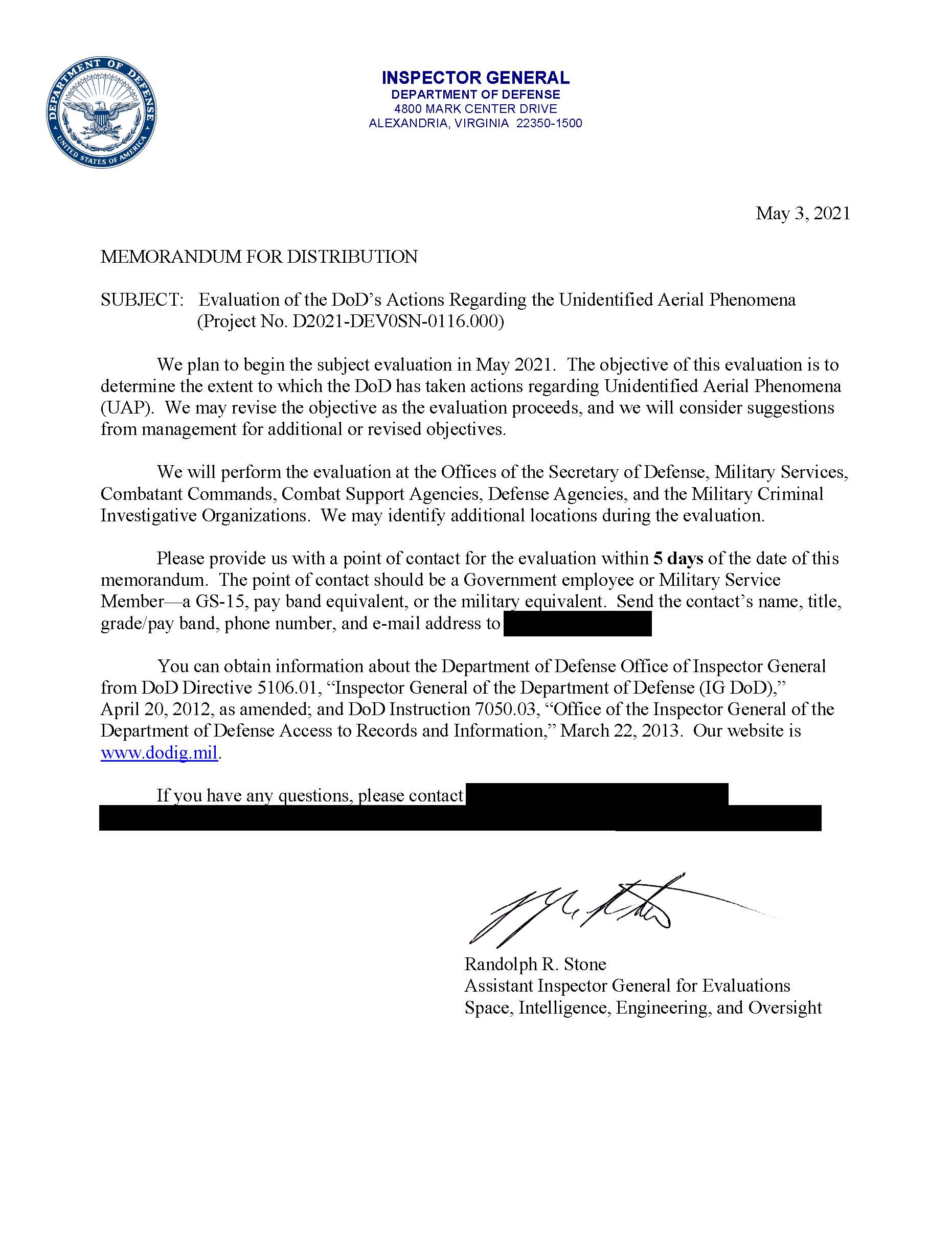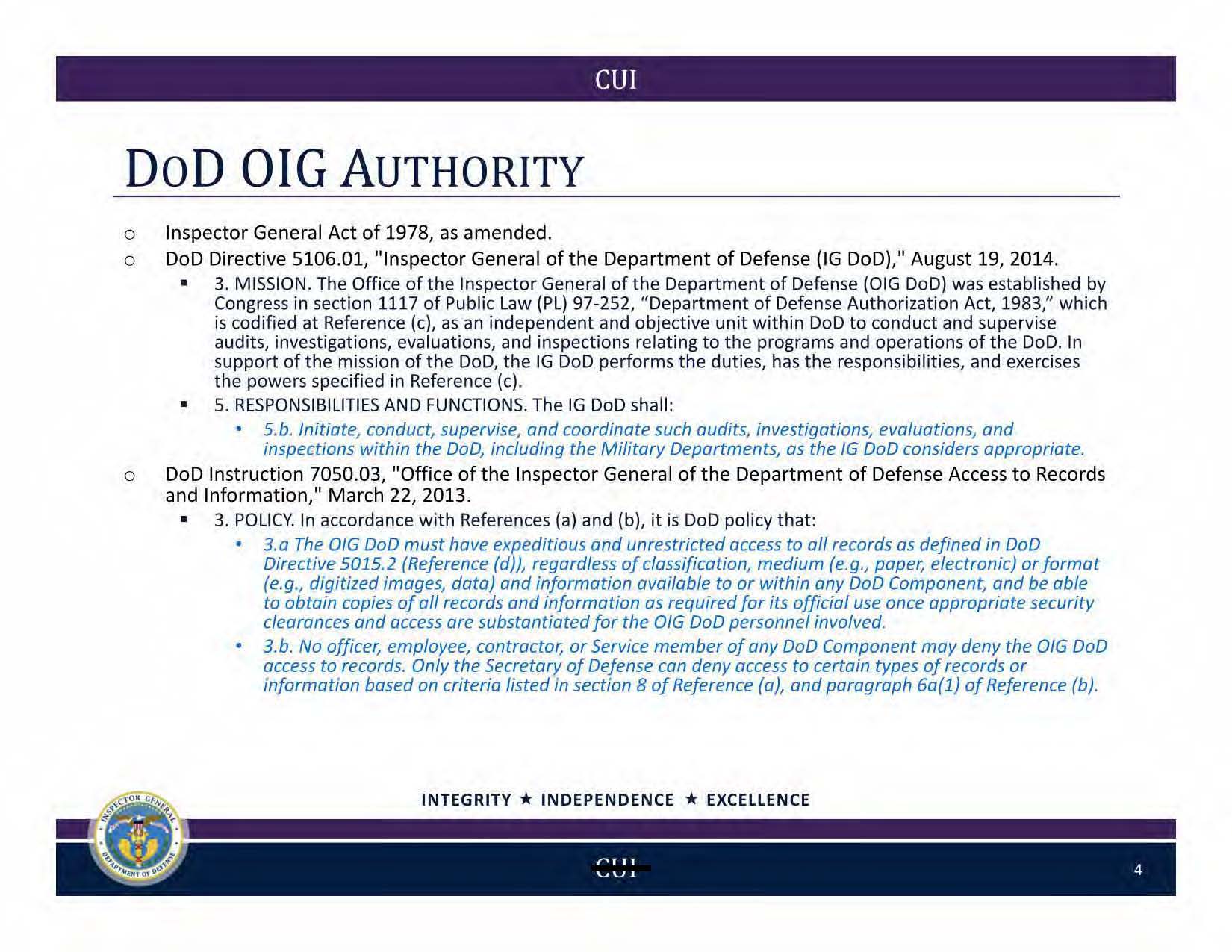 THE AMBIGUOUS UTTERANCES OF THE DIRECTOR OF NATIONAL INTELLIGENCE
In mid-2020, the Senate Select Committee on Intelligence (SSCI), then chaired by Senator Marco Rubio (R-FL), broke new ground by directing (in a public committee report on its Intelligence Authorization Act) the Director of National Intelligence (DNI) to issue a report on UAP, in both classified and unclassified form, six months after enactment of the bill. The bill was enacted in December 2020, activating the directive, which was fulfilled by the release by DNI Avril Haines on June 25, 2021, of a 9-page public report, "Preliminary Assessment: Unidentified Aerial Phenomena." (Lawmakers on the congressional intelligence and armed services committees received a 17-page classified version of the report, as well as classified briefings.)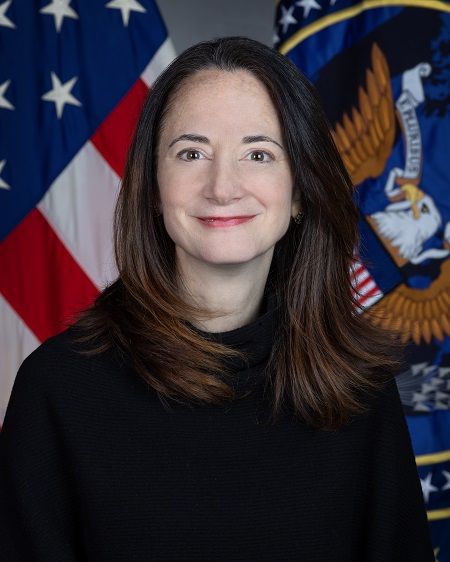 The report looked at 144 reports, all from government sources. based on admittedly very spotty reporting from 2004 to date.  It stated:  "Of these, 80 reports involved observation with multiple sensors...A handful of UAP appear to demonstrate advanced technology. In 18 instances, observers reported unusual UAP movement patters or flight characteristics.  Some UAP appeared to remain stationary in winds aloft, move against the wind, maneuver abruptly, or move at considerable speed, without discernable means of propulsion."  The report emphasized the need to gather data more systematically and bring greater analytical resources to bear.
On November 10, 2021, Director Haines appeared at an Ignatius Forum event  on the topic, "Our Future in Space," held at the Washington National Cathedral.  Moderator David Ignatius of the Washington Post posed this question:  "On this topic of life 'out there,' you issued an extraordinary preliminary assessment in June on unidentified aerial phenomena. To summarize that report, you studied 144 reports from U.S. government sources. 80 had sensors that had made the identifications; in 18 of these instances observers, I'm quoting, 'reported unusual UAP flight characteristics.' You sorted these into five different bins, the last called just 'other.' I want to ask you to share with the audience your takeaway after the completion of that report, and what your own view is once you look at the evidence?"
Director Haines began her answer by saying, "I mean, I think the bottom line is that we don't understand everything that we're seeing."  After outlining several categories of more or less prosaic possible causes for some UAP incidents (including "natural phenomena"), she concluded, "But of course, there's always the question of, is there something else that we simply do not understand that might come extraterrestrially?"
On November 24, 2021, the New York Times repeated that quote in a story by Julian E. Barnes about release of Deputy Secretary Hicks' memo establishing the AOIMSG.  Immediately after the quote appeared this sentence: "Ms. Haines' extraterrestrial remark was not necessarily referring to space aliens, but rather more pedestrian explanations such as meteors and solar flares that could impact flight safety issues." Oddly, the Times provided no attribution for this interpretive assertion.  
I have twice queried the ODNI as to whether the New York Times was correct to suggest that when Director Haines twice used the term "we don't understand" to refer to certain phenomena that she suggested might have origin "extraterrestrially," she really meant to convey that experts in the Intelligence Community, seeking to analyze certain sensor data or images, "do not understand" that they are merely seeing the products of meteors or solar flares.  I have received no reply.
I also asked Mr. Barnes if he had any authority for the interpretative assertion as to what was in Director Haines' mind when she spoke of extraterrestrial things not understood.  He replied by email, "The sentence explaining what Director Haines meant was based on sound reporting. It accurately reflects her thinking."
Opinions expressed on this blog are my own and not to be imputed to any other person, or to any organization, unless explicitly so stated.  My gmail address is my full name, Douglas Dean Johnson, with periods on each side of my middle name.  My Twitter handle is @ddeanjohnson
*************
What appears below is the complete text of the UAP-related language agreed on by negotiators from the Senate and House Armed Services committees. It was filed in the House of Representatives on December 7, 2021, with S. 1605 as the legislative vehicle, passed by the House without revision later that day by a vote of 363-70, and sent to the Senate for further action.  [Update: On December 15, 2021, the Senate, having made no revisions to the House-passed S. 1605, voted 88-11 to send it to President Biden for his signature, which is expected within days.]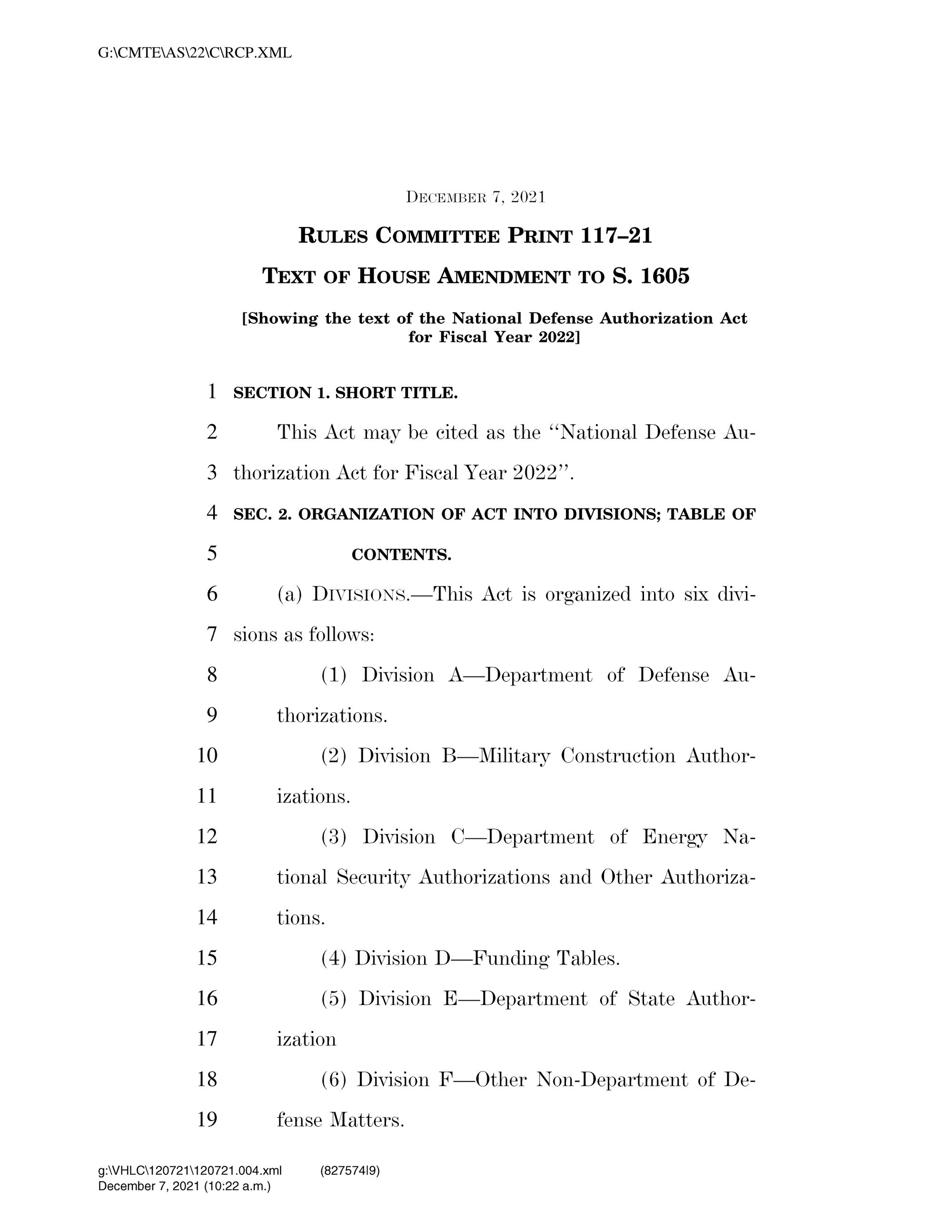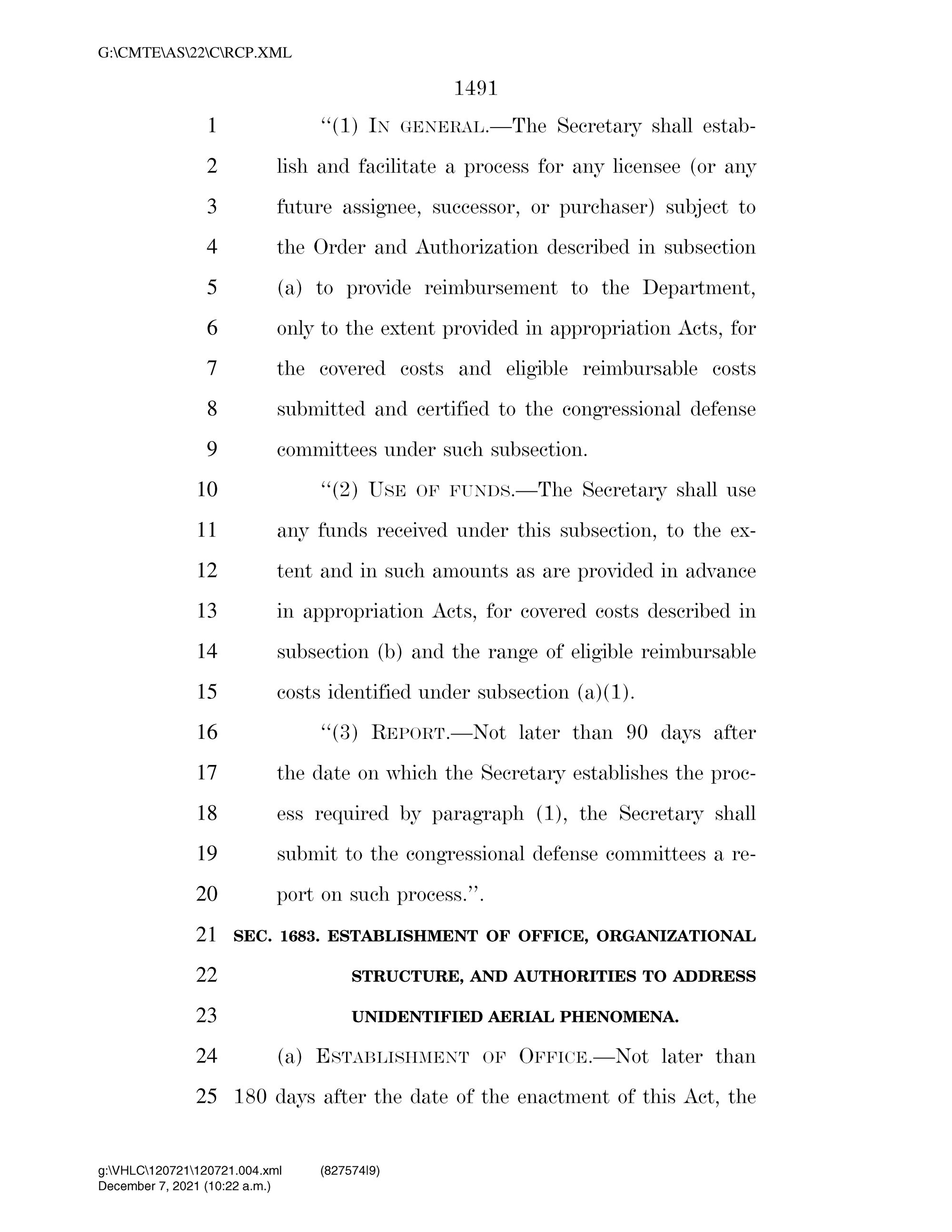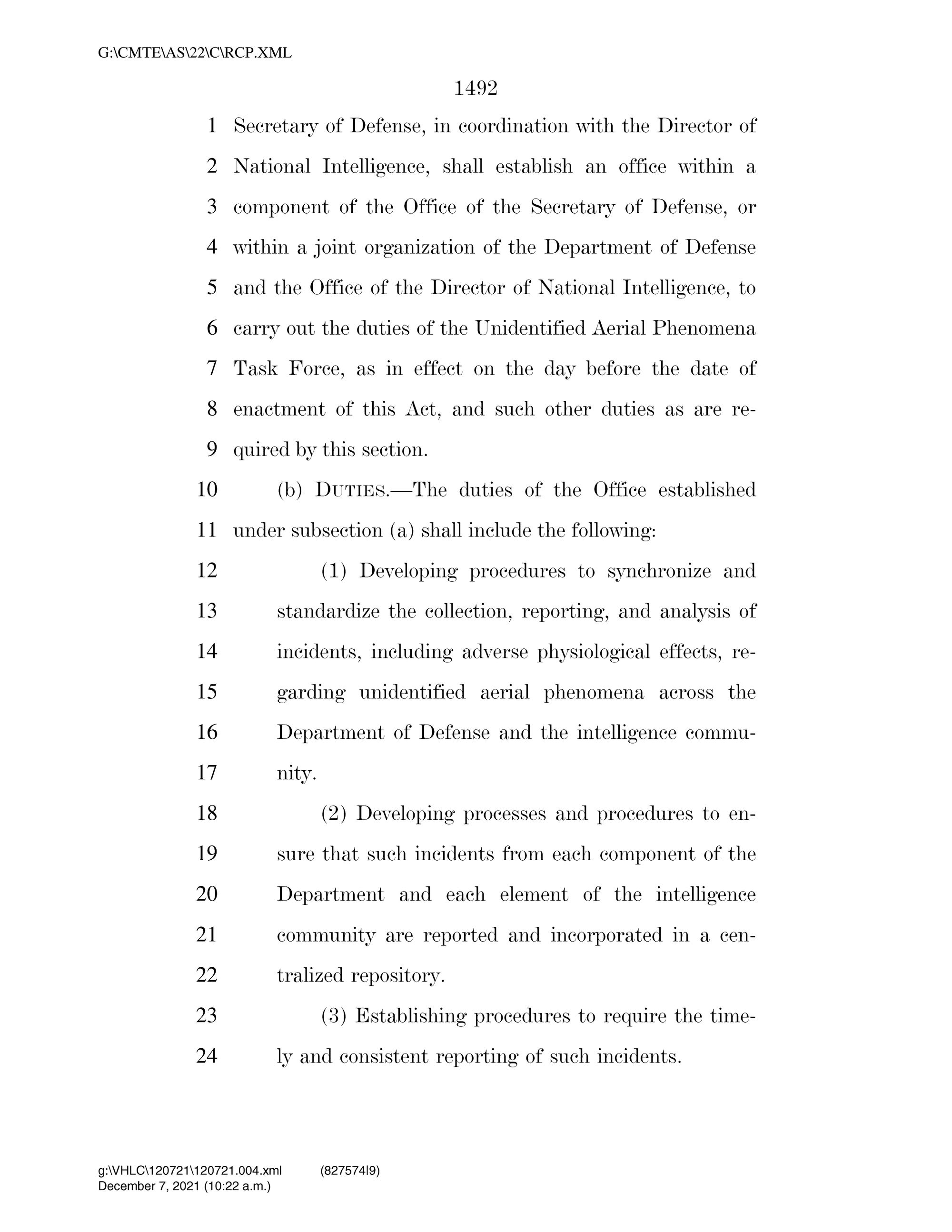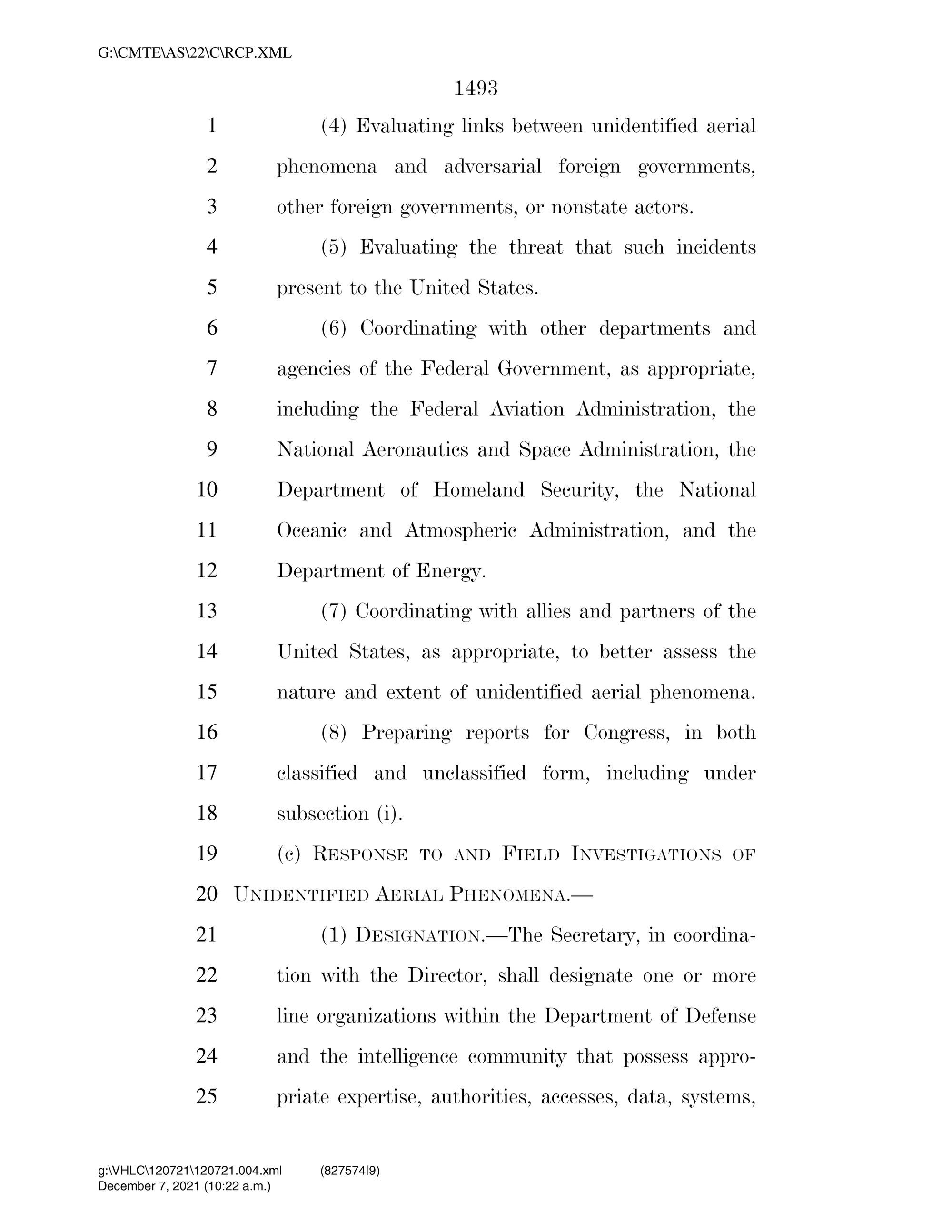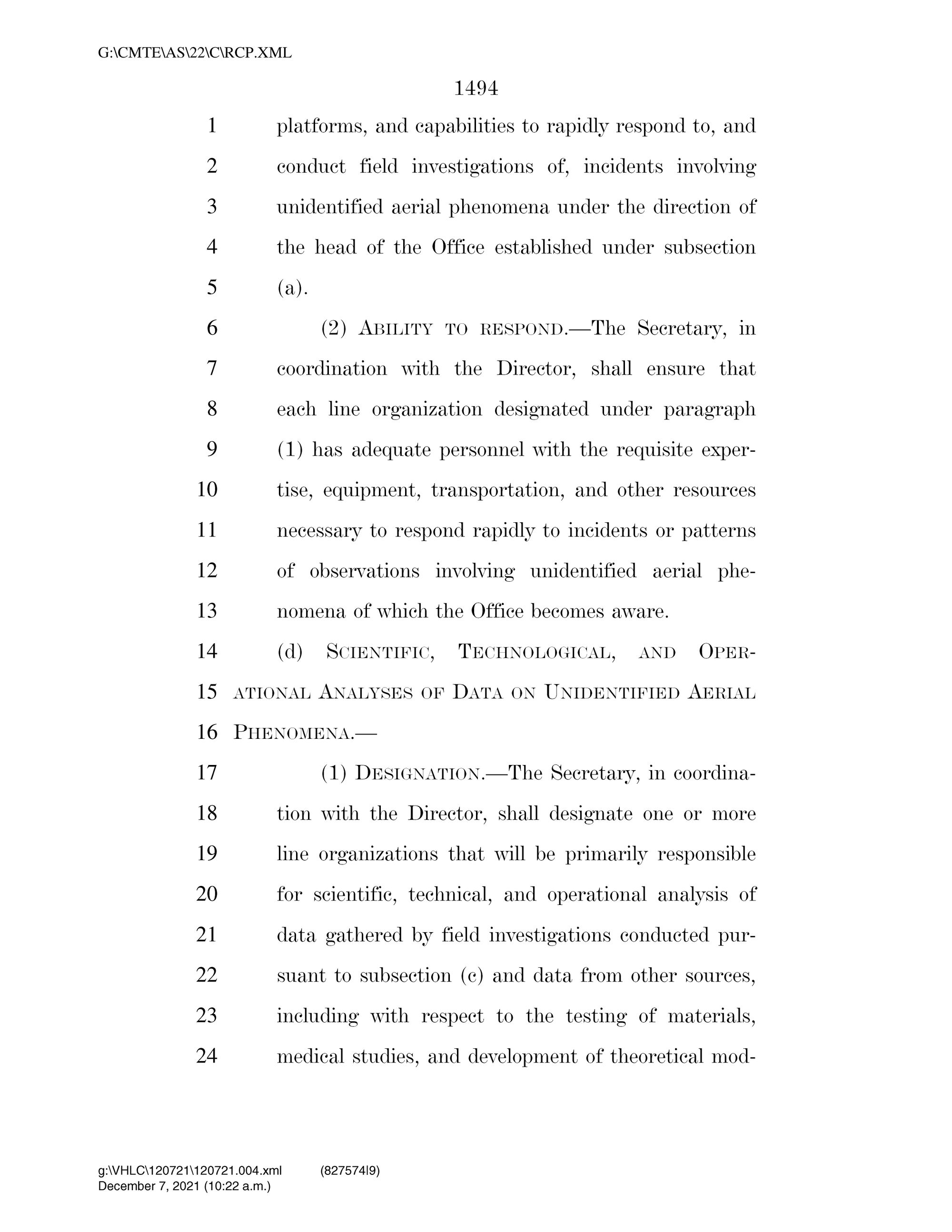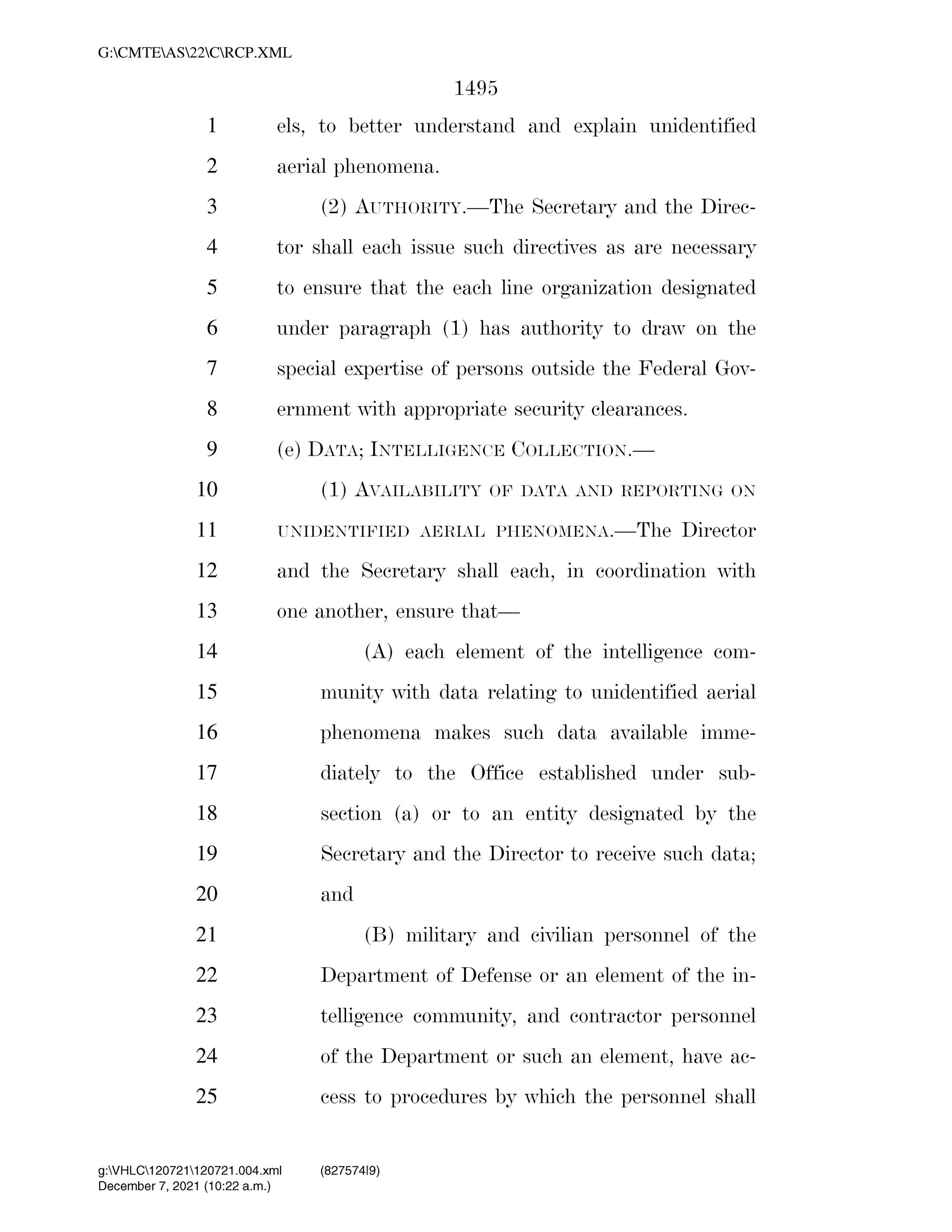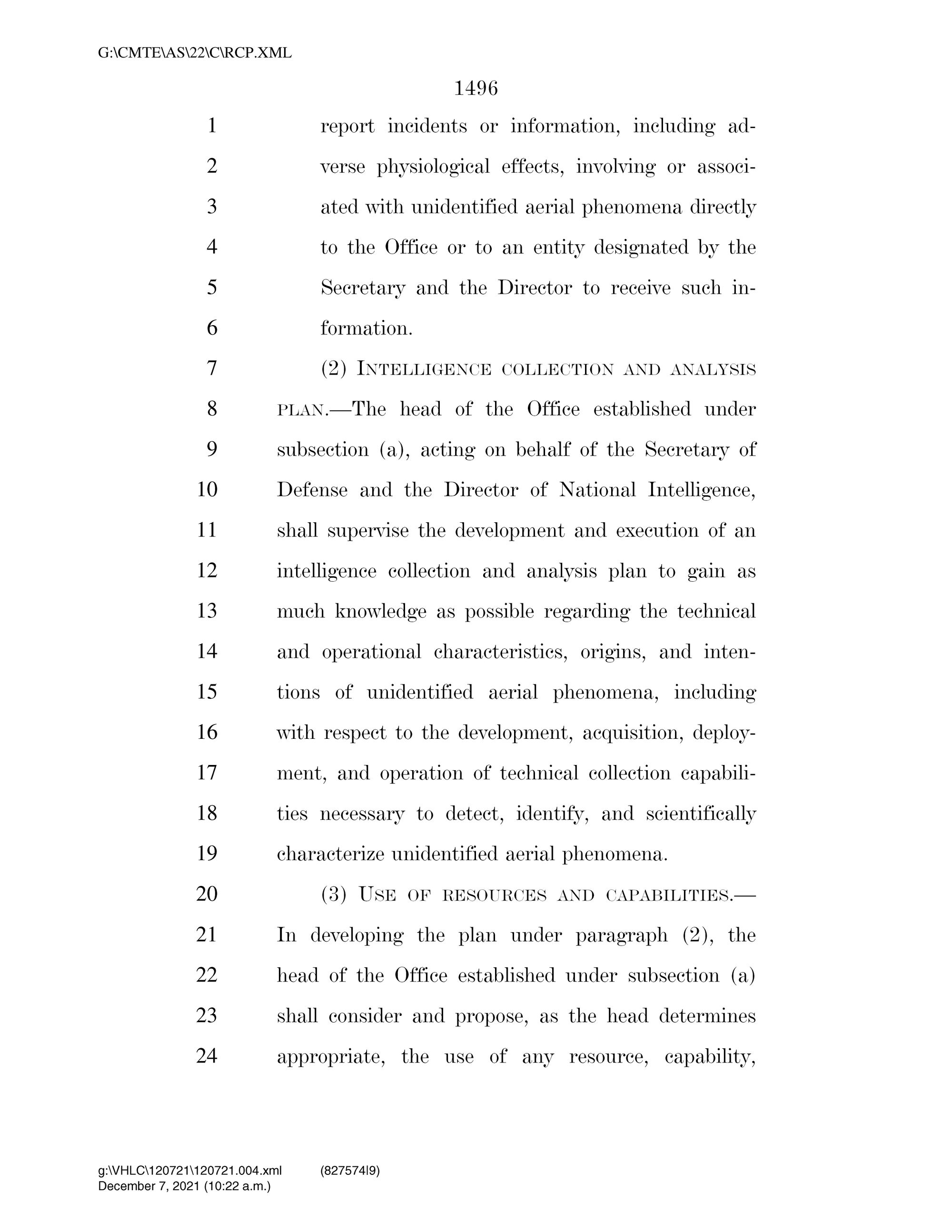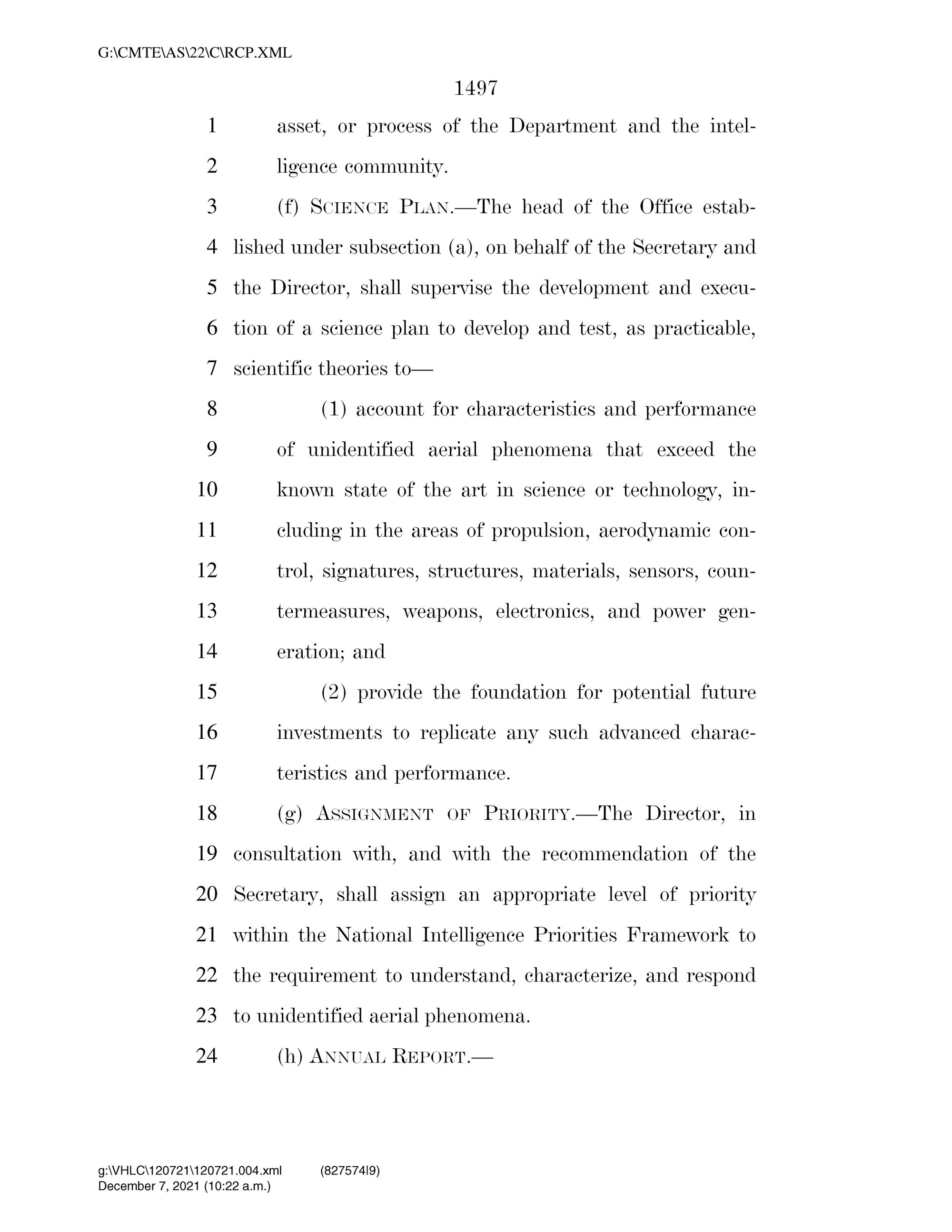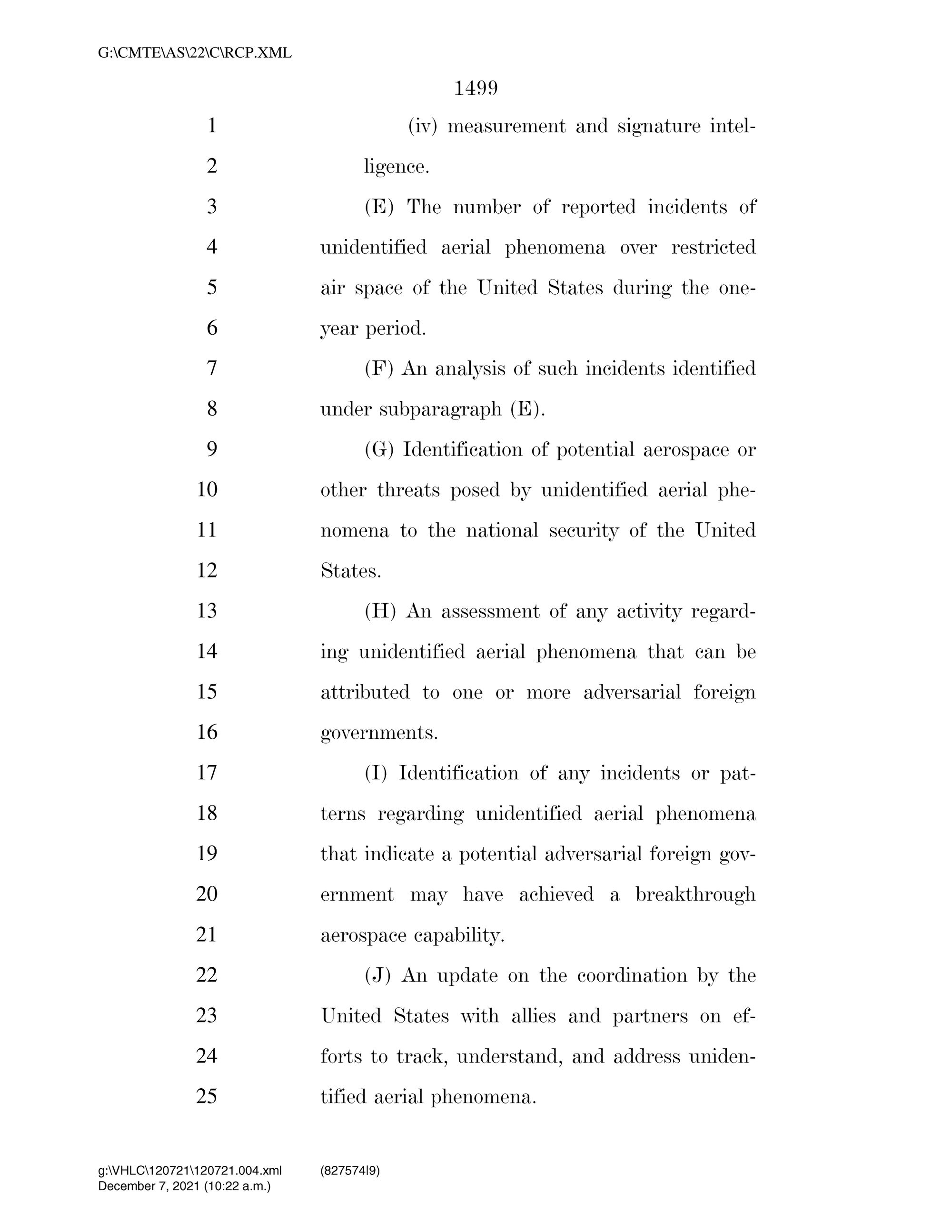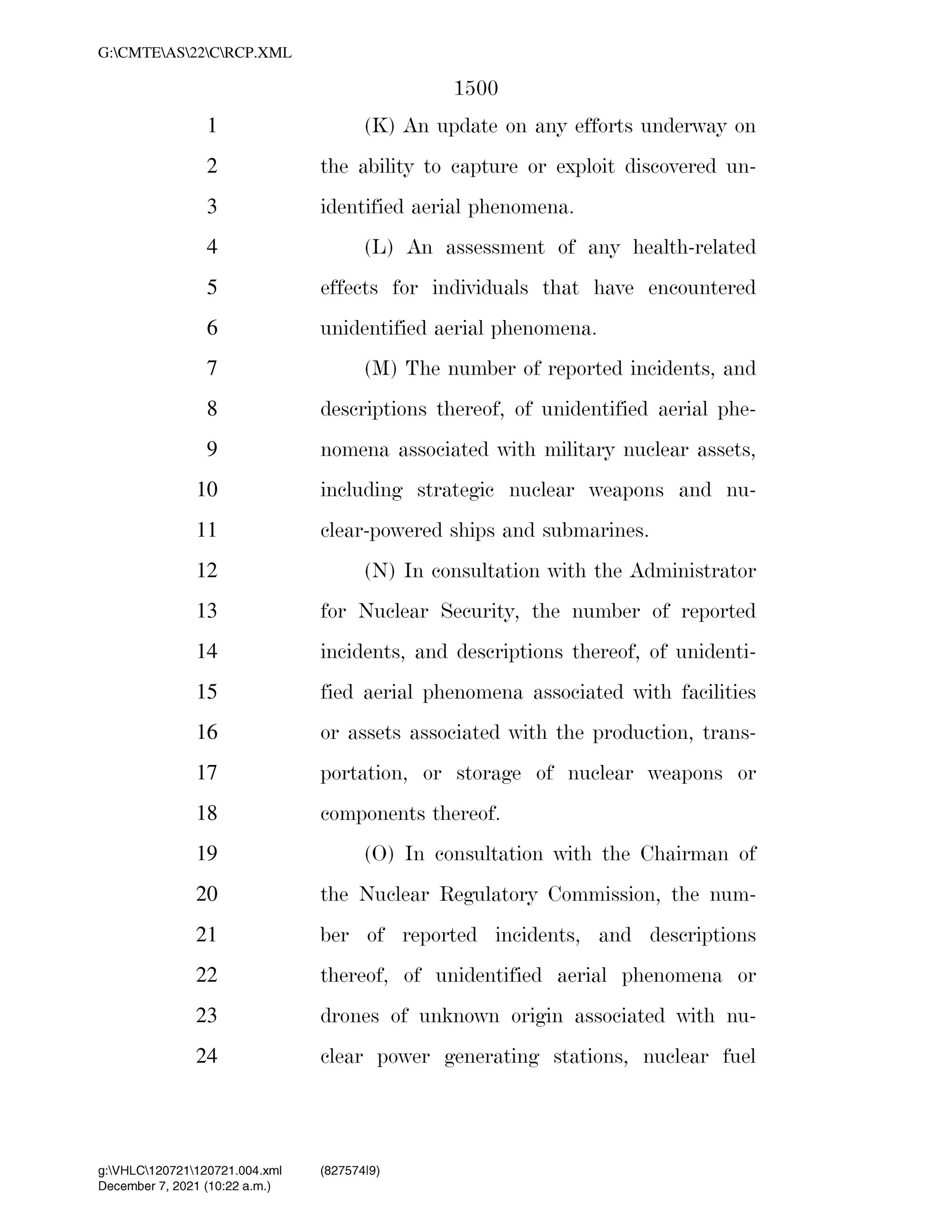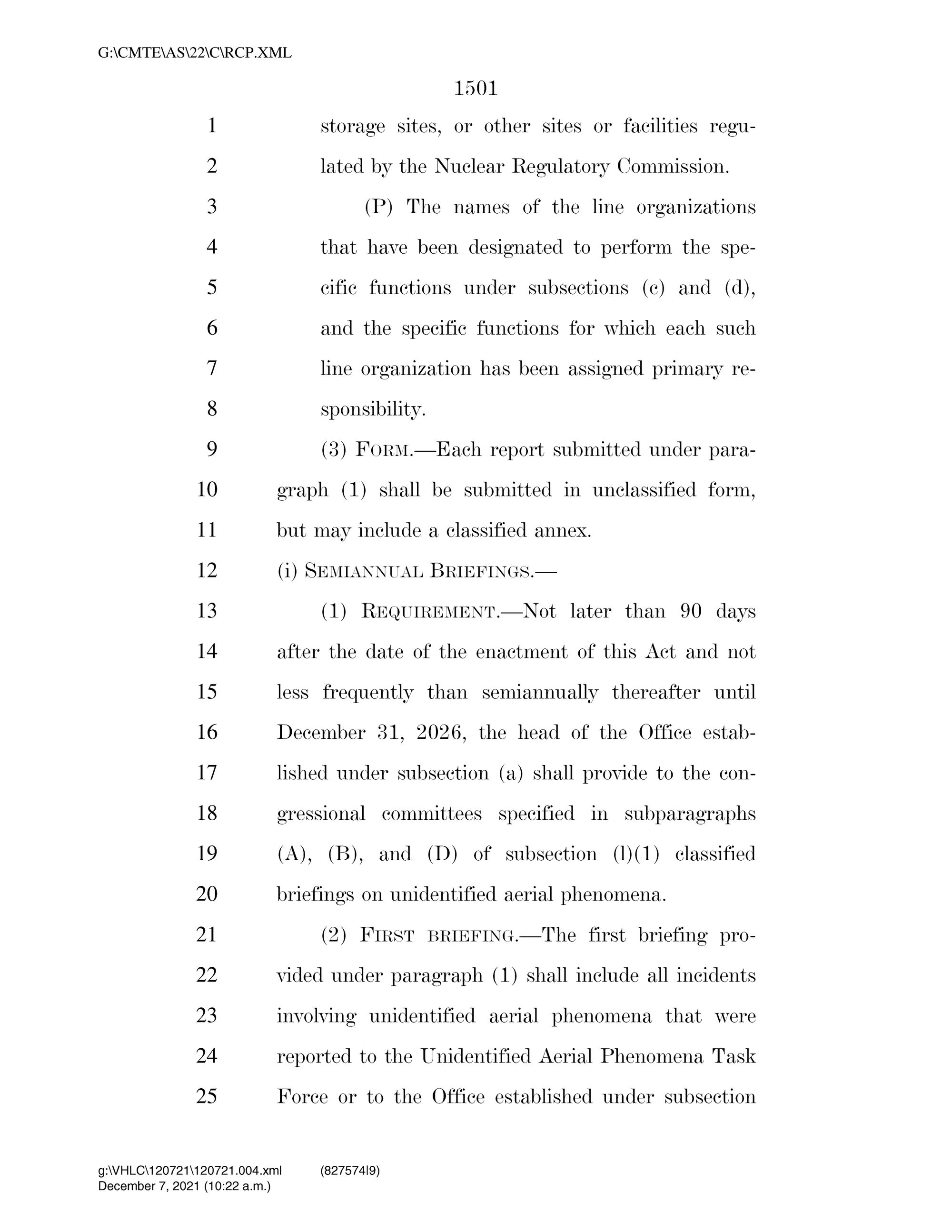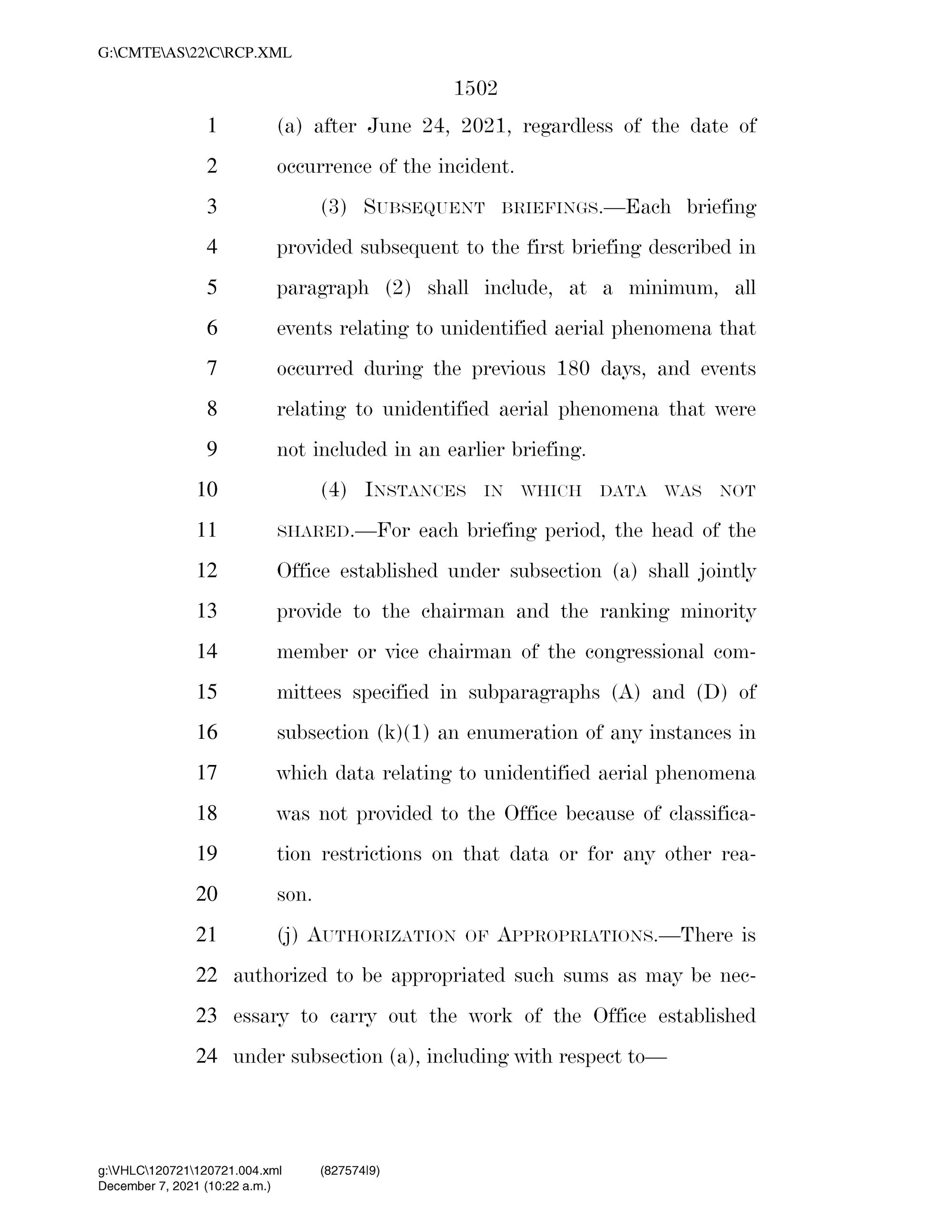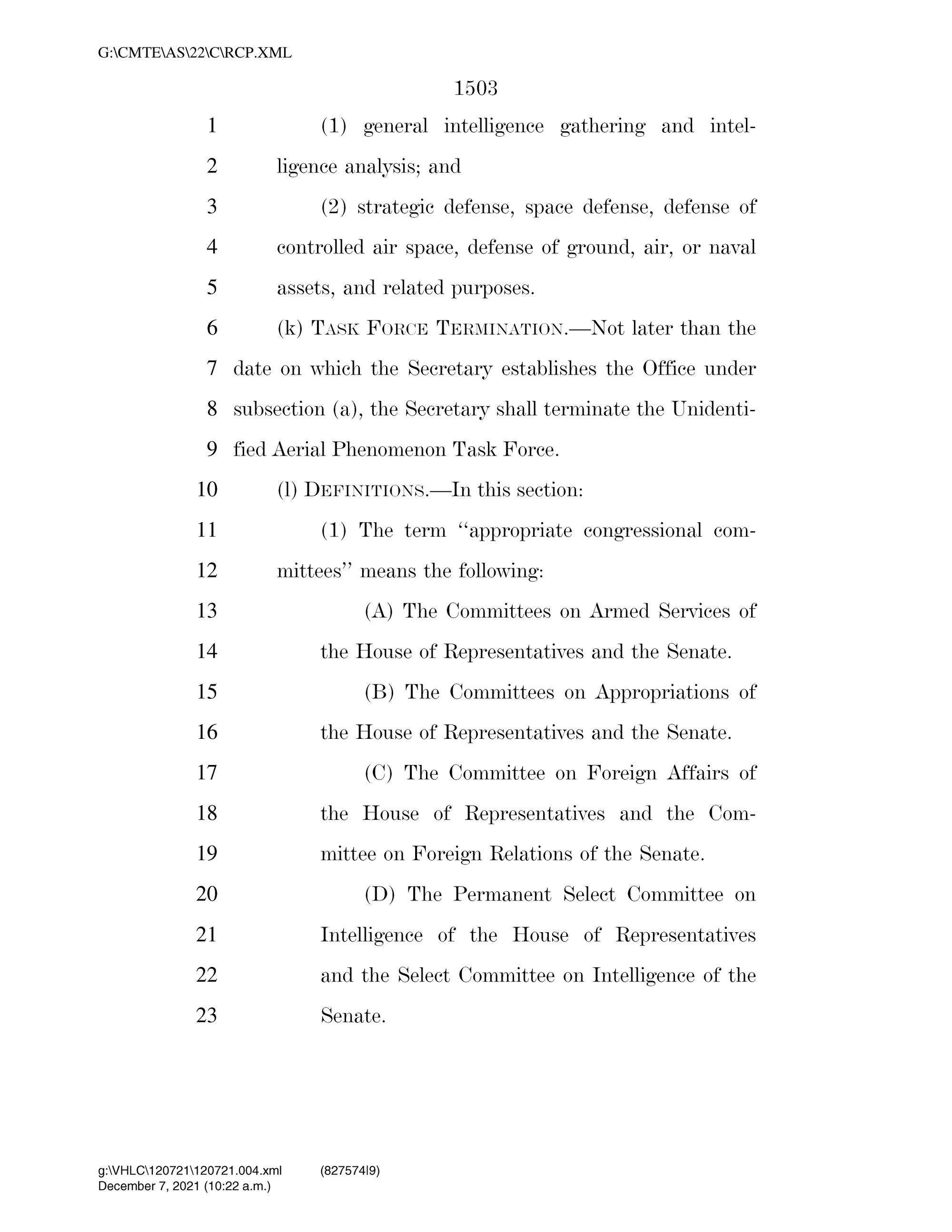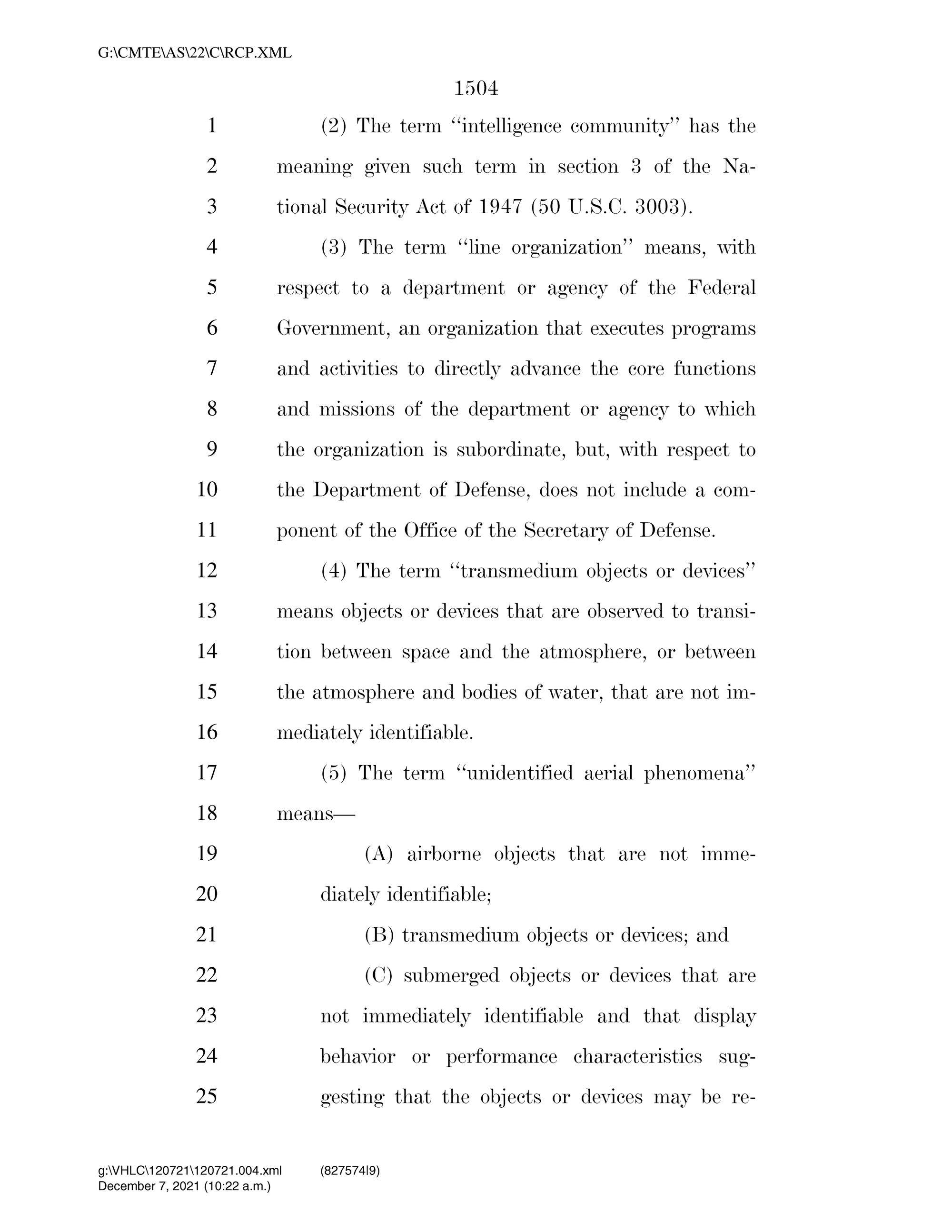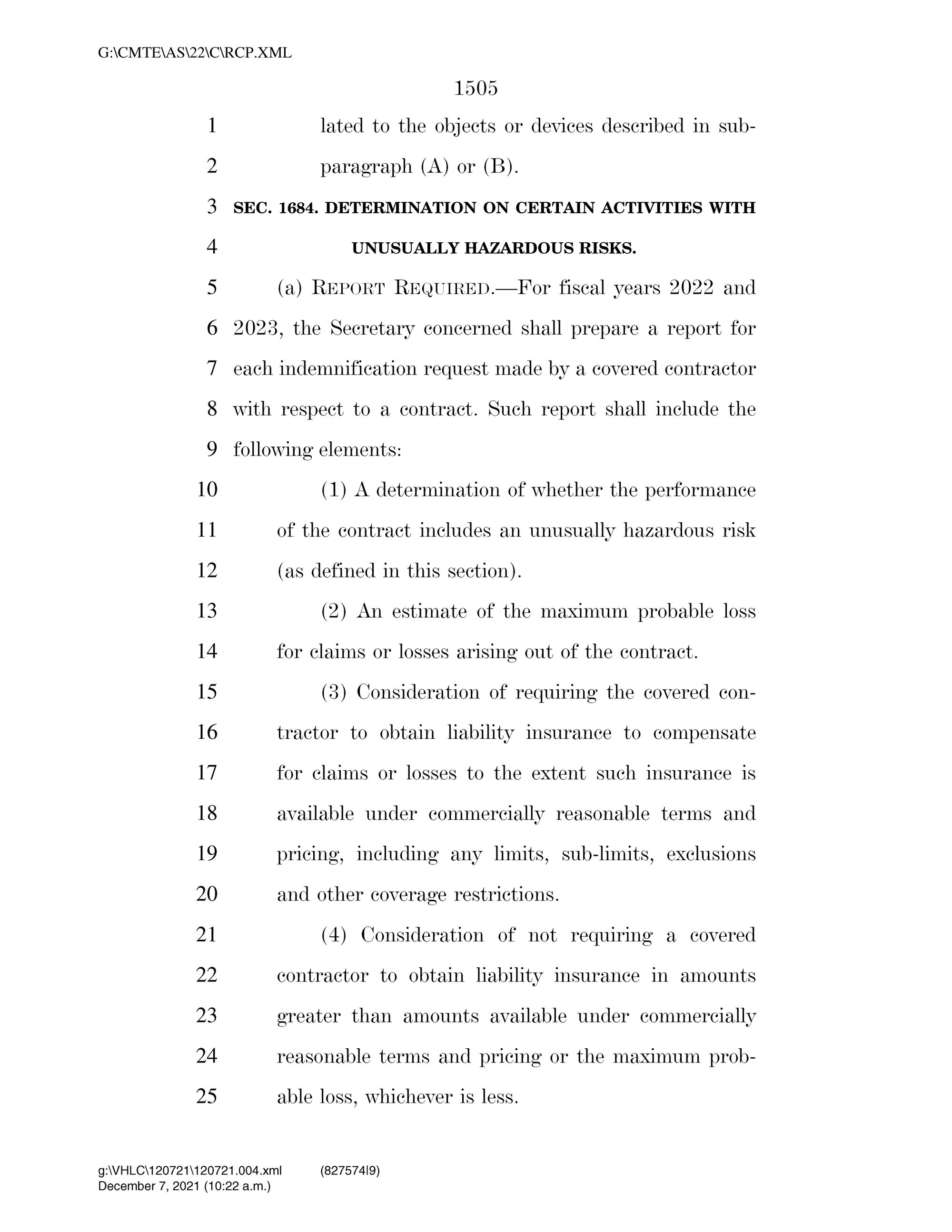 I am posting below the complete text of Section 1683 of S. 1605 (the UAP section), as it appeared in the December 7, 2021 Congressional Record.  This is the same text that I posted above in bill form, but having it all together in the condensed .jpg files is useful for some purposes.
UPDATE: On December 9, 2021, the office of Sen. Kirsten Gillibrand (D-NY) issued a statement to the press about the NDAA UAP language, which also quotes co-sponsors Sen. Marco Rubio (R-FL) and Sen. Roy Blunt (R-MO), and House sponsor Rep. Ruben Gallego (D-AZ).
UPDATE:  To access a PDF file of the six UAP-related pages of S. 1605 as they appear in the final form approved by Congress (known as the "enrolled bill"), click here.  (117 kb)