U.S. House of Representatives Armed Services Committee proposes expanded UAP-related mandates, including annual updates on any efforts "to capture or exploit" UAP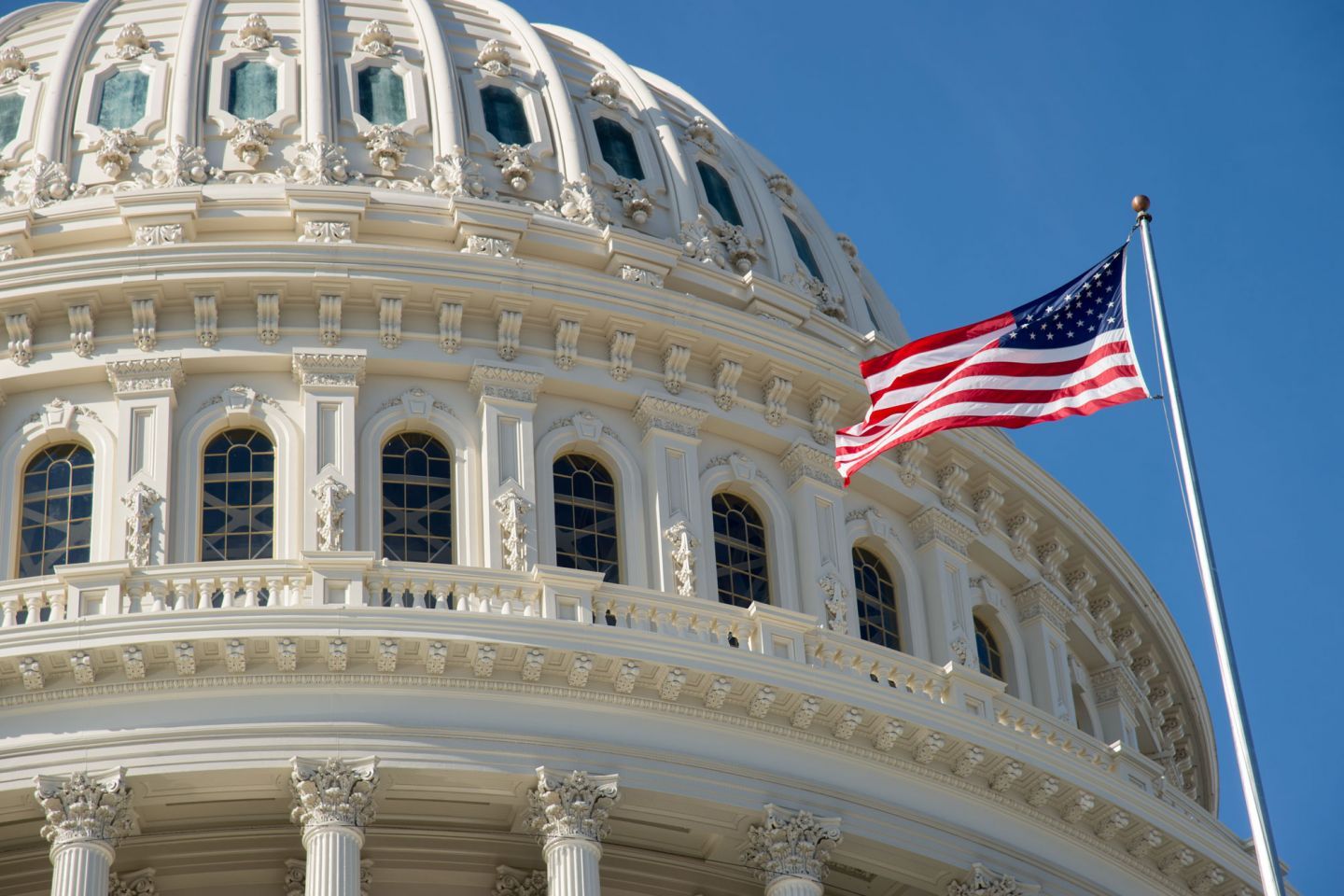 By Douglas Dean Johnson
@ddeanjohnson on Twitter
September 11, 2021, 7 PM EDT [Updated November 4, 2021, 5:30 AM EDT]
WASHINGTON, D.C. (Sept. 11, 2021) -- Just-released text of FY 2022 National Defense Authorization Act (NDAA), H.R. 4350, already approved by the U.S. House of Representatives Armed Services Committee, contains a 571-word section to impose new obligations on the Department of Defense with respect to Unidentified Aerial Phenomena (UAP).
H.R. 4350 was approved by the full House Armed Services Committee on Sept. 2, 2021, by a 57-2 vote, but text has only now been made public.
[UPDATE (November 4, 2021): On September 23, 2021, the full House of Representatives passed H.R. 4350, 316-113.  There was no attempt in the full House to modify the UAP-related provision, Section 1652 (and no separate vote on that that provision), so Section 1652 is currently the position of the House of Representatives regarding UAP policy.  Meanwhile, on September 22, the U.S. Senate Armed Services Committee filed its separate version of a National Defense Authorization Act (S. 2792), which contains no UAP-related language; however, UAP-related language could be considered when the full Senate takes up the NDAA before the end of the year.  Differences between the House and Senate bills will then be resolved in negotiations.  The Intelligence Authorization Act (IAA) bills produced by the Senate and House Intelligence committees, although initially separate, are likely to be combined with the NDAA before enactment.  Many steps remain in the legislative process, and the shape of whatever UAP-related language actually makes it into law (if any) remains very uncertain.]
The House committee's UAP-related requirements differ from those contained in a proposed Intelligence Authorization Act (IAA) (S. 2610), approved by the Senate Select Committee on Intelligence in July. The two bills are not in direct conflict, but they take somewhat different approaches--the House language has more detailed substantive requirements on some points, but requires less frequent reports to Congress.
These two sets of UAP-related requirements should be viewed as proposals-- part of a work-in-progress involving at least four key congressional committees, and other players as well, including officials of the Executive Branch. Defense authorization and Intelligence authorization bills are often (but not always) merged during the legislative process. More likely than not, a single set of UAP-related requirements, applicable to both military and intelligence community components, will be hammered out during the months ahead.
(The Senate Armed Services Committee approved its own version of an NDAA on July 21; the text has not yet been made public, but I doubt that you will see the detailed House UAP language replicated in the public bill as approved by the Senate Armed Services Committee. The House Intelligence Committee has not yet produced its version of an IAA.)
Here are some key points from the House Armed Services Committee's H.R. 4350 (Please note that I have inserted images of the entire UAP section of the bill, Section 1652, at the bottom of this post.)
The bill defines "unidentified aerial phenomena'' as "airborne objects witnessed by a pilot or aircrew member that are not immediately identifiable."  Obviously, this definition of UAP is too narrow in several respects– e.g., a security team could watch a giant glowing disc land on a Minuteman III silo, and it wouldn't fit the definition. Such defects are not uncommon at this stage of the process, especially in big multi-subject bills such as this (1362 pages, work of seven subcommittees), and on "new" subjects (legislatively speaking). I do not expect that any such overly constrictive definition of UAP will be codified by Congress, either in an NDAA or in an Intelligence Authorization Act.
The bill would mandate that within 180 days of enactment, the Secretary of Defense, in consultation with the Director of National Intelligence, must establish a new office "within the Office of the Secretary of Defense to carry out, on a Department-wide basis, the mission currently performed by" the UAP Task Force; the UAPTF would be terminated. Enactment of this language would be, it seems to me, a congressionally mandated elevation of subject matter of Unidentified Aerial Phenomena.
The bill enumerates 7 "duties" for the new UAP office, including centralization and standardization of reporting procedures "from each military department," "evaluating links between unidentified aerial phenomena and adversarial foreign governments, other foreign governments, or nonstate actors," "evaluating the threat that such incidents present to" the U.S., "coordinating with other departments of the Federal government," and "coordinating with allies and partners of the United States, as appropriate, to better assess the nature and extent of unidentified aerial phenomena."
The bill also requires that beginning Dec. 31, 2022, the Secretary of Defense submit an annual report on UAP to the congressional armed services, intelligence, and foreign affairs committees (six committees); it does not specific whether these reports should be submitted in classified or unclassified form, or both.
The bill mandates that these reports "shall include" 10 specific things, including "(B) An analysis of data relating to unidentified aerial phenomena collected through-- (i) geospatial intelligence; (ii) signals intelligence; (iii) human intelligence; and (iv) measurement and signals intelligence. (C) The number of reported incidents of unidentified aerial phenomena over restricted air space of the United States....(H) An update on the coordination by the United States with allies and partners on efforts to track, understand, and address unidentified aerial phenomena. (I) An update on any efforts underway on the ability to capture or exploit discovered unidentified aerial phenomena. (J) An assessment of any health-related effects for individuals that have encountered unidentified aerial phenomena."
The UAP language in the bill originated with Rep. Ruben Gallego (D-AZ, 7th congressional district), who is the chairman of the Subcommittee on Intelligence and Special Operations of the House Armed Services Committee.  There was no separate roll call on the UAP language when the full Armed Services Committee held its "mark-up" (voting session) on the bill on September 1, 2021. The entire bill, as amended at the mark-up, was favorably reported to the full House of Representatives on a roll call of 57-2.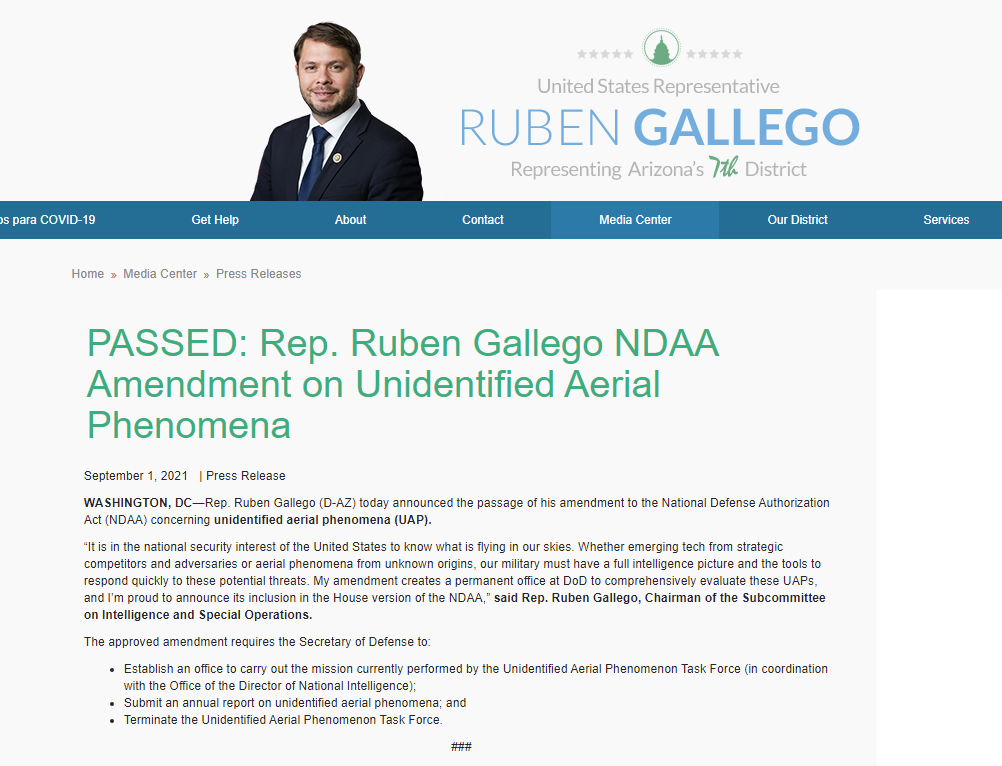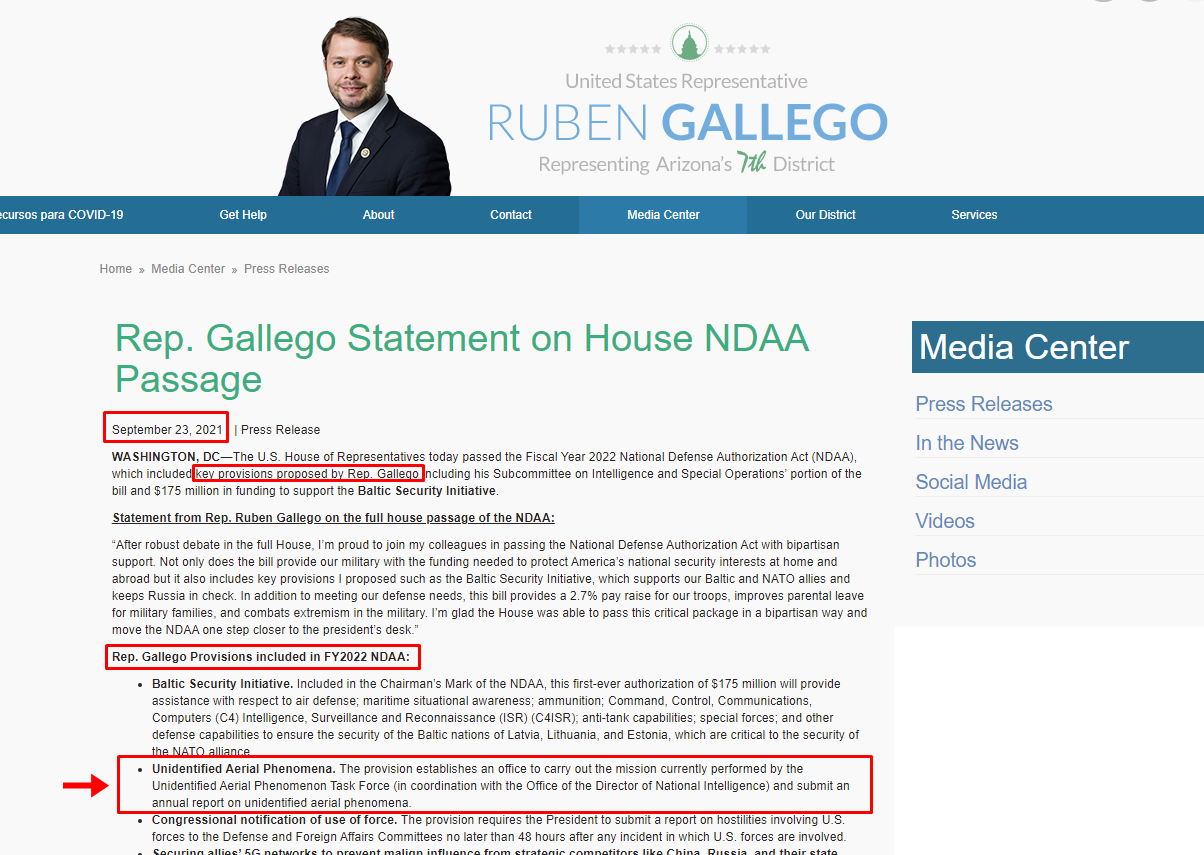 I'll do further reporting on these legislative developments as I obtain additional information.  [Please note my Sept. 24, 2021 update, which now appears as the third paragraph in this post.]  My previous report on the UAP-related provisions of the FY 2022 Intelligence Authorization Act, as approved by the Senate Intelligence Committee in July, is found on my Twitter feed here:
https://twitter.com/ddeanjohnson/status/1428043183980691464?s=20
My gmail address is my full name, Douglas Dean Johnson, with dots on each side of my middle name.