Senate committees advancing new language seeking possible secret UFO-tech programs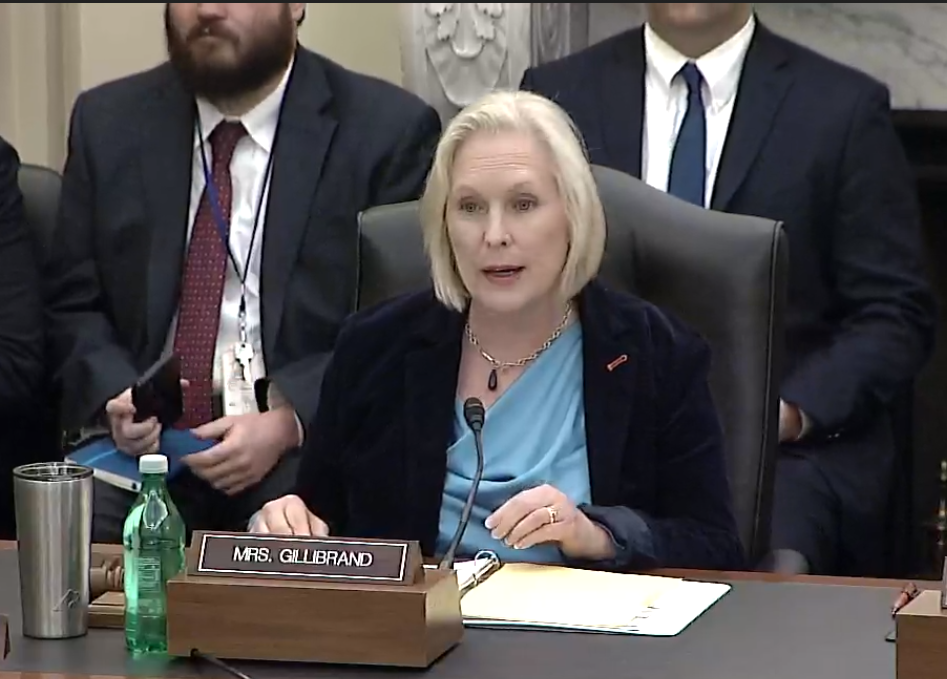 By Douglas Dean Johnson
@ddeanjohnson
NOTE: As of June 24, 2023, this article is superseded by an updated article, "Senate Intelligence bill gives holders of 'non-earth origin or exotic UAP material' six months to make it available to AARO," which incorporates most of the material below, as well as newly available information. To read the more current article, click here.
Original publication: June 21, 2023, 10 AM EDT.  Substantive post-publication updates and corrections are logged at the end of the article.
The Intelligence and Armed Services committees of the U.S. Senate appear to be stepping up their efforts to uncover any secret government programs that may exist to study devices or manufactured material of unearthly origin.
On June 14, 2023, the Senate Select Committee on Intelligence (SSCI) approved an Intelligence Authorization Act (IAA) for Fiscal Year 2024 that contains UAP-related language proposed by Senator Kirsten Gillibrand (D-NY), who apparently expects to win approval of compatible language in the Senate Armed Services Committee within days. Gillibrand sits on both committees.  
The texts of Gillibrand's amendments have not yet been made public, but she revealed her general intent in an interview with Matt Laslo of WIRED, published on June 13, 2023. Laslo reported that the senator intended to seek approval on the FY 2024 National Defense Authorization Act (NDAA) of a "mandate that no money can be spent on SAPs [Special Access Programs] unless it's been reported to Congress." The Senate Armed Services Committee begins a series of closed-door amending sessions (called "mark ups") on the NDAA today (June 21, 2023), which are expected to conclude on June 23. In recent years the committee's leadership and membership have advanced into law several expansive UAP-related measures, with bipartisan support.
Laslo's article quoted Gillibrand as saying, "So if there are SAPs out there that are somehow outside of the normal chain of command and outside the normal appropriations process, they have to divulge that to Congress." She also said, "We need to just look into whether there are rogue SAP programs that no one is providing oversight for.  The goal for me will be to have a hearing on that at some point so that we can assess if these SAPs actually exist."
Gillibrand has already met with success in the SSCI, although the details are not yet public. On June 14, SSCI Chairman Senator Mark Warner (D-Va.) and ranking minority member Senator Marco Rubio (R-Fl.) issued a release announcing that the SSCI had approved the FY 2024 Intelligence Authorization Act (IAA) in a closed-door session earlier that day. A summary describing provisions of the bill included this bullet point: "Increases transparency by strengthening Unidentified Aerial Phenomena (UAP) funding and reporting requirements." This referred to UAP language offered in the committee by Gillibrand, co-sponsored by Senators Michael Rounds (R-SD), John Cornyn (R-Tx.), and Rubio. Her proposal was adopted by the 17-member committee without dissent, after which the bill was approved unanimously. The language of the amendment will not be made public until the committee-approved bill is officially filed and given a bill number.
The NDAA sets policy and authorizes programs for most components of the military. The IAA sets policy for the Intelligence Community, which involves 18 agencies, both military and civilian. (Neither bill actually provides funding, which is initiated through the Defense Subcommittee of the Appropriations Committee.) Congress passes an NDAA every year. In many years, the IAA is folded into the NDAA at a late stage in the legislative process, prior to final congressional approval.
GRUSCH ALLEGATIONS BACKDROP FOR NEW PROPOSALS
Gillibrand's new UAP initiative comes in the wake of reporting about and statements by David Grusch, a level GS-15 (colonel equivalent) intelligence officer who recently retired from the National Geospatial-Intelligence Agency (NGA). According to a report that appeared on the website The Debrief on June 5, written by Leslie Kean and Ralph Blumenthal, Grusch, while assigned to the interagency UAP Task Force, received classified information from multiple sources affirming the existence of a longstanding, highly secret program engaged in attempted reverse-engineering of devices and materials of non-human origin. According to the Debrief article and other sources, Grusch initially reported his findings to the Inspector General of the Department of Defense in July 2021, which allegedly somehow triggered various reprisals against him. The perpetrators of the alleged reprisals have not been publicly identified.
In May 2022, Grusch submitted a whistleblower complaint to the Inspector General of the Intelligence Community (ICIG), containing allegations of illegality of types defined by statute as of "urgent concern," allegations which the ICIG subsequently deemed to be "credible." Under the applicable statute, such findings triggered notifications to the congressional intelligence committees, both Senate and House. Staff persons to those two committees subsequently conducted extensive interviews under oath with Grusch regarding his allegations. It appears that investigations into Grusch's disclosures by both the ICIG and the Inspector General of the Defense Department are ongoing.
As part of last year's National Defense Authorization Act, enacted in December 2022, Congress mandated establishment of a "secure system" by which anyone involved in a past or current UAP or alien-tech research program may file reports with the All-domain Anomaly Resolution Office (AARO), the Pentagon office created by Congress to delve into UAP-related matters. Under this new law, anyone utilizing this "secure system" to disclose UAP-related information will not be violating classification laws or non-disclosure agreements, and will enjoy legal protection from any reprisals from the government or government contractors.
The 2022 law also states that the Secretary of Defense must report to designated key lawmakers within 72 hours if he determines that "an authorized disclosure [under the new system] relates to" a previously unreported UAP-related special-access program. However, Grusch employed a longstanding whistleblower law, rather than the new AARO-based system, which was enacted after he initiated his actions with the inspectors general.
Within hours of The Debrief's initial report on Grusch's claims on June 5, Pentagon spokesperson Sue Gough issued this statement: "To date, AARO has not discovered any verifiable information to substantiate claims that any programs regarding the possession or reverse-engineering of extraterrestrial materials have existed in the past or exist currently. AARO is committed to following the data and its investigation wherever it leads. AARO, working with the Office of the General Counsel and the Air Force Office of Special Investigations, has established a safe and secure process for individuals to come forward with information to aid AARO in its congressionally-mandated historical review. AARO's historical review of records and testimonies is ongoing and due to Congress by June 2024.  AARO welcomes the opportunity to speak with any former or current government employee or contractor who believes they have information relevant to the historical review."
In an interview with journalist Ross Coulthart, broadcast by News Nation on June 11, Grusch said, "Well, I know [AARO Director] Dr. Sean Kirkpatrick. I've known him about eight years. And, you know, I expressed some concerns to Dr. Kirkpatrick about a year ago, and told him what I was starting to uncover. And he didn't follow up with me. He has my phone number. He could have called me. I hope he ultimately does the right thing. He should be able to make the same investigative discoveries I did. It's totally crazy if he doesn't."
"The allegations themselves are breathtaking," Senator Brian Schatz (D-Hi.), a member of the Senate Appropriations Defense Subcommittee, told WIRED's Laslo. "It could be a game changer, or it could be a crank."
POTENTIAL CONGRESSIONAL HEARING(S)
Senator Gillibrand chairs the Emerging Threats and Capabilities Subcommittee of the Armed Services Committee. In her remarks to Laslo of WIRED, she said she wanted to "have a hearing at some point so that we can assess if these SAPs actually exist." Asked by Laslo whether she thought there was veracity to Grusch's claims, Gillibrand said "I have no idea. So I'm going to do the work and analyze it and figure it out."
Gillibrand has already chaired one public UAP-related hearing in the subcommittee, on April 19, at which AARO Director Kirkpatrick was the sole witness. During that hearing, Kirkpatrick said, "I should also state clearly for the record that in our research AARO has found no credible evidence thus far of extraterrestrial activity, off world technology, or objects that defy the known laws of physics. In the event sufficient scientific data were ever obtained that a UAP encountered can only be explained by extraterrestrial origin, we are committed to working with our interagency partners at NASA to appropriately inform U.S. government's leadership of its findings."
A provision of the law establishing AARO reads as follows:  "50 U.S.C. Sec. 3373(f)(1)(A): Availability of data: The Director of National Intelligence, in coordination with the Secretary of Defense, shall ensure that each element of the intelligence community with data relating to unidentified anomalous phenomena makes such data available immediately to the Office" [i.e., AARO].
In the House of Representatives, Congressmen Michael Turner (R-Ohio) and Jim Himes (D-Ct.), who are respectively the chairman and ranking minority member on the House Permanent Select Committee on Intelligence (HPSCI), made generalized dismissive comments about the possibility of the government possessing secret alien technology, in a brief joint interview with Fox News on June 6. They have said little if anything publicly on the matter since then.
On the same day, Congressman James Comer (R-Ky.), chairman of the House Oversight and Accountability Committee, told News Nation that he had tasked two members of that committee, Reps. Tim Burchett (R-Tn.) and Anna Paulina Luna (R-Fl.), to put together a public hearing on the subject. In an interview with Frank Camp published on DailyWire.com on June 17, 2023, Burchett said that he was hoping that Grusch would be able to testify at the hearing: "We would like to get him there. It's premature to say who we will have there. We'll release that when we get the okay from the committee chair of everybody that we've invited who's been cleared to come speak...I want to talk to people who have seen something and can provide some proof of what's going on."

No timetable has been announced for the House Oversight Committee hearing. Nor is it clear how soon the full Senate might take up the committee-approved NDAA and IAA, with their UAP-related provisions.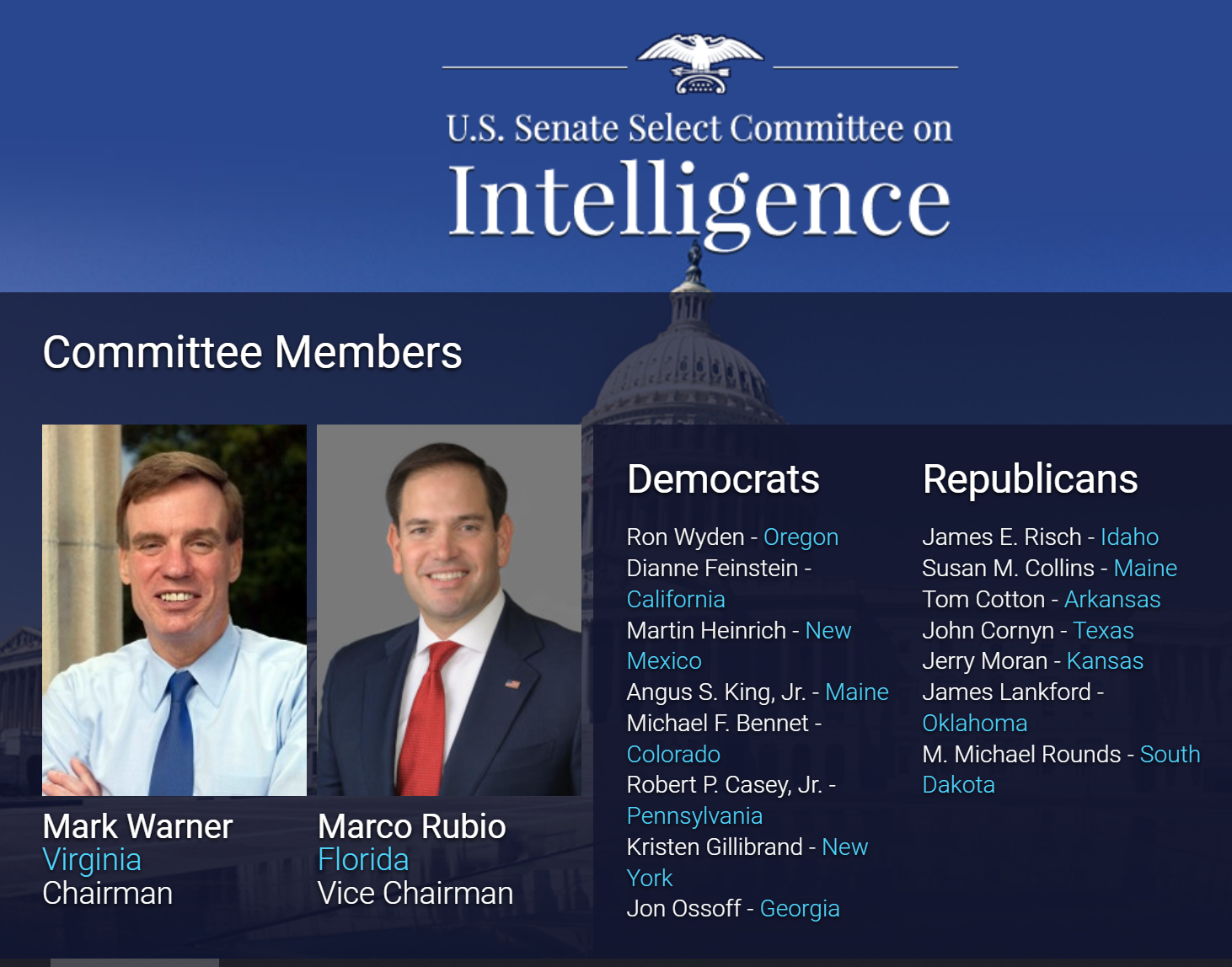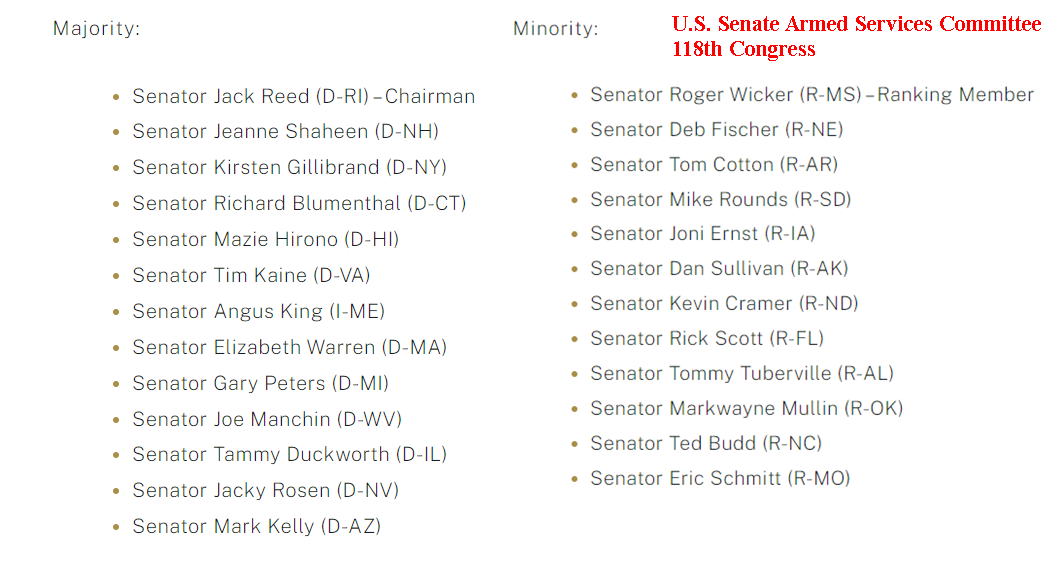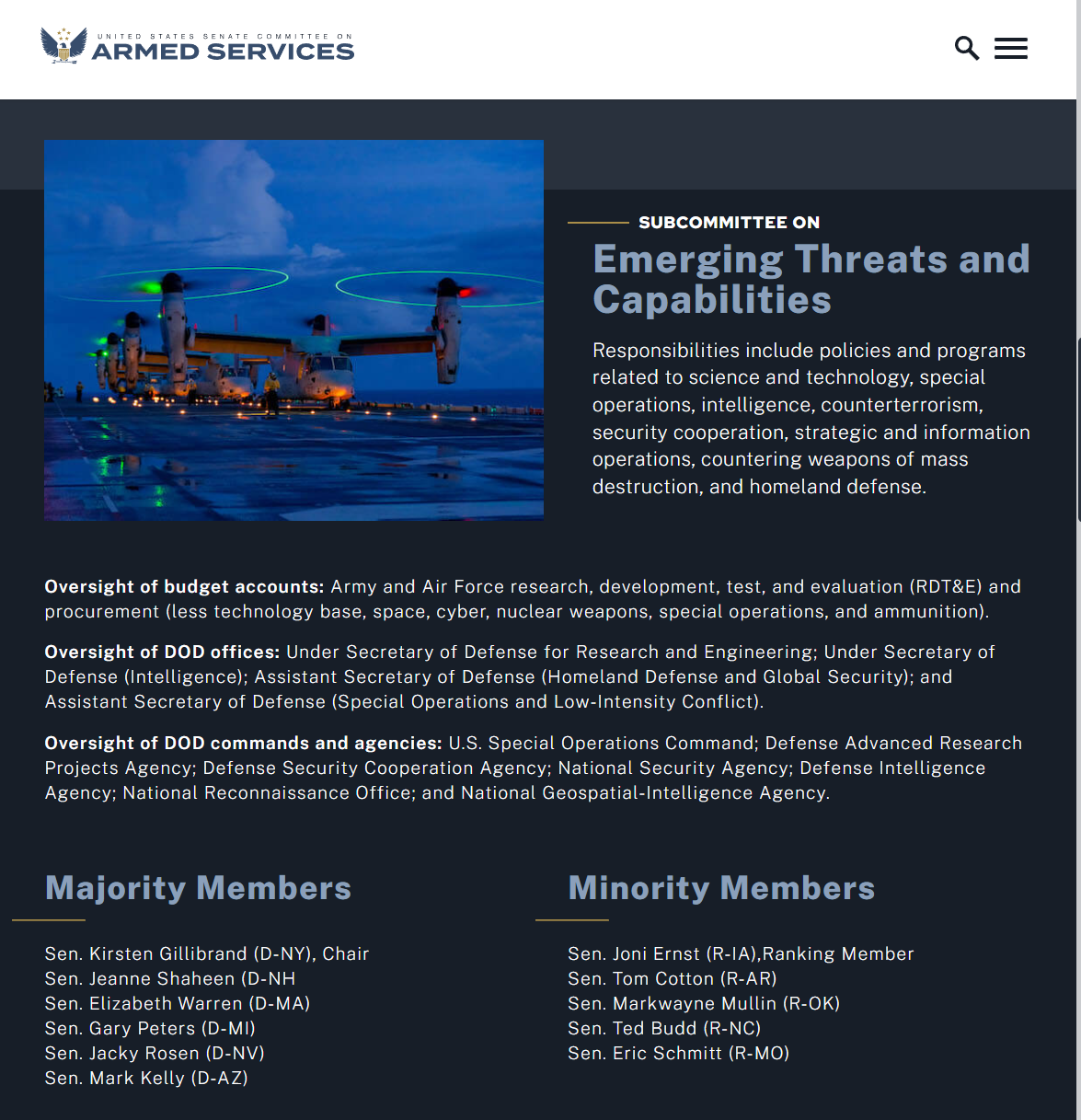 SUBSTANTIVE CHANGES SINCE PUBLICATION ON JUNE 21, 2023:
June 21, 2023: Rapid correction of typo in second paragraph, which had the SSCI action on the new Gillibrand amendment occurring in "2021" instead of June 14, 2023.