Crash Story File: The Baca UFO Sighting of July, 1994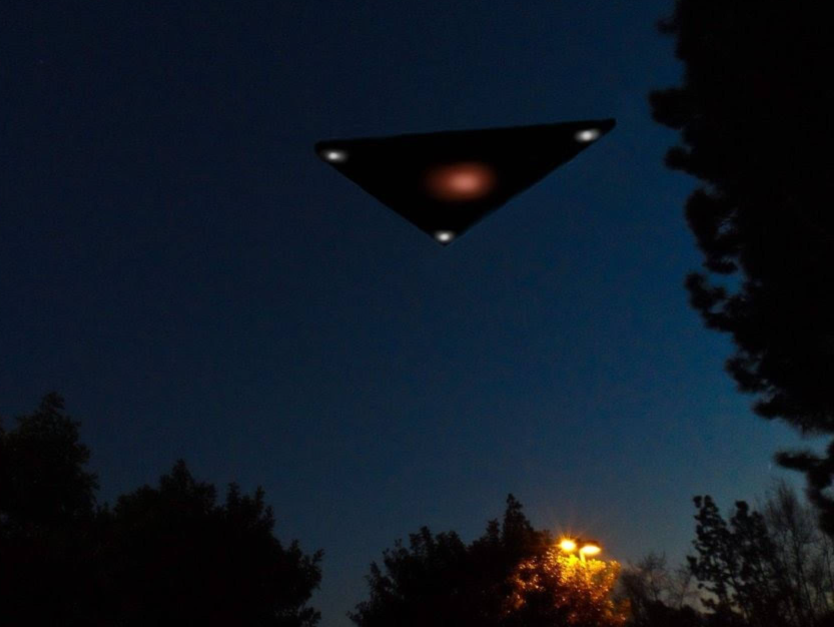 By Douglas Dean Johnson
Original publication: May 1, 2023
You are in the Crash Story Files, a series of investigative reports examining claims that a UFO crashed and was recovered near San Antonio, New Mexico, in August 1945. To go back to the Crash Story hub and index, click here.
In his December 10, 2010 appearance on The Conspiracy Program with Richard Syratt, and in his 2011 book, Remigio (Reme) Baca, one of the two "primary witnesses" in the claimed August 1945 UFO crash in New Mexico, described an event that he said occurred on a Sunday evening in July, 1994, as he and his wife Virginia were standing outside their home in a residential neighborhood of Tacoma, Washington.
In the accounts, the couple watched pass directly overhead an object "about 200 feet up in the air, and big as a football field." They related numerous details—observing an "orb" that the large object seeming to be following, watching the object rise and pass over the city, watching a plane pass near it, and so forth. Baca said this event made his wife into a UFO believer. A summary of the account appears on pages 68-73 of Baca's privately published 2011 book, Born on the Edge of Ground Zero. The book is long out of print; I reproduce those pages below for educational and journalistic purposes.‌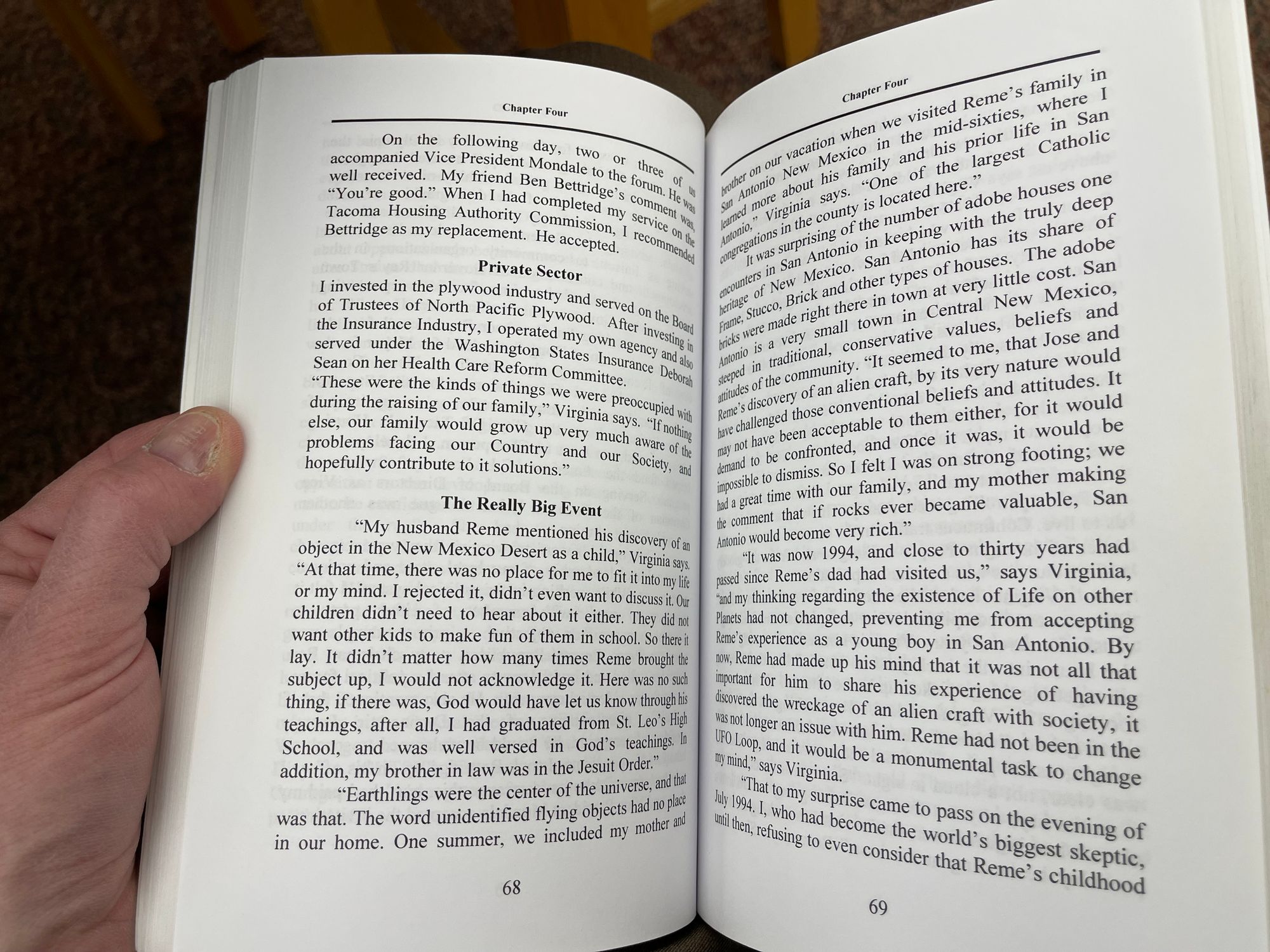 ‌‌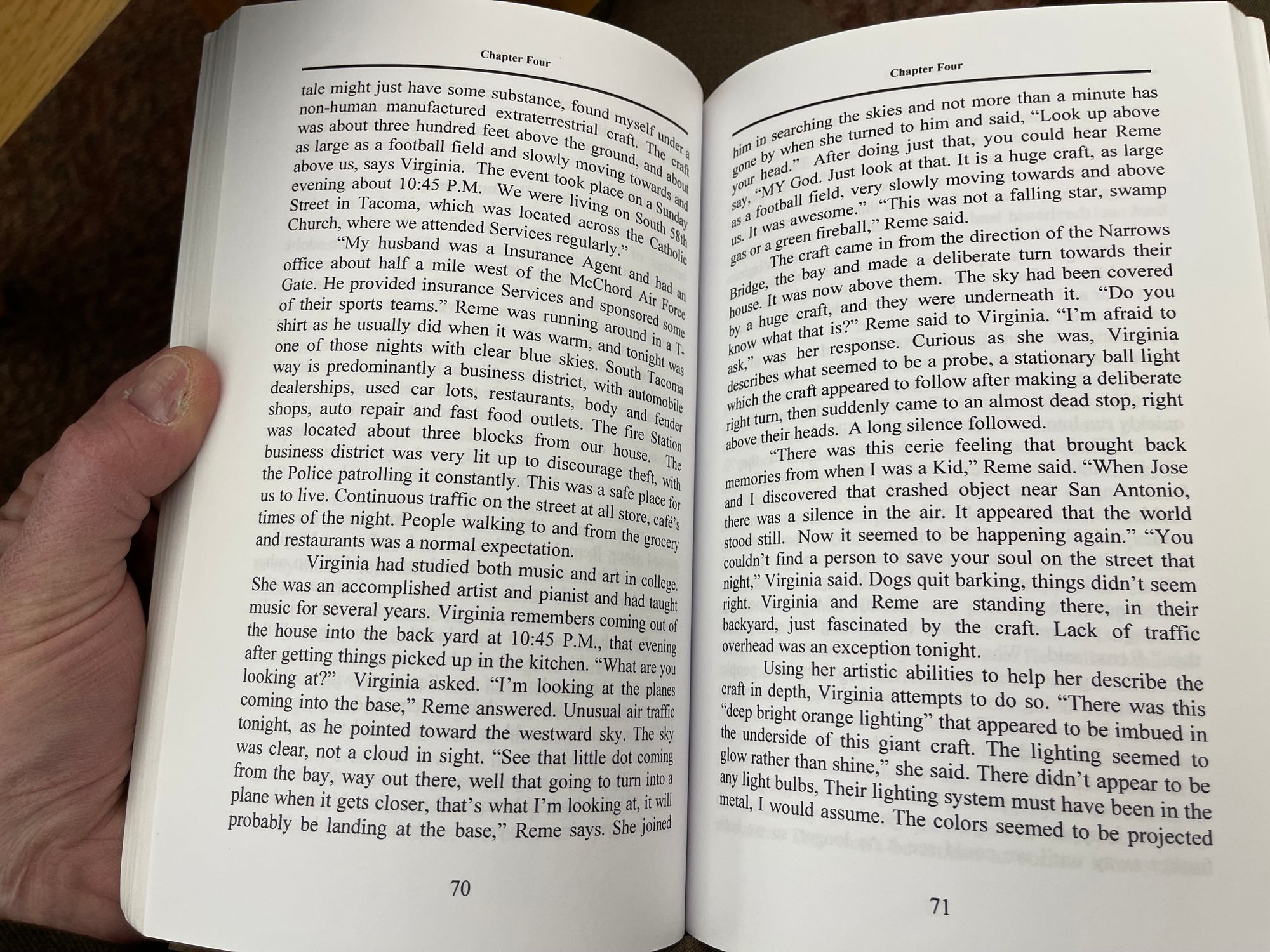 ‌‌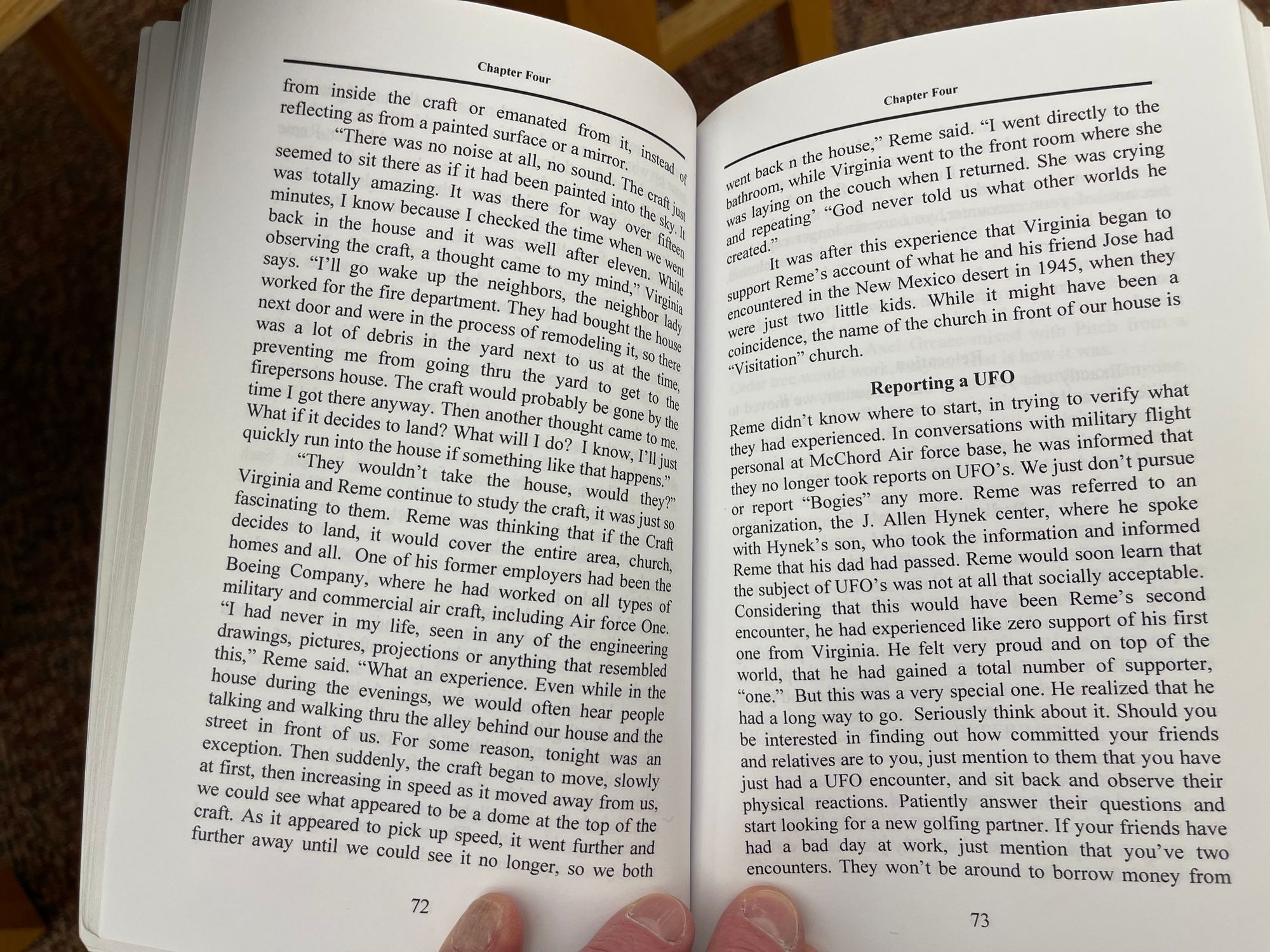 ‌‌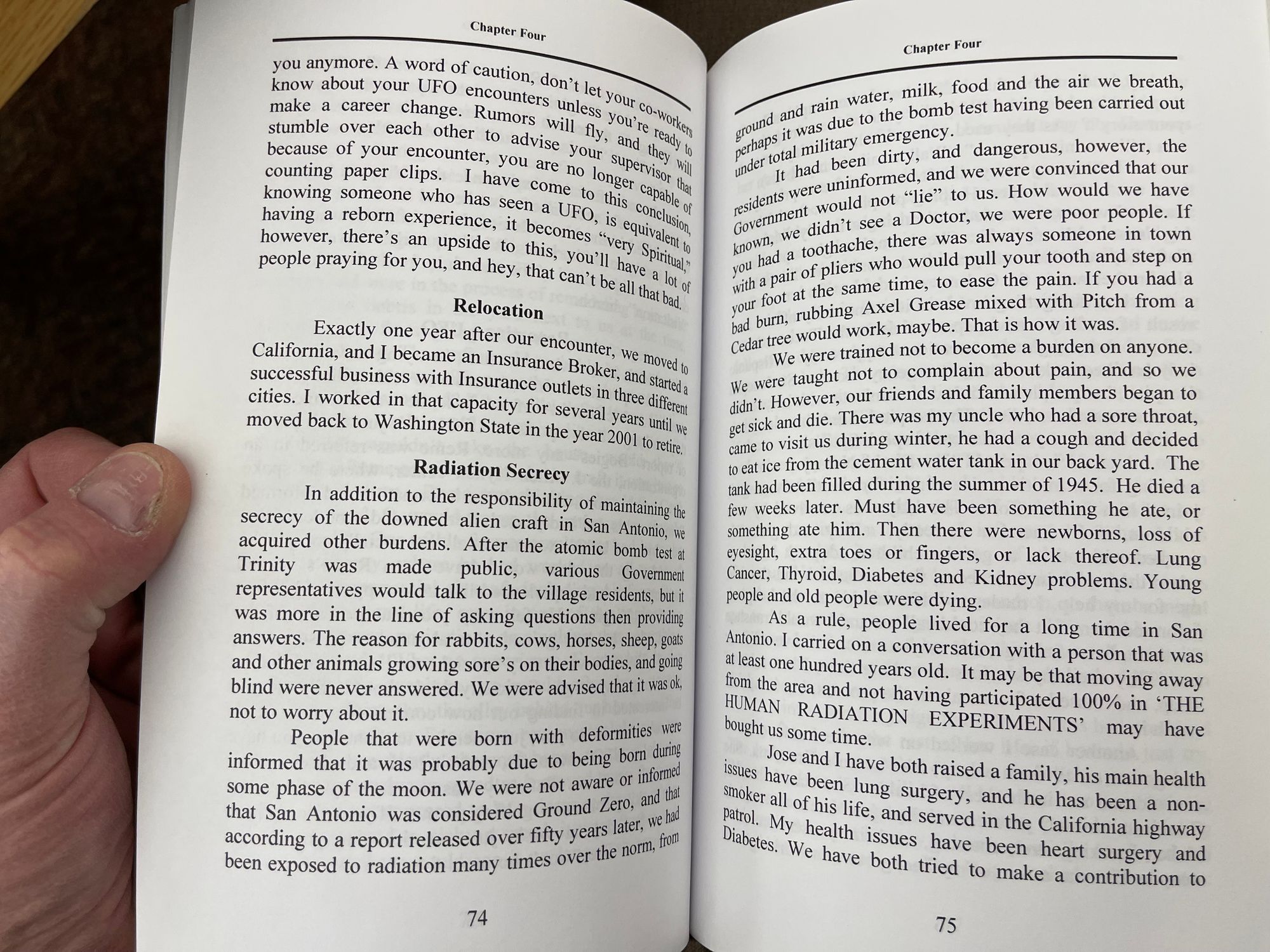 ‌Later, on pages 139-150 of Baca's book, the reader encounters a transcript of a more detailed discussion regarding the July 1994 UFO event among Reme Baca, wife Virginia, and UFO writer Paola Harris, undated but apparently conducted in or about 2010. The Bacas specified that the 1994 event occurred on a Sunday evening (see page 139, below), and lasted for about 20 minutes. Pressed for a specific date in July, Baca said, "How about like July 7, makes a lot of sense." (page 143). However, July 7, 1994, was a Thursday. The closest Sunday to July 7 would have been July 10, 1994.
Reme Baca said that beginning the day after the event, he made inquiries with personnel associated with nearby McChord Air Force base. He was told that the base did not take UFO reports "but here's some numbers that you can call..." (pp. 142-143) After a leading suggestion from Harris that perhaps Baca had called "Allen Hynek," Baca responded, "Yes. I called Allen Hynek..." When Harris then interjected that Allen Hynek was already dead, Baca recovered quickly: "And so I talked to his son." On page 144, Baca elaborated: "His son told me, my dad passed.... So he took the information and basically that was it." [J. Allen Hynek had died on April 27, 1986, more than 8 years before this purported conversation.]
NO CORRESPONDING REPORTS ON RECORD
Despite the size of the object described and the duration of the purported event over a major city and in the vicinity of an Air Force base, no report correlating with Baca's account was found in the database maintained by the National UFO Reporting Center (NUFORC), which is based in Washington State. James Clarkson, who served as Washington State MUFON Director for ten years, and has had a long association with NUFORC, wrote to me on February 22, 2023:
If there was a UFO sighting reported in July 1994, it is not listed on the NUFORC website. The database is up to date, especially for the older files. I searched by state and by date. There is nothing listed for Tacoma or the surrounding areas for the month of July.
Nor was any corresponding record found in UFOCAT, a large computerized database of UFO reports. Mark Rodeghier, the Scientific Director of the Center for UFO Studies (CUFOS), which was founded by J. Allen Hynek, told me on February 23, 2023:
I have just now queried UFOCAT for a sighting in the July 1994 period in Washington state and come up empty for anything in the Tacoma area, or with Baca as the witness. One sighting is recorded, from Clarkston, WA, in the far southeast corner, about as far from the Seattle/Tacoma area as possible, on July 14.....
In addition, I am indebted to Rob Swiatek, who searched for July 1994 UFO reports from Washington State within "the MUFON Case Management System and other MUFON reports I have predating the formation of the CMS." He found five reports for Washington State during July 1994, which he sent to me. The only report that had even a very weak similarity to the Baca account was a report of a triangular craft flying over a house and hovering over a tree in Spokane sometime during July 1994 (Spokane is about 25 miles north of  Tacoma), perhaps around July 20. That report was filed on August 24, 2022-- 28 years after the sighting. The witness said he had been 9 years old at the time of the event. He did not describe the triangular craft as being inordinately large (the Bacas had reported a large craft but were not specific as to its shape). The other four reports were completely dissimilar in time, place, and descriptions.
THE "HYNEK" CONNECTION THAT DID NOT CHECK OUT
As noted above, Reme Baca said that he had promptly reported the UFO sighting to a son of the then-deceased Dr. J. Allen Hynek.  In Trinity: The Best-Kept Secret (Second Edition, August 2022), Jacques Vallee and Paola Harris were more specific:
When Reme spoke to military personnel at McChord Air Force Base, they told him they weren't taking reports of "Bogies" any more, but they referred him to the J. Allen Hynek Center, where Paul Hynek took down the data, and told him that his father had died. (p. 228)
However, Mark Rodeghier, the Scientific Director of the Hynek-founded Center for UFO Studies (CUFOS), told me:
As for a possible call to CUFOS, we certainly got calls from UFO witnesses, although no raw notes would exist unless a case file was opened...But given that CUFOS was in Chicago, and Paul Hynek, or Joel Hynek, were and are in California, no call to CUFOS would have been answered by a Hynek son. Moreover, while I had irregular contacts with Paul then, and continuing until today, Paul was not involved with any CUFOS activities, and we would never have referred a witness to him.
Dr. J. Allen Hynek actually had three sons, two of whom grew up to show some interest in UFOs, Paul and Joel. On April 13, 2023, I sent an email to Paul Hynek (who had provided an effusive blurb that appeared on the cover of the First Edition of Trinity: The Best-Kept Secret), quoting what Reme Baca had said about his post-sighting report, and asking if he had received any report from Baca about a UFO sighting in July, 1994. As of May 9, 2023, I had received no response.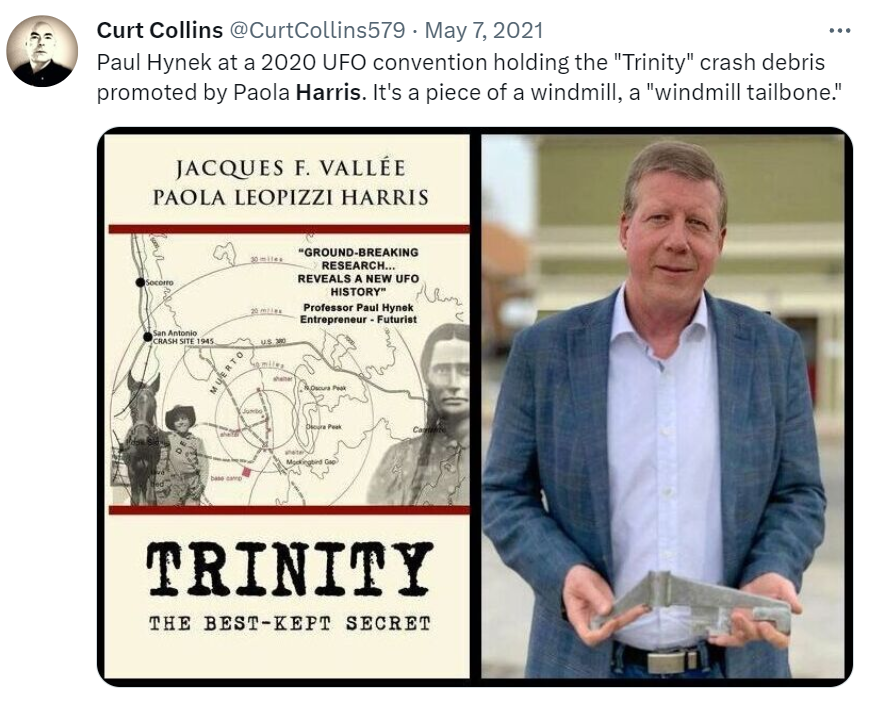 I was unsuccessful in finding an email address by which I might pose the same question to Joel Hynek, and would be grateful to any reader who might assist me in closing that loop.
THE 2010 PAOLA HARRIS INTERVIEW OF REME AND VIRGINIA BACA
I have reproduced below the pages from the long out-of-print Born on the Edge of Ground Zero (2011) that contain the transcript of Paola Harris' conversation with the Bacas (pages 139-150 in the book). I do so in part because it provides the most detail on the purported 1994 UFO sighting, and in part because it provides an excellent example of Paola Harris's interview technique. The transcript shows Harris repeatedly suggesting details before an interviewee could provide them, with interviewees sometimes agreeing to or adopting her interpolations. I would characterize the transcript as displaying something more akin to collaborative story construction than anything properly described as a witness interview.
Also, it is noteworthy that Reme Baca reflected on the 1994 experience as follows [all spelling as in the original]:
REME BACA: One thought did [go] thru my mind. Did those creatures survive the San Antonio crash, and now they are grown up, in the area and decided to say high. But on the other hand, if I follow that line of thinking, How did they know where I lived?

PAOLA HARRIS: Well that's a possibility.

(Born on the Edge of Ground Zero, p. 147)‌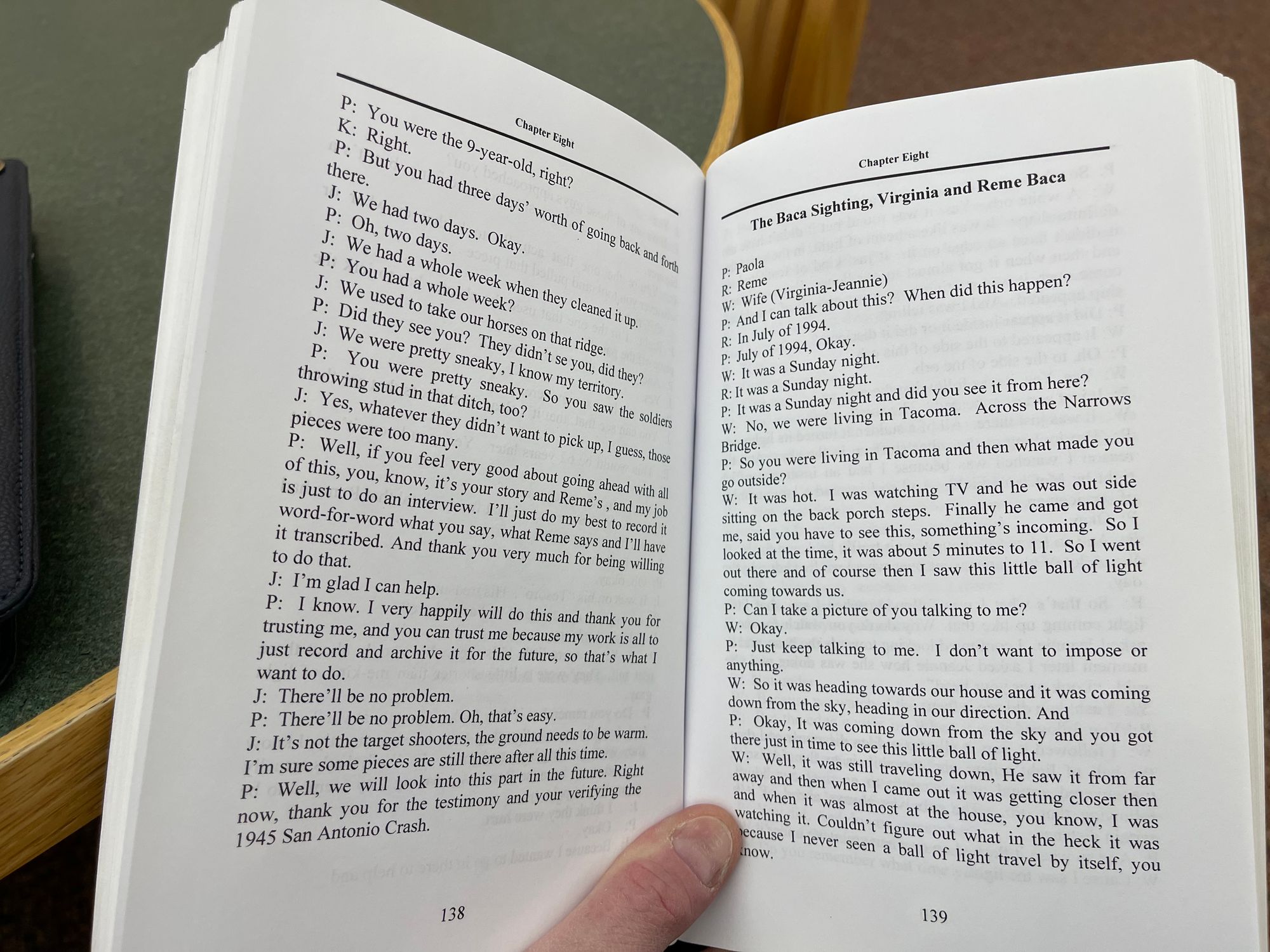 ‌‌
‌‌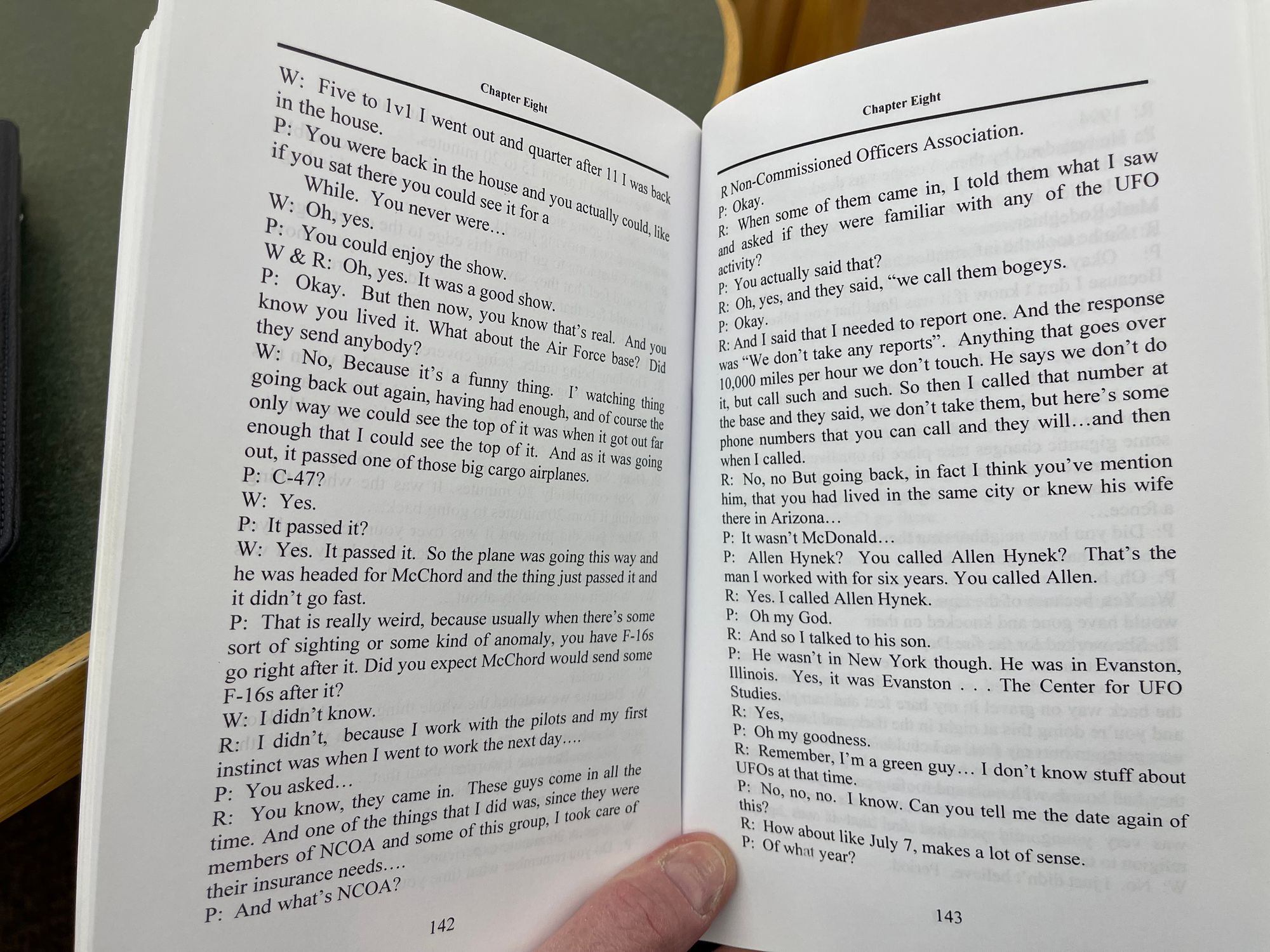 ‌‌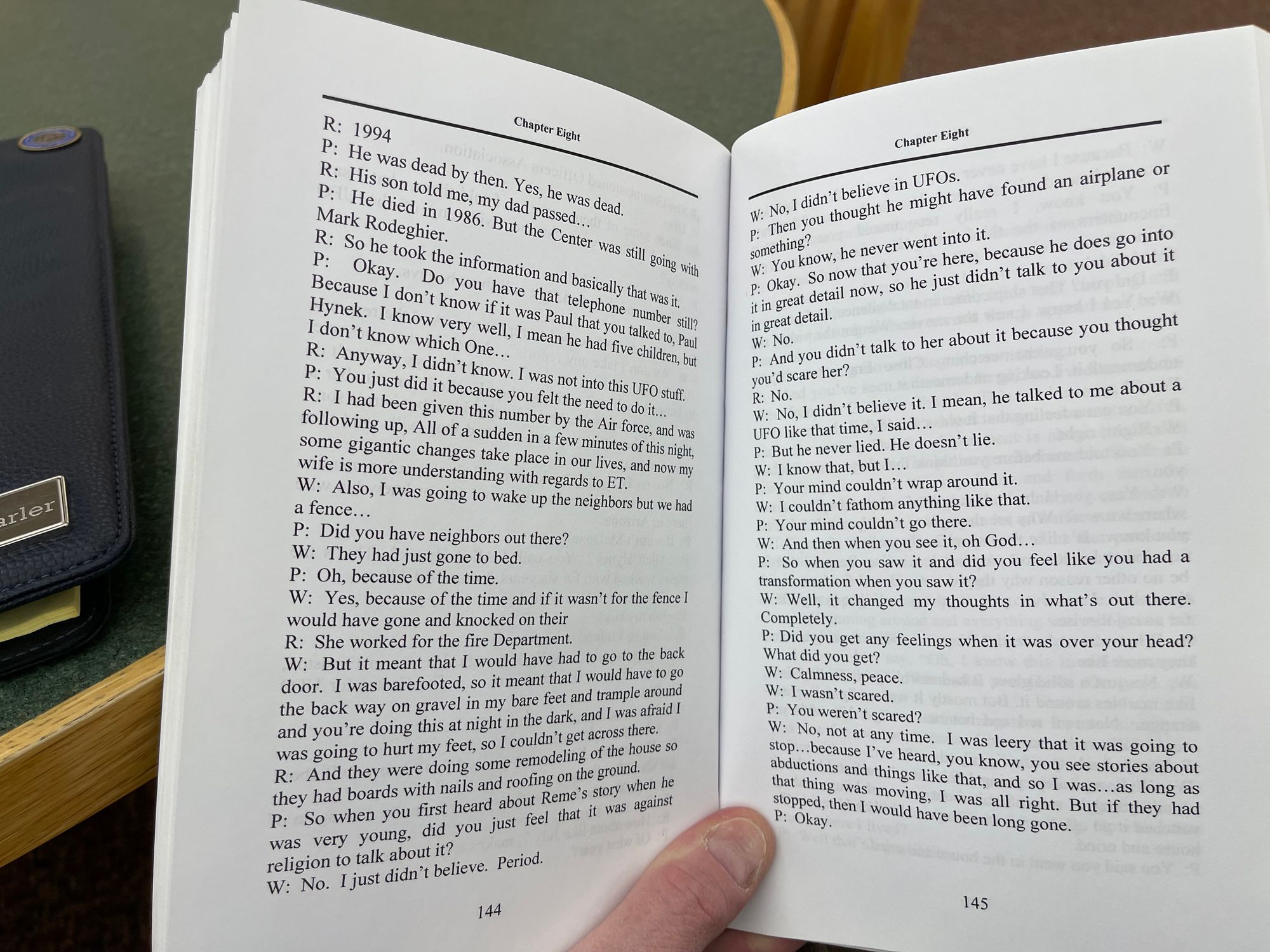 ‌‌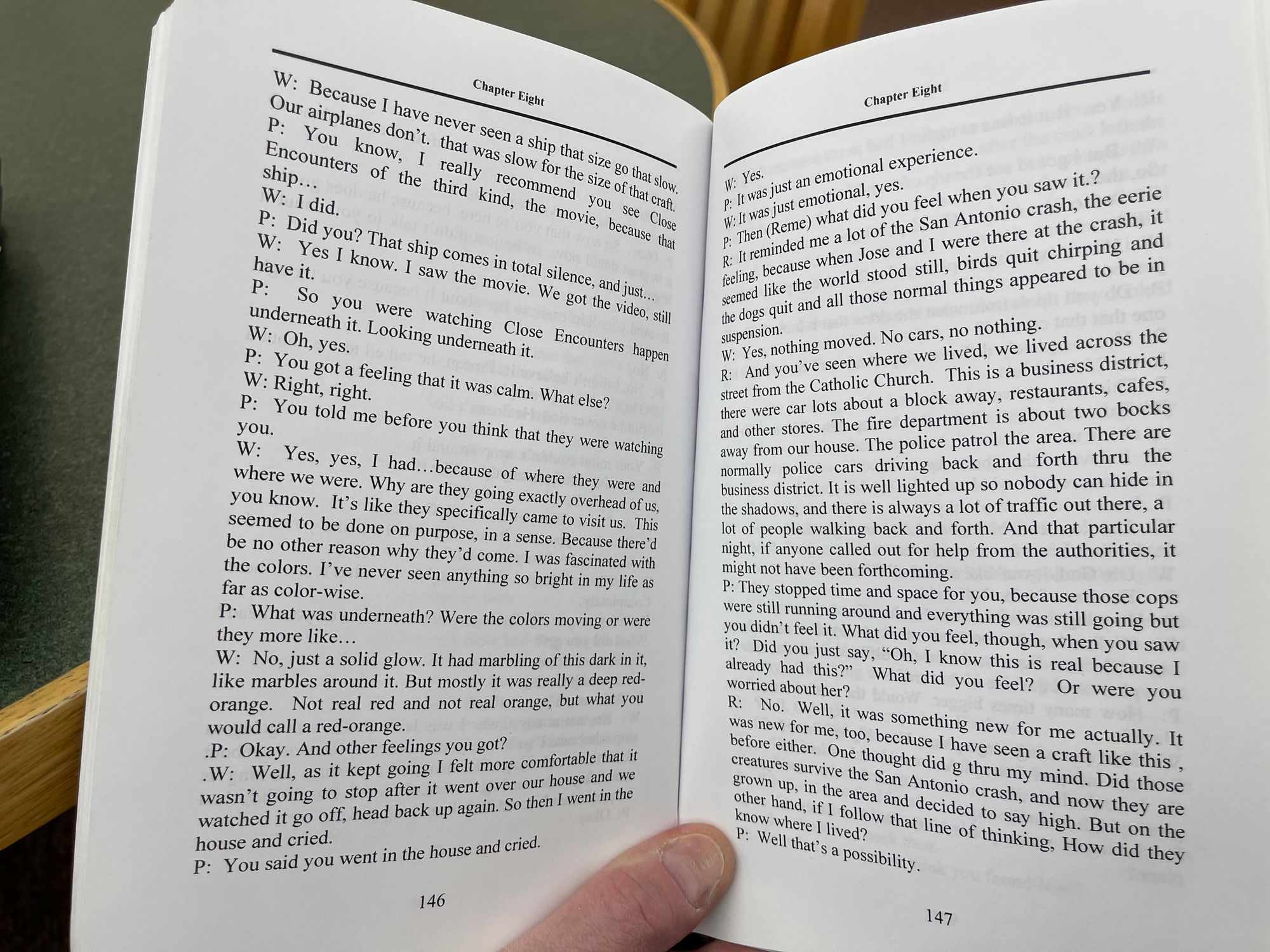 ‌‌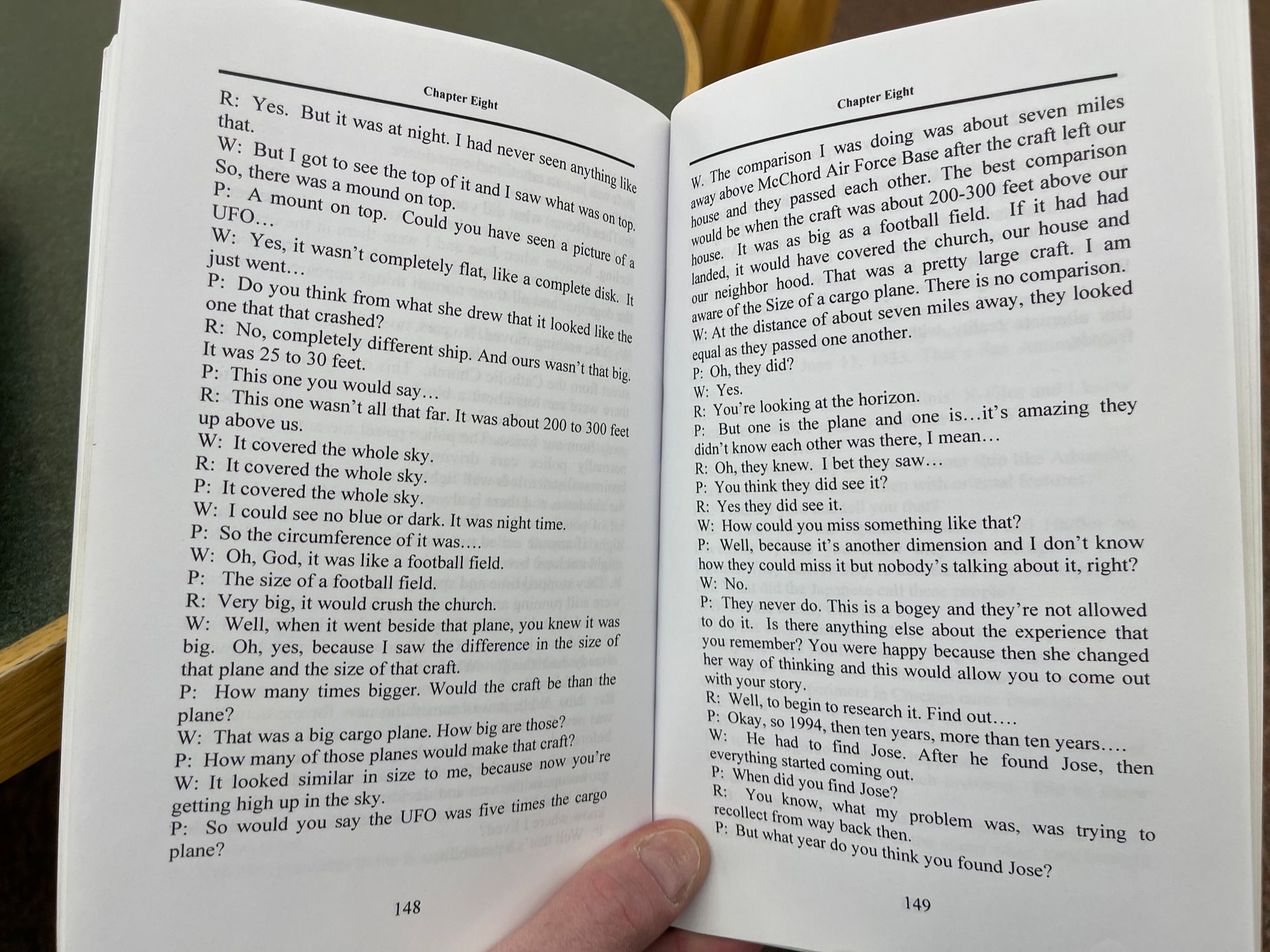 ‌‌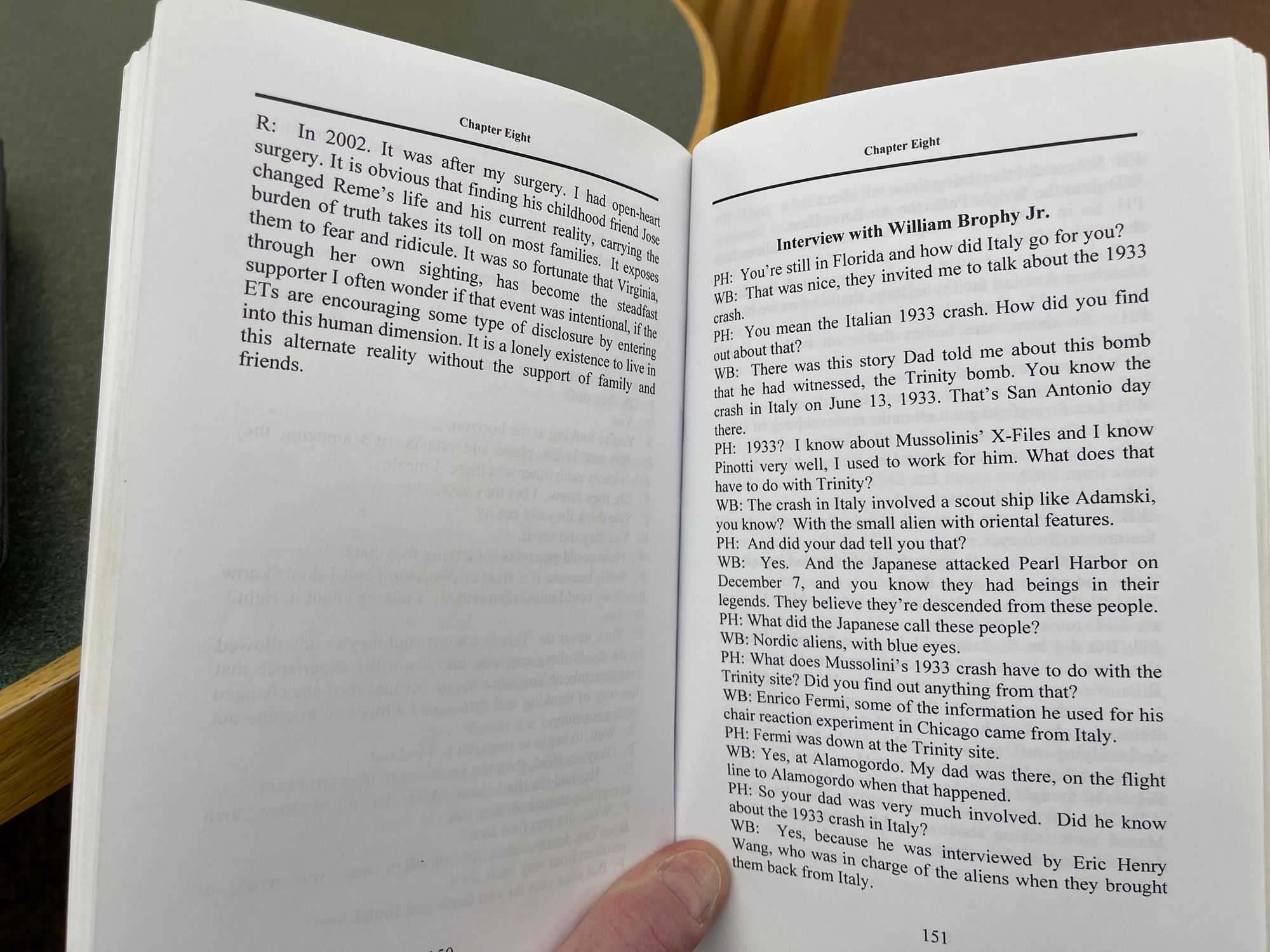 ‌‌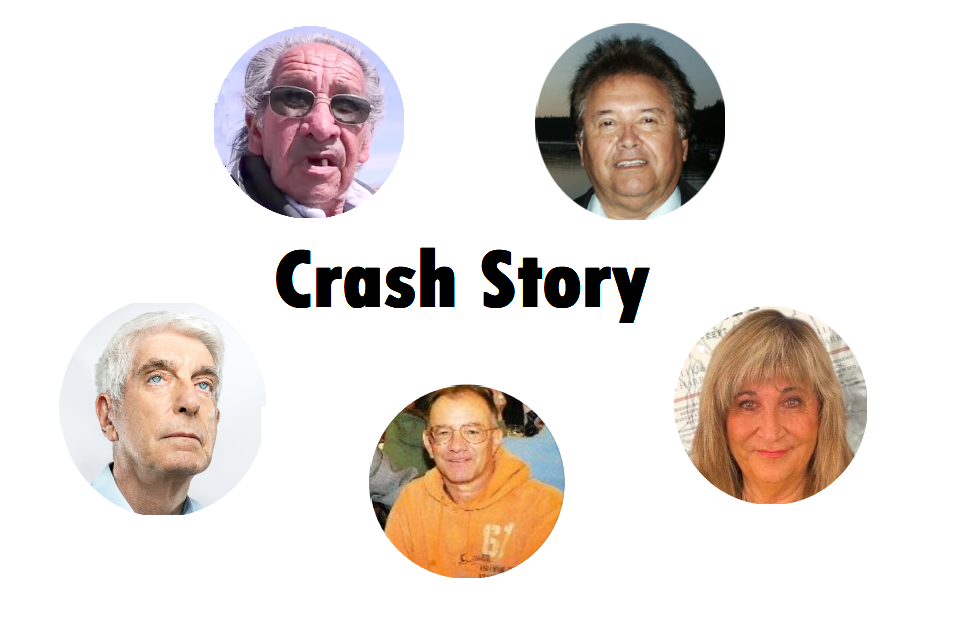 ‌